If you've watched the movie The Great Gatsby, you will notice its unique visual design. The flapper dresses, long cigarette holders, clean lines, and bold designs are some of the elements you will find in the Art Deco graphic design. It has a specific style that screams sophistication. Therefore, it is not surprising that this style is re-emerging again in this age.
In this article, we're going to discuss what art deco design is and some stunning examples of the design.
What is Art Deco?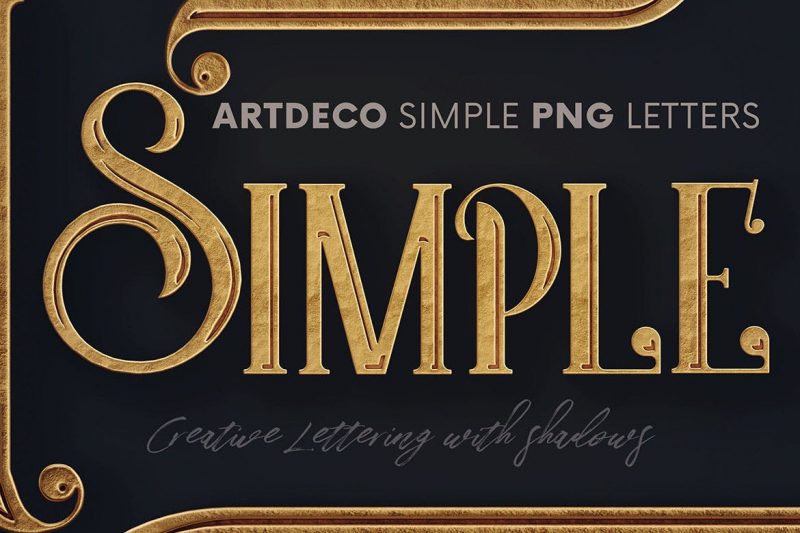 Art Deco is a design style from the early 20th century that is experiencing a resurgence today. Like other artistic movements, this design style is also influenced by the socio-political situation of the era. Its flashy and elegant style celebrates the new optimism after the horrible World War I.
The term comes from the word Arts Décoratifs that appeared for the first time around the 1920s in Paris. This design is inspired by various influences, materials, and art movements. After its first appearance in 1925 in the Exposition Internationale des Arts Décoratifs et Industriels Modernes, the design quickly found its popularity around the world.
With the spread, the Art Deco style was slightly influenced by the different characters of each location. Despite the influence, however, Art Deco styles are still uniquely distinct with their glamour and elegant vibes. It also still emphasizes functionality and embracing bold and sophisticated ideas.
At the beginning of WW2, this design style suddenly stopped and was replaced with unadorned styles of modernism. The design style during that time was strictly focused on functionality. However, today the Art Deco style has re-emerged.
Characteristics of Art Deco Graphic Design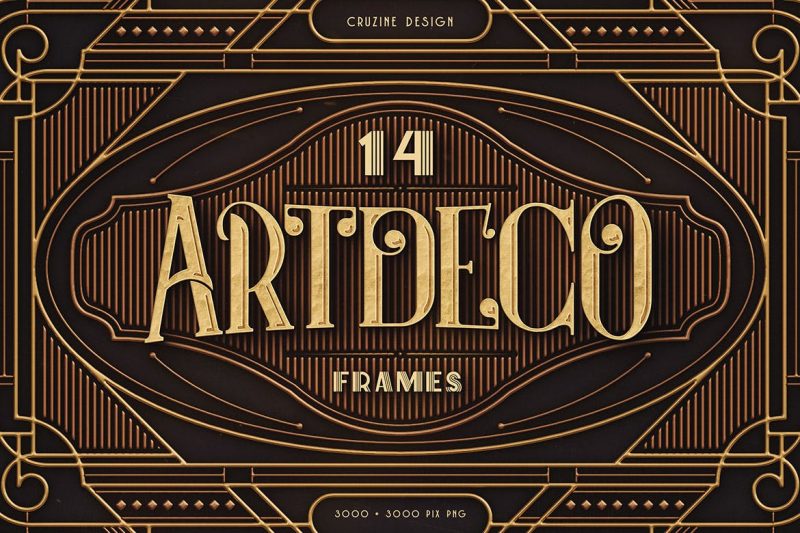 As mentioned previously, this design style is created with the desire to embrace modernity. With this purpose, Art Deco is created using various influences and sometimes even contradictory ones. That is why this style looks more like a mosaic of various different styles rather than one single style. Despite that, it shows unique and distinct characteristics that look stunning and creative.
In terms of color, the Art Deco style uses rich, bright, and vibrant color palettes, influenced by Fauvism and Ballets Russes. You will also notice gold accents in this design style, especially in typography with Art Deco style.
Art Deco designs are also characterized by straight, smooth, and sharp lines. This results in elegance and sleek design with some exaggerated curves. While in terms of shape, Art Deco uses a lot of geometric, symmetrical and bold shapes. Therefore, you will see a lot of chevron and trapezoidal shapes or sometimes zigzags too.
15 Examples of Art Deco Graphic Design Style
Since the Art Deco design style has experienced a resurgence, it is not hard to find samples of this style nowadays. Here are 15 examples of Art Deco design styles in various formats and purposes.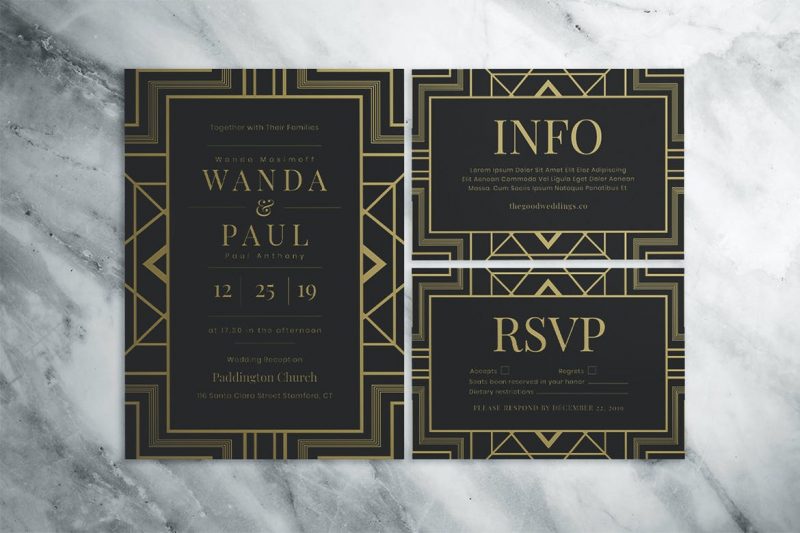 This Art Deco wedding invitation comes with a glamorous vibe thanks to its sleek design and color palette. The golden font and lines on a solid black background create an elegant look, perfect for a classy wedding theme. Moreover, this template successfully captured modernity with its 1920s Art Deco design.
This template comes with four-layered PSD and AI files. Therefore, you can customize and edit it as much as you like to further suit your needs.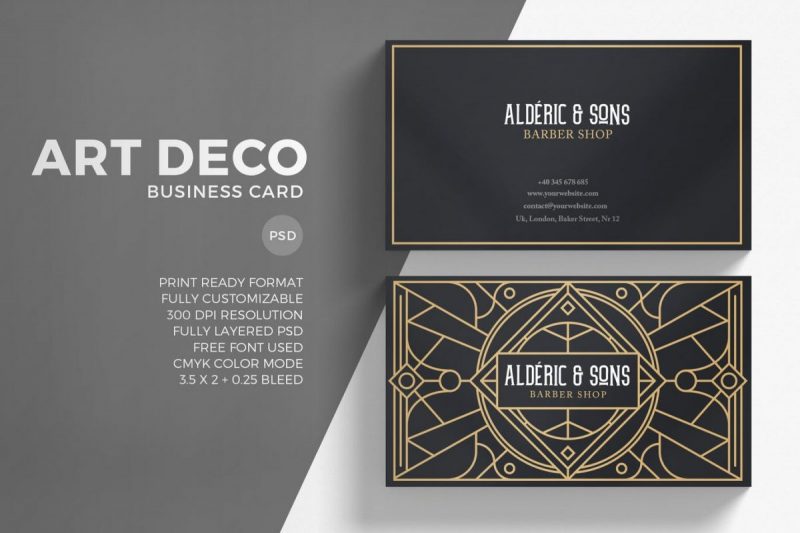 The business card should show elegance, although it depends on what kind of business you're trying to represent. However, using Art Deco design for a business card is a perfect way to reflect professionalism and elegance.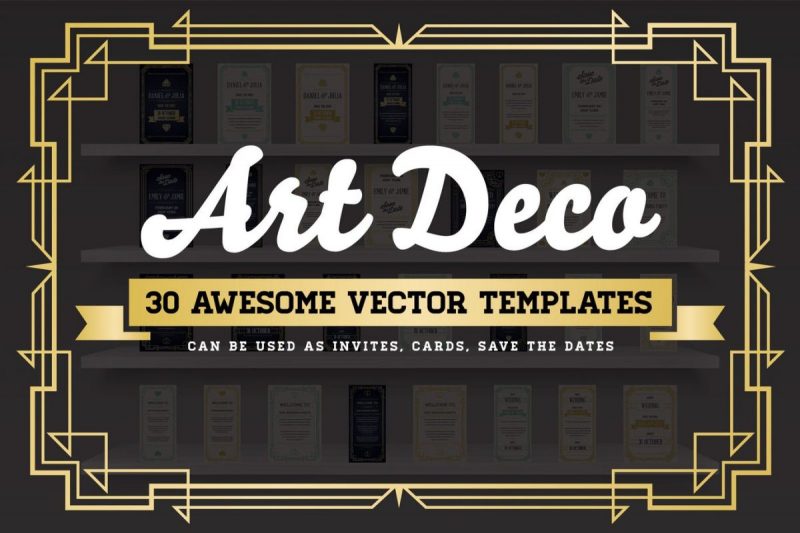 If you want more flexibility in designing invitations, business cards, posters, or other purposes, you can use an Art Decor vector template instead. This template offers up to 30 designs in EPS and PSD files which are easy to use, edit, and adjust. Therefore, you will not have a hard time playing around with this template.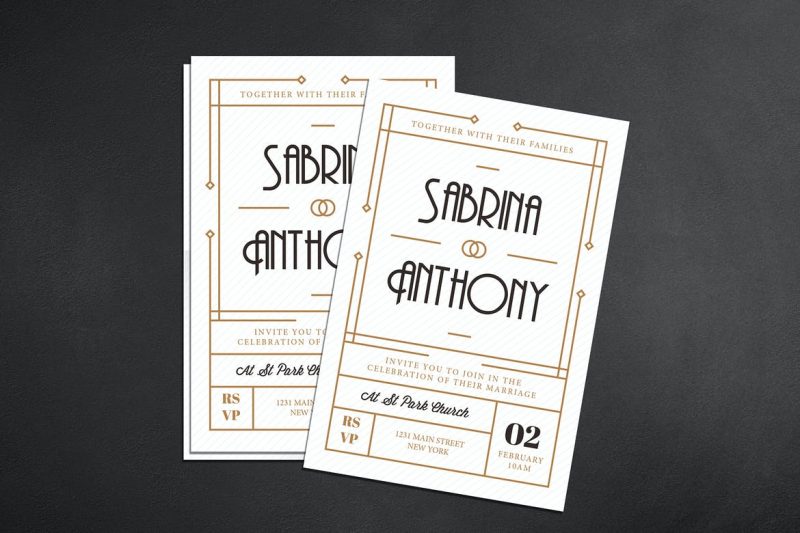 This is another great design for a wedding or party invitation. This one comes in a white background as well as Art Deco styled font and lines. Since it contains vector files, you will be able to customize it easily to suit your needs.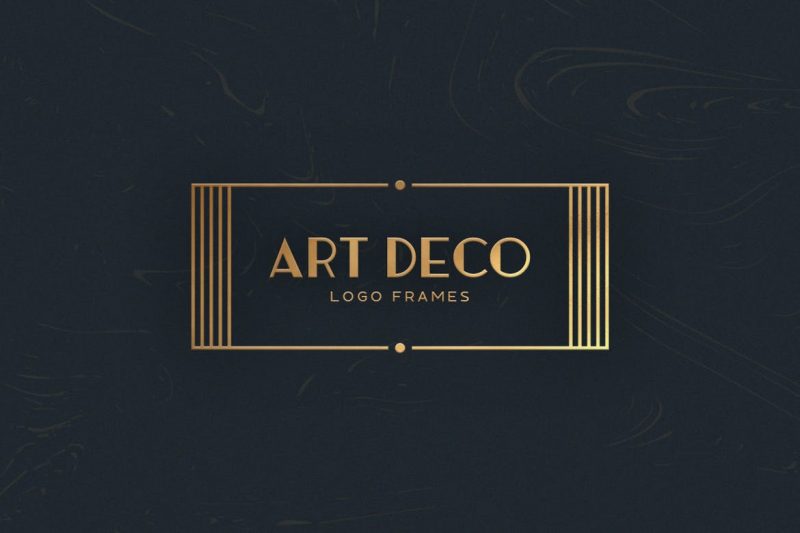 Art Deco design also makes a great logo. If you're looking to create a logo with frames, this is the right template. It offers seven beautiful Art Deco styled frames. You can adjust it to your liking and combine them with Art Deco fonts to create a unique and stunning logo.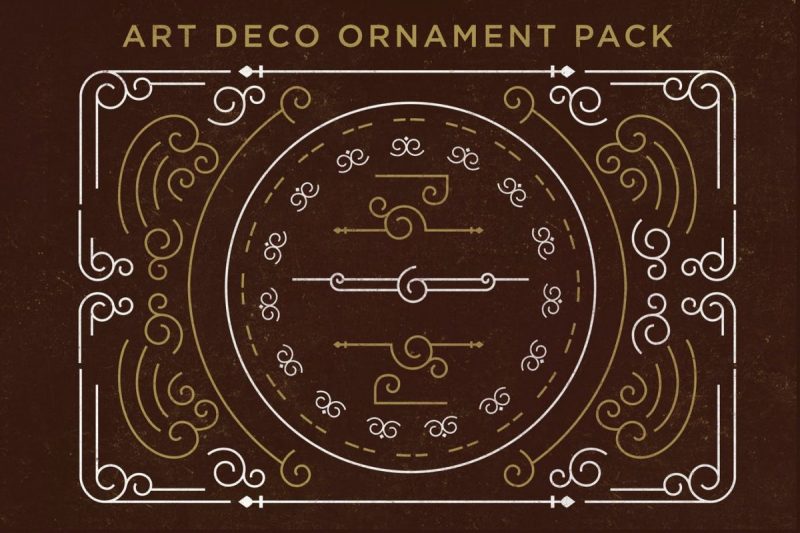 As mentioned previously, the Art Deco style is characterized by lines and bold design. This template offers gorgeous Art Deco ornaments that you can use for your design. With this ornament pack, you don't have to create a design completely from scratch, as you can scale and adjust this template without losing its quality.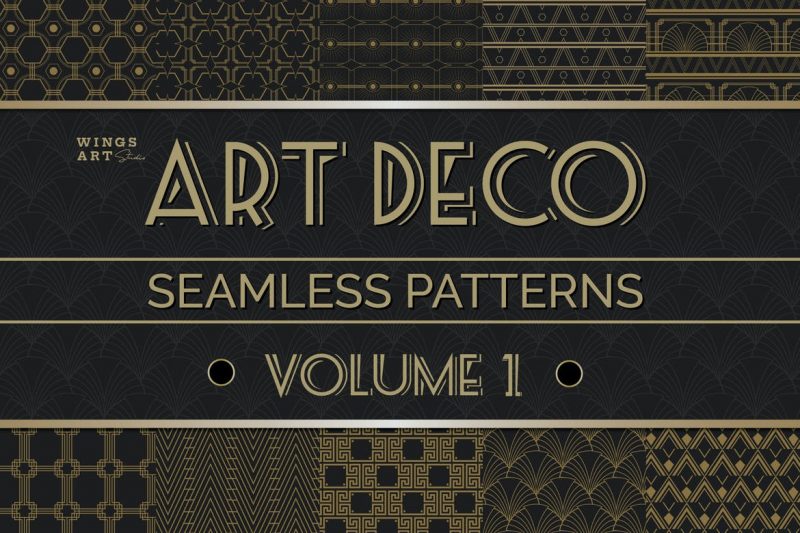 Art Deco is also characterized by various patterns in an attempt to embrace modernity. This template offers various patterns that reflect the Art Deco movement from the 1920s. All patterns are editable to ensure users can adjust them easily to their designs.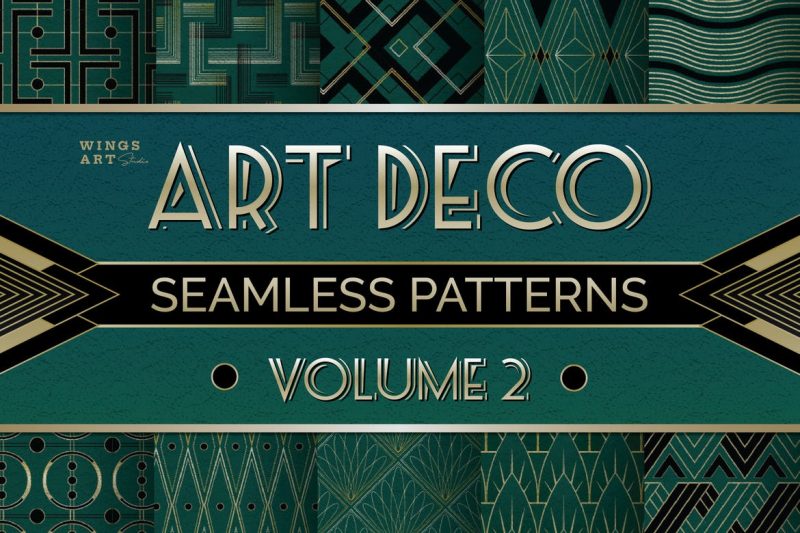 This is another Art Deco pattern that will give you more options of background to play with. It consists of ten editable Art Deco patterns that can be easily inserted into your design project.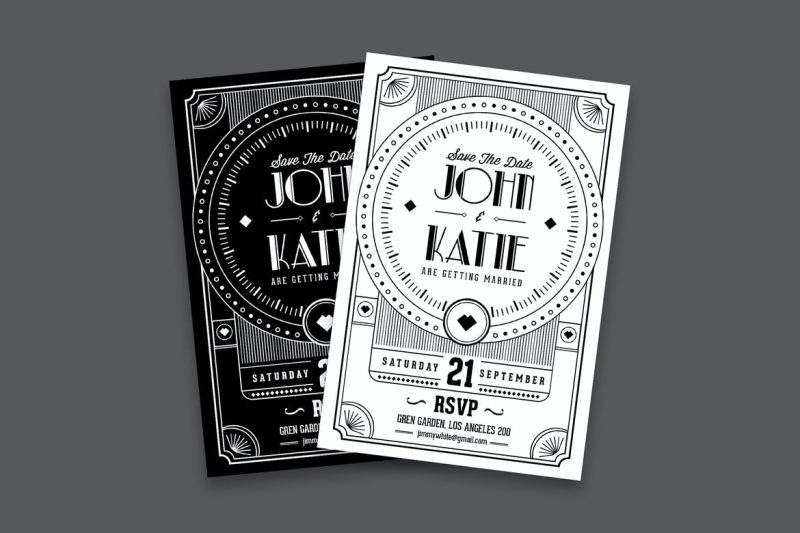 If you are looking for a more classic invitation design that incorporates more Art Deco motifs, this is the perfect template for you. This 4×6 inch template reflects the Art Deco movement accurately, which will help you create a unique invitation.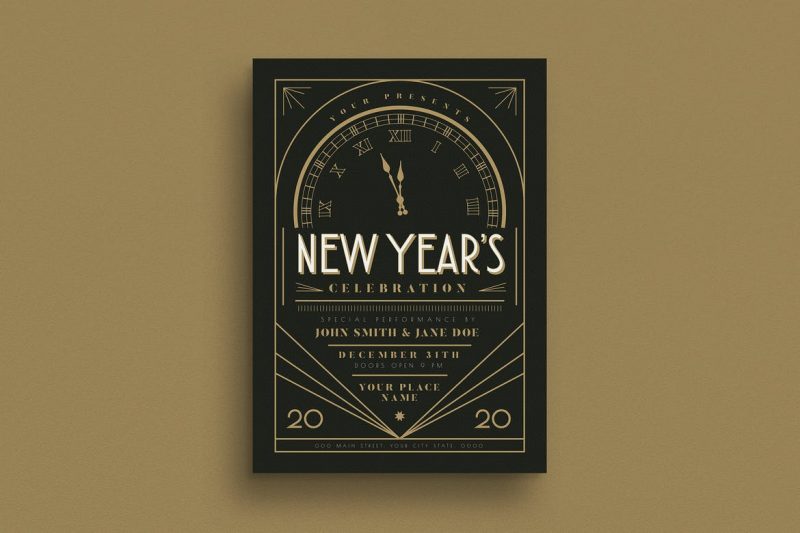 This event flyer offers a gorgeous Art Deco design that screams modernity and elegance. It is the perfect style to welcome a New Year, making it the right design for a New Year Event flyer design.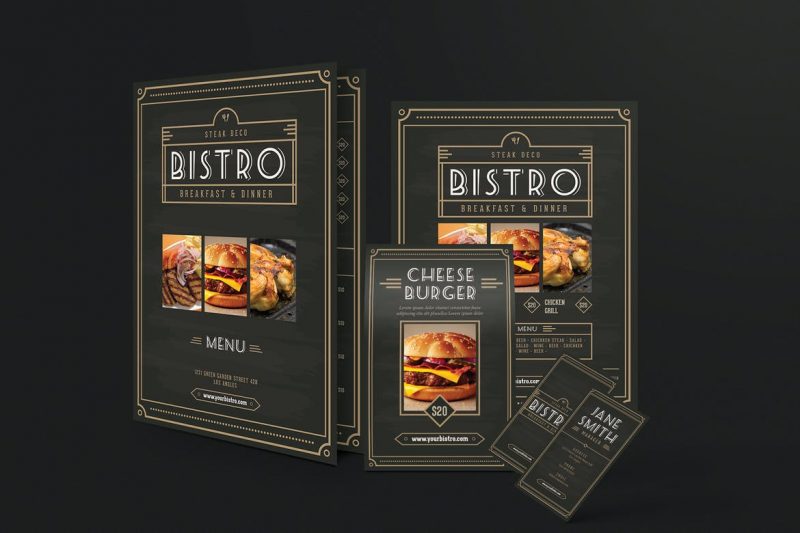 For you who are looking for a design template for your restaurant business, this template is the answer. It offers a beautiful Art Deco-styled design with its elegant and sophisticated vibes. This template includes one menu, two flyers, three table place cards, and four business cards. Therefore, you don't need to look for another template since everything has been included here.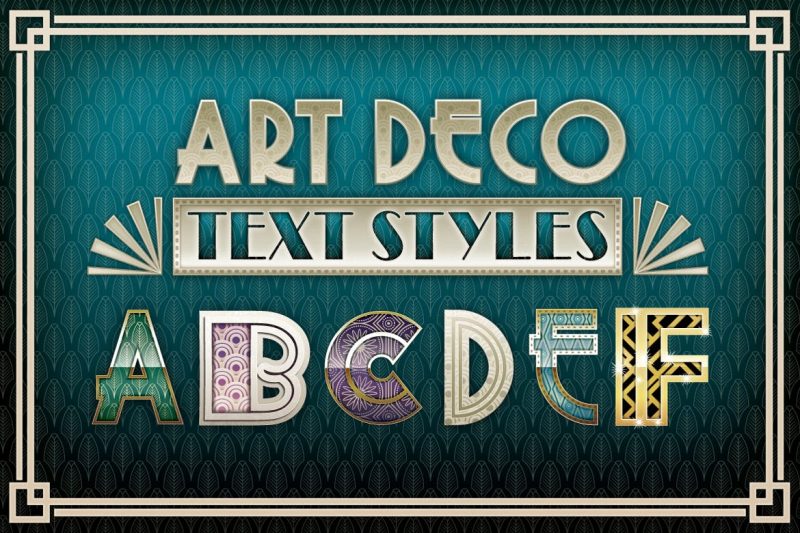 If you are going to create a unique and stand out design, you need this Art Deco element template. In this template package, you will get three backgrounds, fonts, and various Art Deco vectors. This complete package is a perfect choice if you want to build an Art Deco-styled design yourself.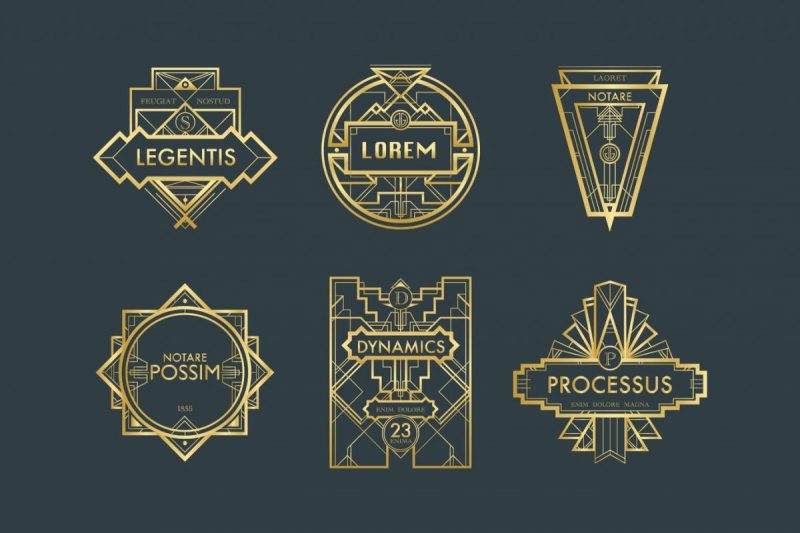 As explained previously, the Art Deco style is often characterized by geometrics and symmetrical lines. This makes Art Deco the perfect style to create logos or labels. This template offers samples of stunning Art Deco labels that emphasize these characteristics.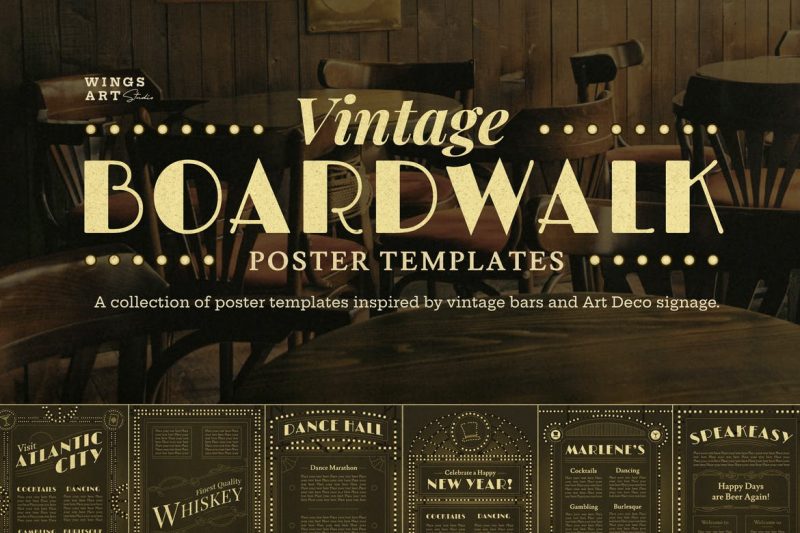 This template will remind you of the 1920s or 1930s American dance hall posters. It offers text paths and vector elements that will be easily adjustable. The layouts are also adjustable so that you can create your own design poster with ease.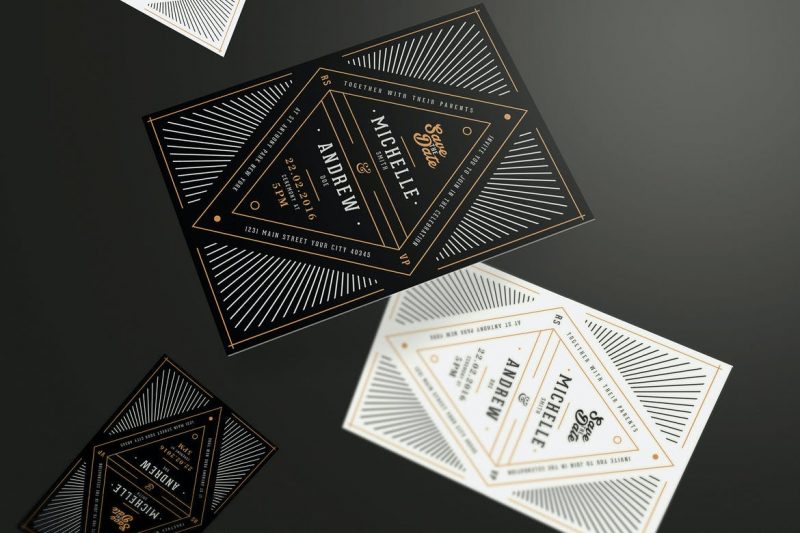 This template implements the geometric and symmetrical lines and shapes, which are the common characteristics of Art Deco. If you're looking for a stunning symmetrical Art Deco graphic design for your invitation design, definitely check this template.
15 Examples of Art Deco Style Font
Aside from various Art Deco graphic design, you can easily find fonts with this design style today. Typefaces in this design are usually bold, clean, and all caps. However, it also implements simple, clean lines and sometimes heavily ornate design as well. To help you understand better how the font looks, here are examples of Art Deco fonts.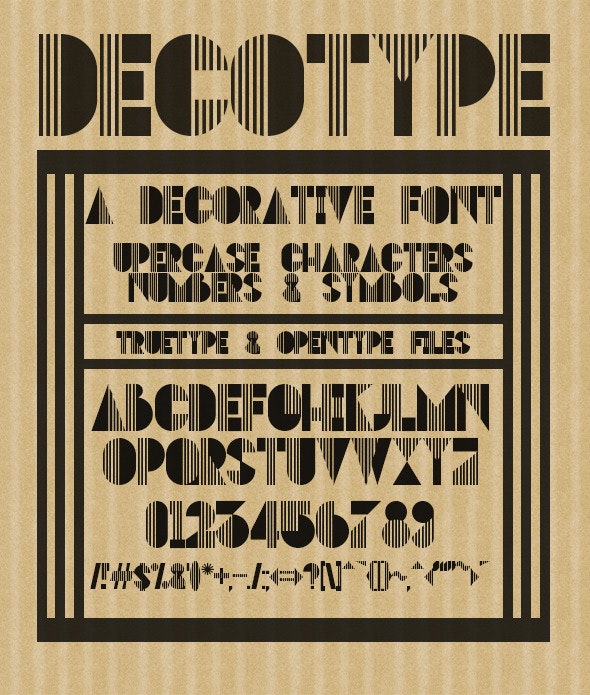 This font comes with a more ornate design, just like how some Art Deco style usually is. This font will easily remind anyone of the Great Gatsby movie style. It offers bold letters with solid lines, which make it eye-catching.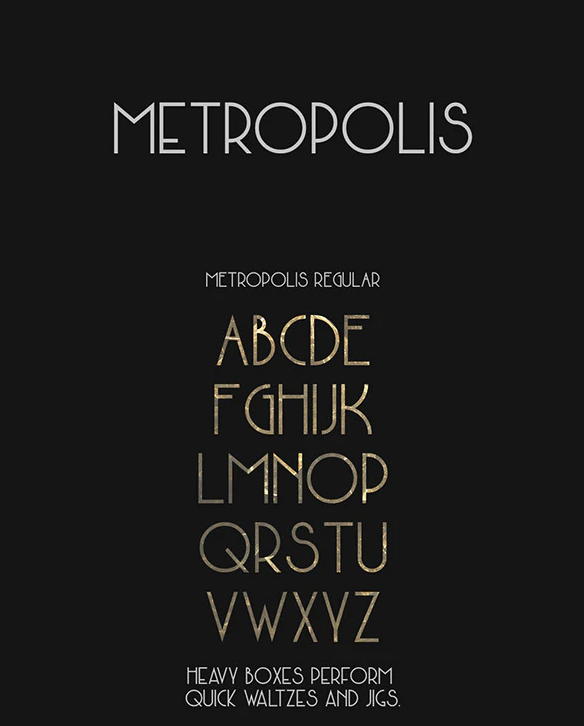 This typeface comes with a more lean shape approach and mimics the original The Great Gatsby novel. This font comes with uppercase letters, numbers and punctuations, as well as 50 Art Deco ornaments.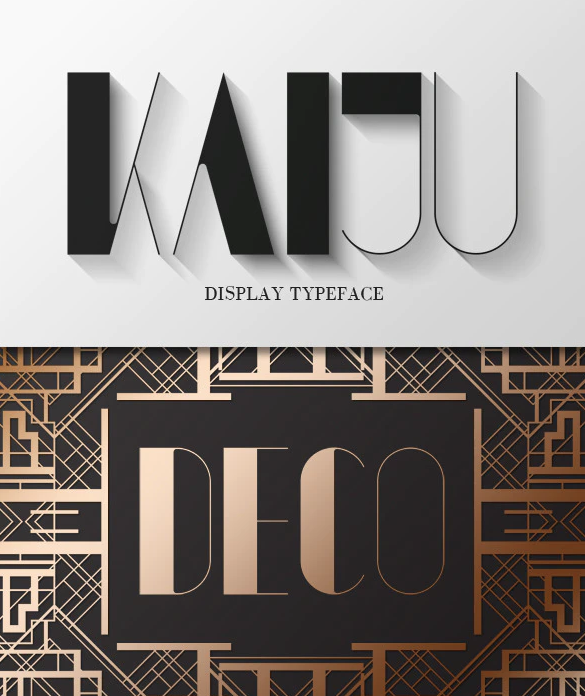 If you're looking for Art Deco fonts to create a logo, then definitely look at this Kaiju font. This display font offers two sets of uppercase letters that you can mix and match to create the perfect display, signage or logo. You can also combine it with the Art Deco Logo Frame above to emphasize this classic 1920s style.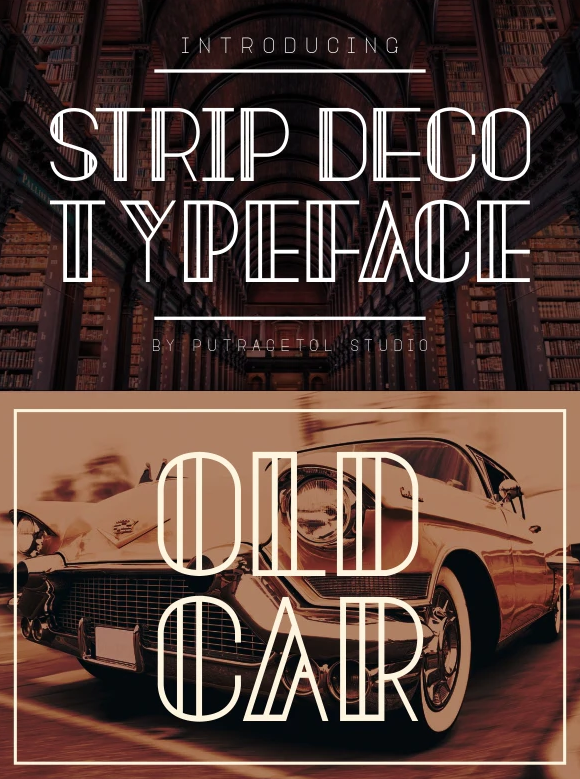 This font is used on the poster of the Great Gatsby movie. That is why this font has been widely known as the Art Deco Great Gatsby Font. This font supports multilingual letters, which will help you use it for various design purposes. The design comes with sleek and straight lines and stripes, which emphasize the characters of the Art Deco style.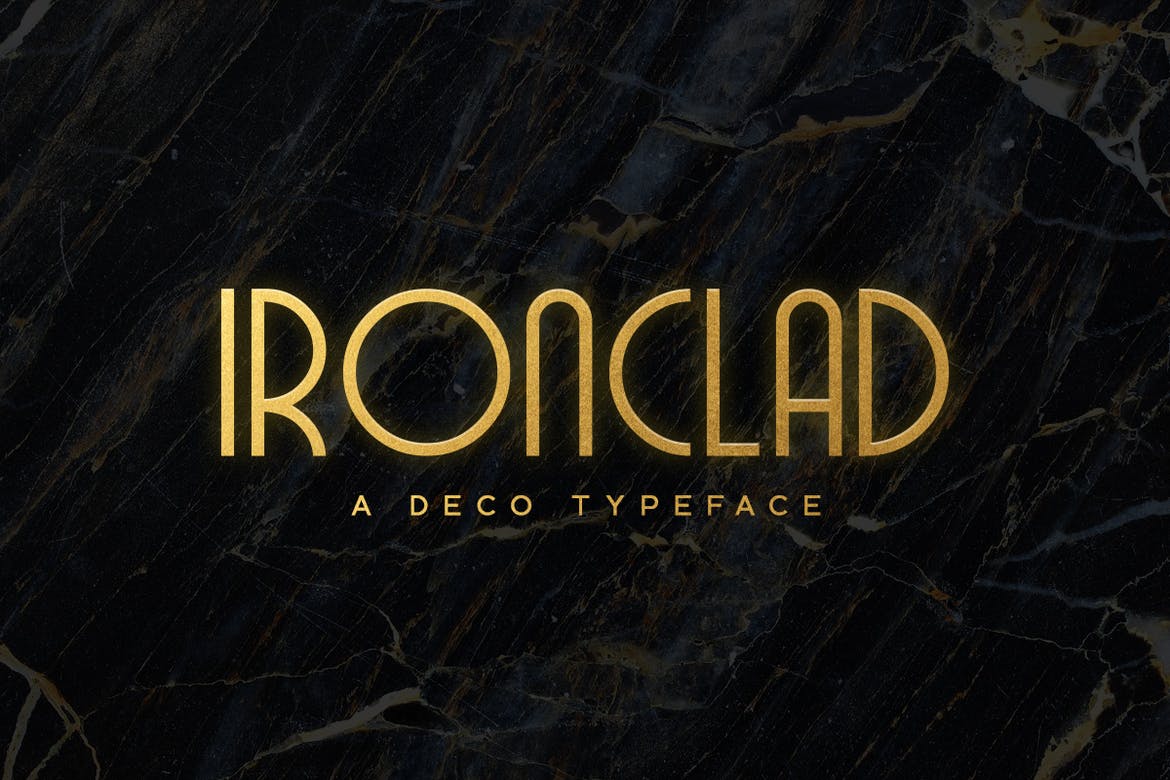 Art Deco comes in various styles, one of which is characterized by clean and bold rounded lines. This font emphasizes these characters and comes with uppercase letters, numbers and punctuations. It also supports multilingual letters, so you should not have a hard time playing around with this font.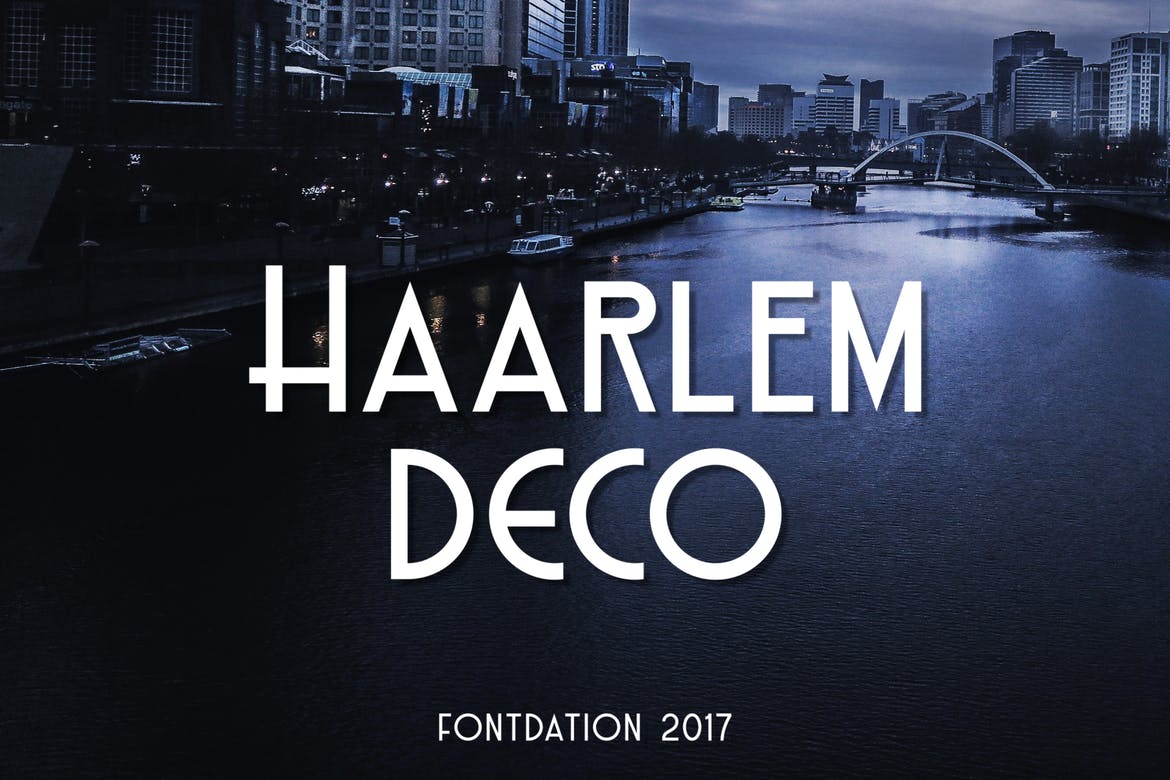 This font will remind you of the vintage Euro-American signage letters. This vintage typeface offers a professional and stylish look that will make it the perfect font for a business design.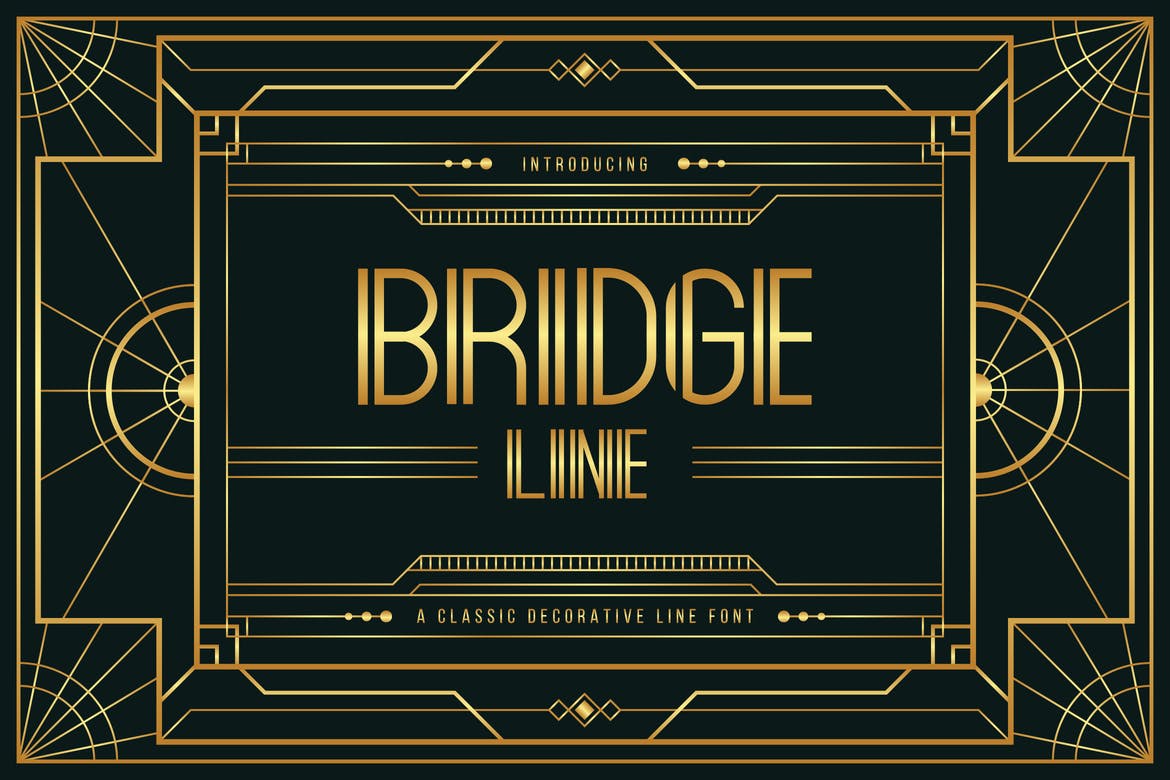 This is another example of Art Deco typefaces that emphasizes geometry characteristics. The fonts offer a bold and striking style that will make your design stand out. Thanks to its stand out style, the Bridge Line is a perfect font for announcements, posters, or invitations.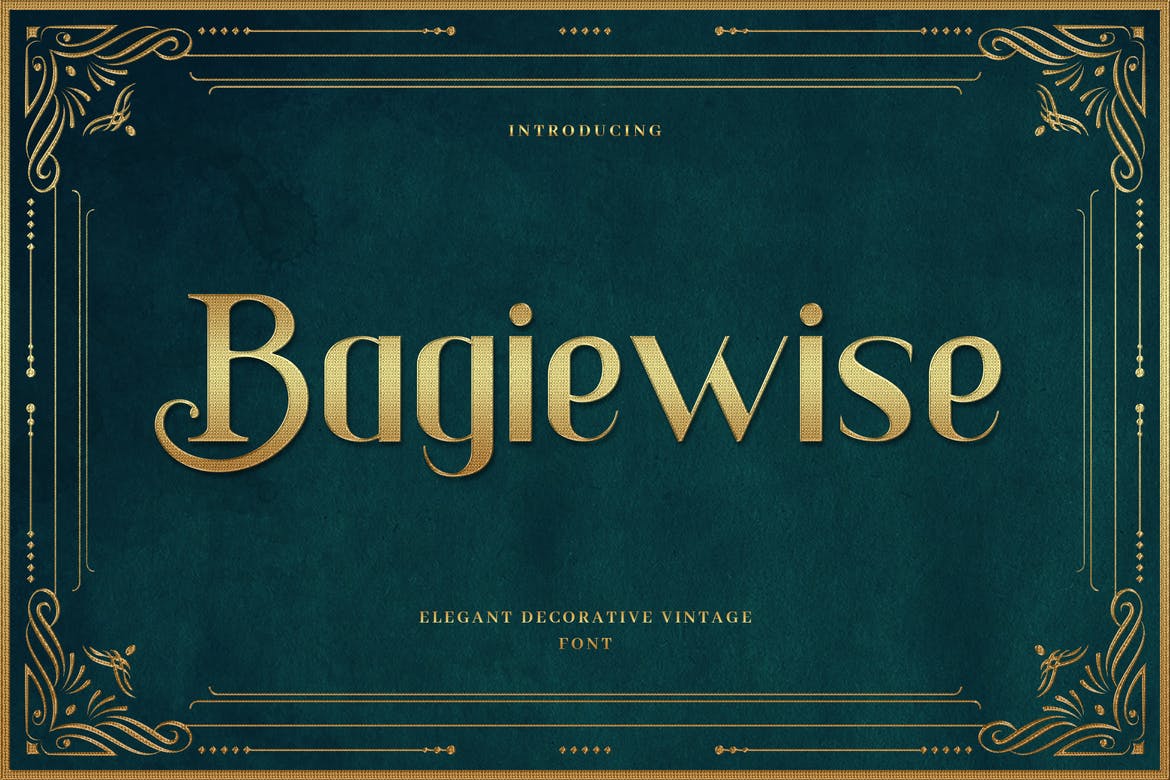 For a more ornate typeface design, you may want to look at this Bagiewise font. This stylish font with slight curves is perfect for designers looking for display fonts with strong characters. You will be able to use this font easily as it includes upper and lowercase Latin letters, numbers, and punctuation. Additionally, it also includes international characters, which will help you to use this font with ease for any purpose.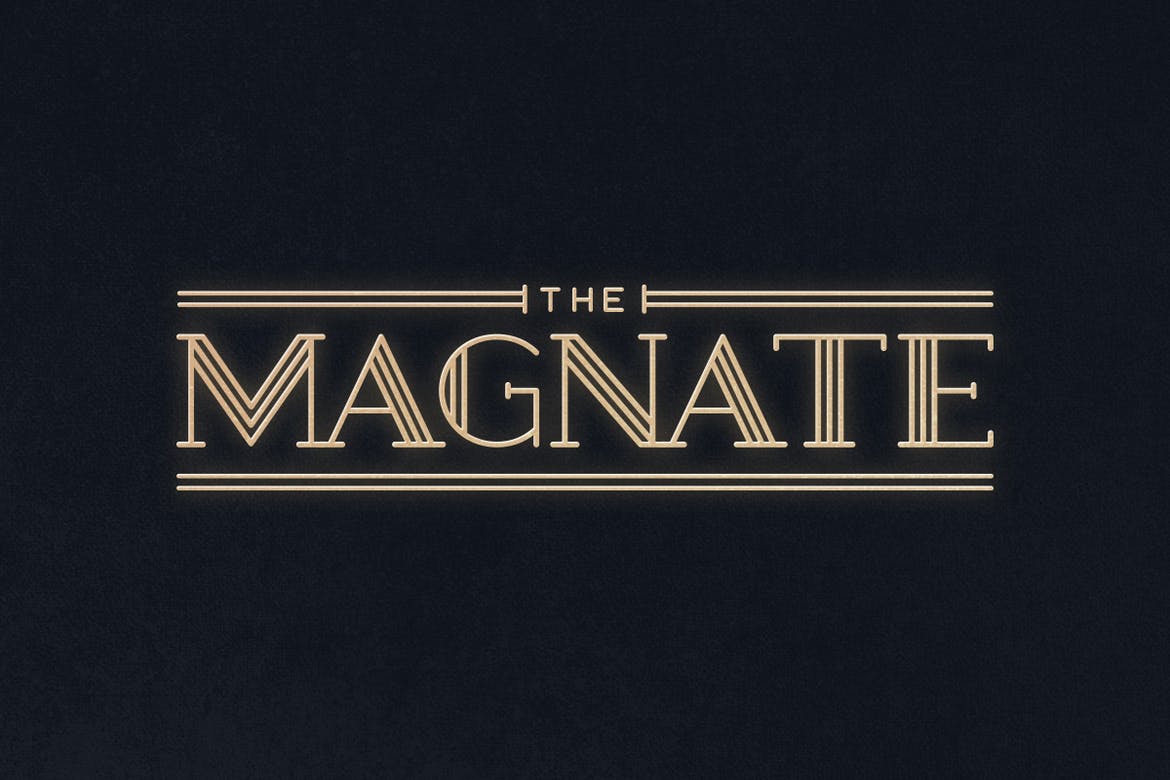 This is another typeface that is inspired by the poster of The Great Gatsby movie from 2013. The design features bold lines that look striking and eye-catching, making it perfect for logos or labels.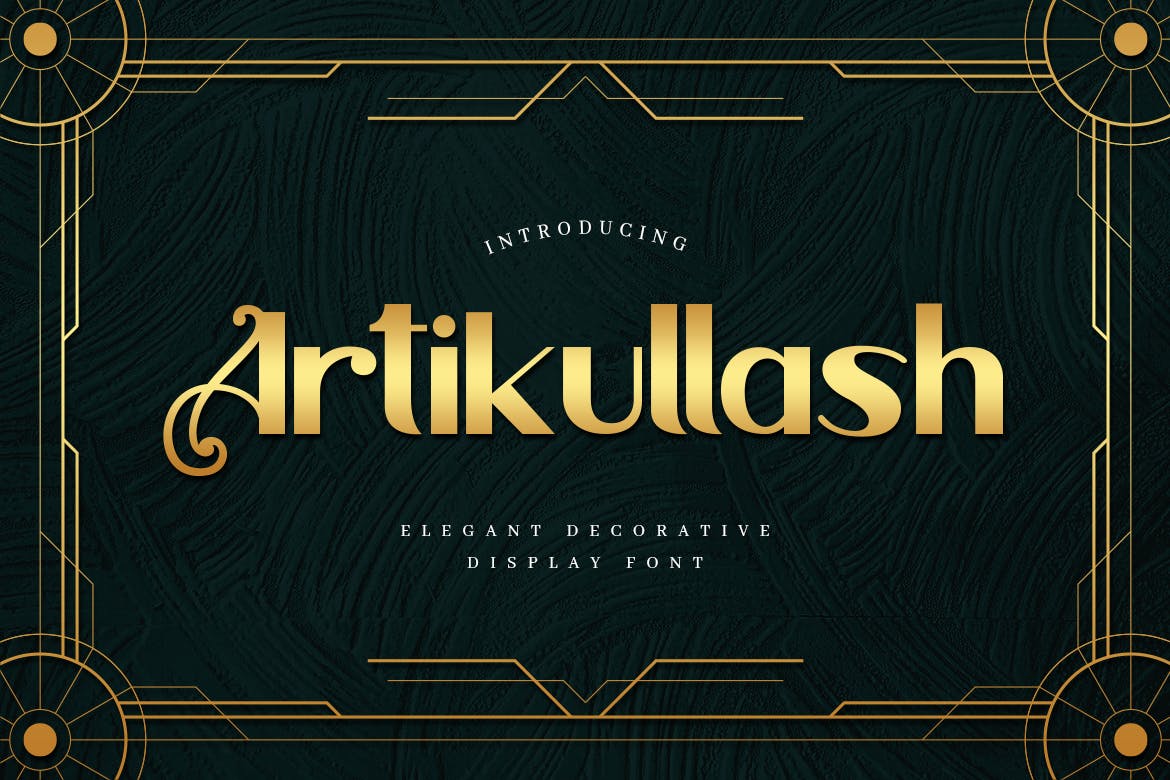 Artikullash is a more elegant and stylish approach to the 1920s Art Deco design. It comes with a combination of curves and solid lines, which give the typeface a striking look. It is perfect for display purposes such as posters or signage.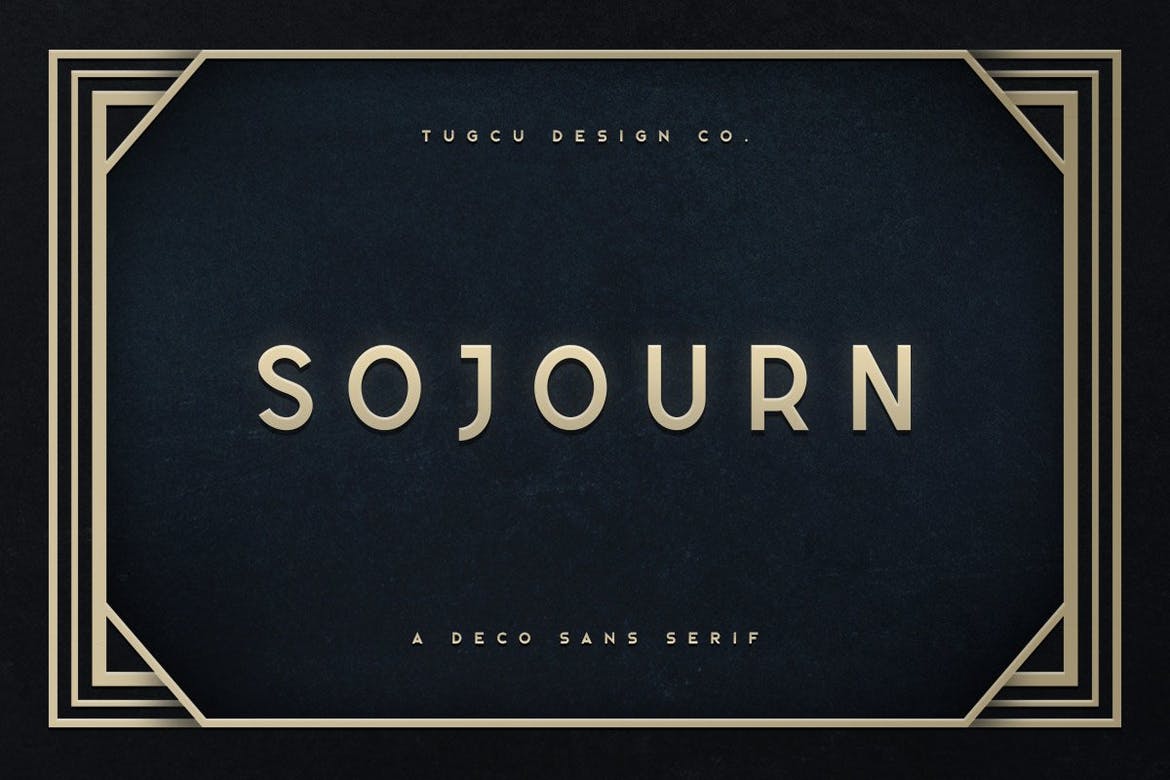 If you are looking for a more simple Art Deco graphic design, this Sojourn Typeface might be the one you're looking for. It comes with simple lines that also support multilingual letters.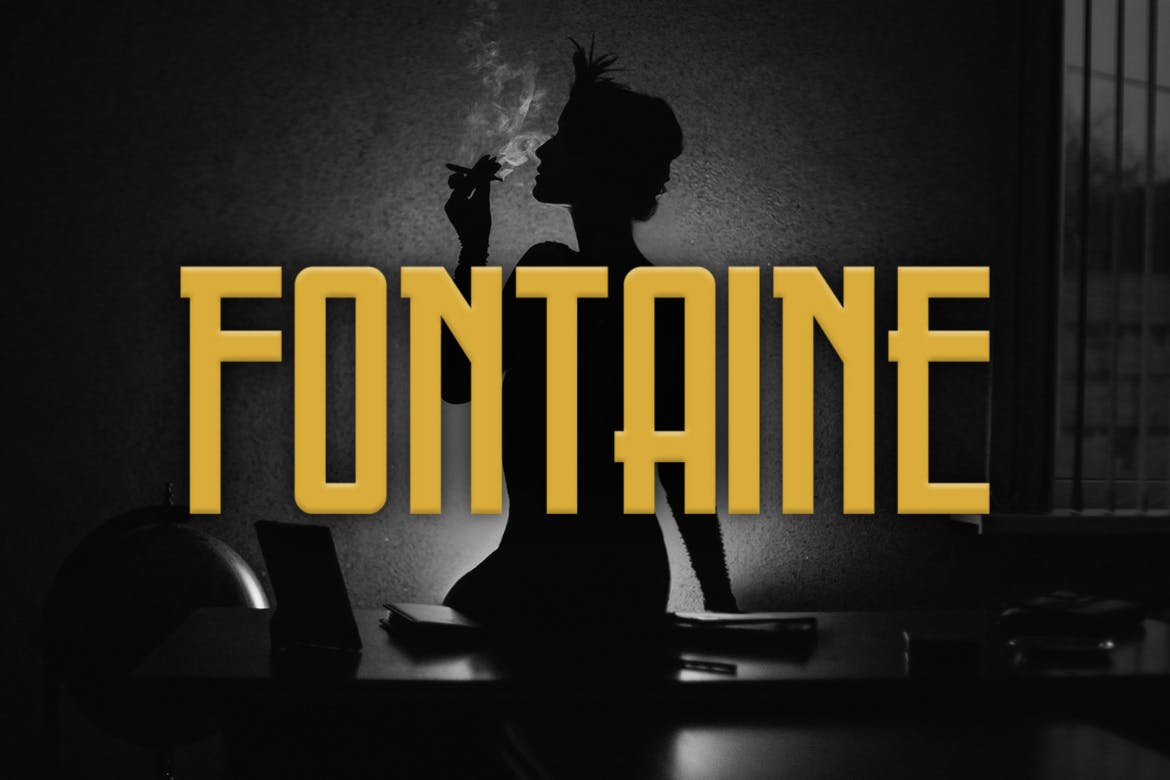 If bold letters are more of your cup of tea, then try this Fontaine typeface. Due to its bold characters and lines, this font is great for display purposes, such as posters, signage, or titles. The bold characters also make it eye-catching and further complement the Art Deco style.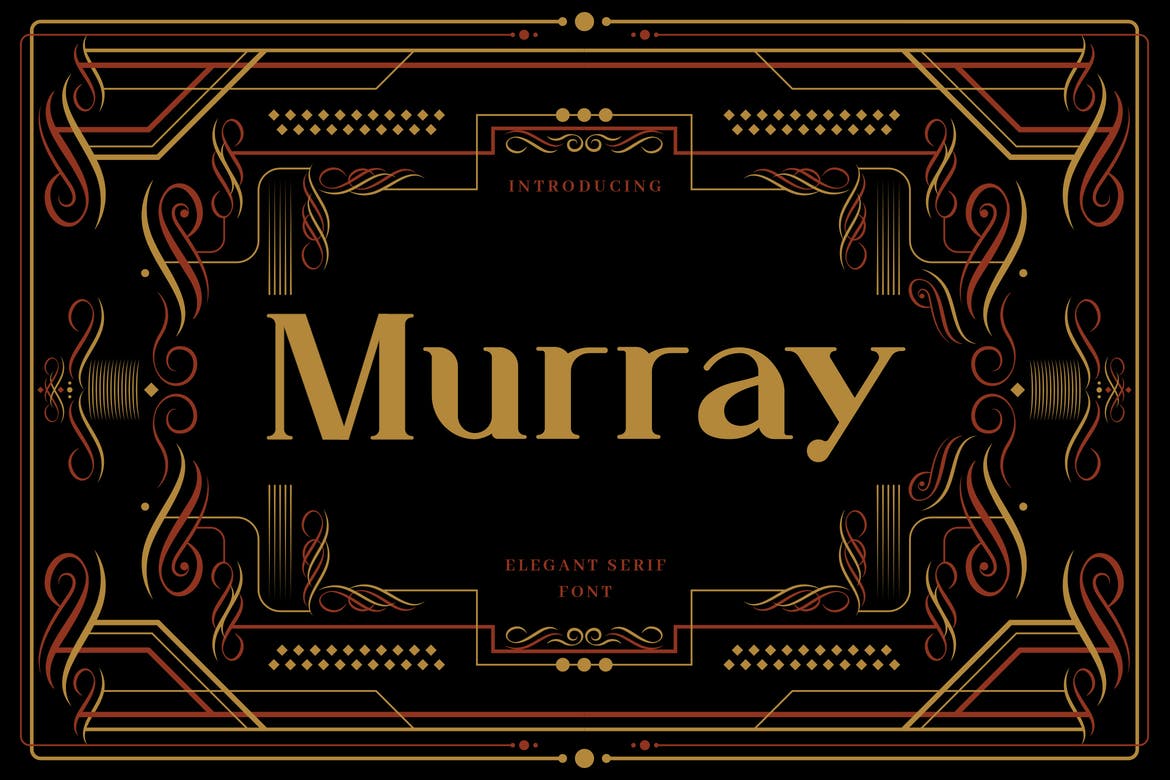 A lot of display typefaces mentioned above only support uppercase letters. Murray typeface is an alternative if you're looking for a display font that also comes with lower case letters.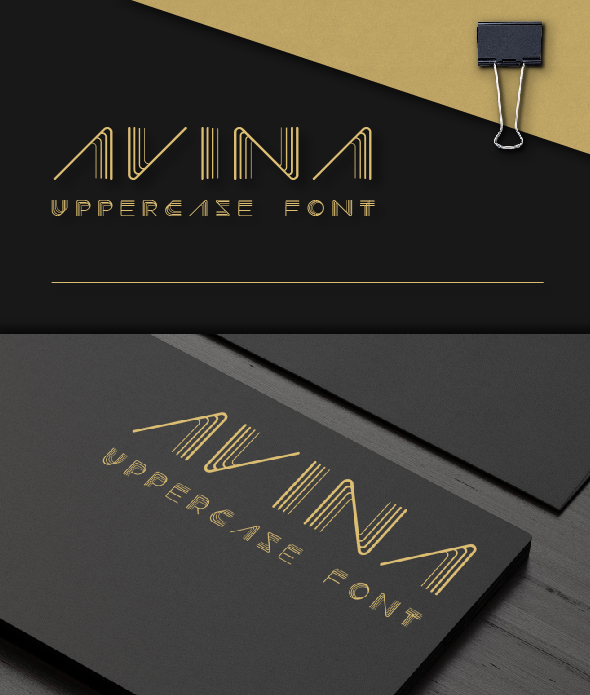 This typeface uses a more stylish approach to the Art Deco style. It offers a modern vibe that will be great for headers or logos.
Last but not least is this Emropia typeface that comes in two styles: regular and rough. It reflects elegance and a classy style that you can adjust to your needs.
Those are a brief knowledge about Art Deco style and some design templates using this unique style. With the re-emerging use of Art Deco graphic design today, these templates will inspire you to create your next project using this unique artistic style.
Tags: 1920's, art deco, art deco style, graphic design, graphic designer, retro, vintage