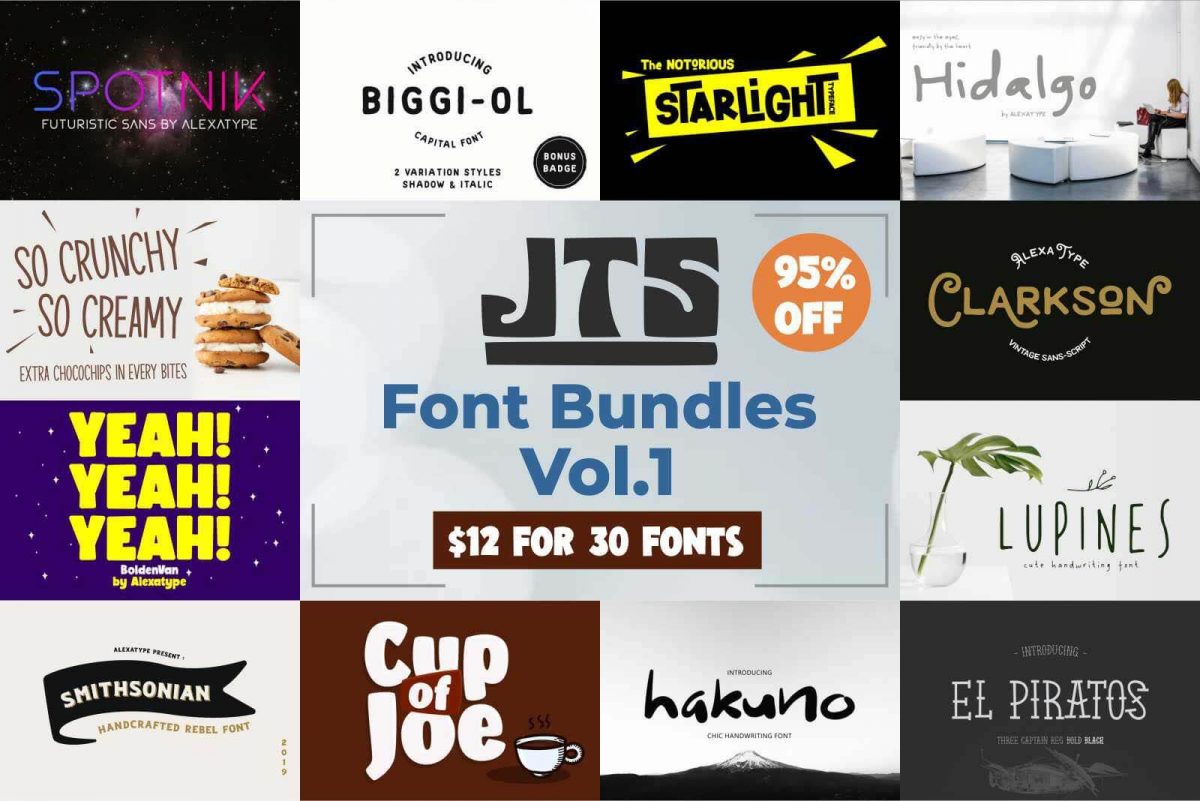 JUSTTHESKILLS FONT BUNDLE VOL.1
The Justtheskills Font Bundle Vol. 1 is here and you'll definitely enjoy this fun collection! 
From this bundle, you'll be getting 30 fun and unique fonts; from bouncy sans serifs, bold rounded fonts, wacky cut-out fonts, and many more!
Usually priced at $360, but for a limited time only, you can now grab it for just $12!
That's a huge discount of 95% OFF!
Notes :
All font includes basic latin, numeral and punctuation.
Most of them include multi language support and families.
All have OTF, TTF, and WOFF types.
Use the fonts and artwork for packaging, book covers, logos and branding.
Deal terms:
Delivered as an instant download, after completing your purchase.
These items can be used in both personal and commercial projects. We have 6 different licenses for these. Check the EULA
The font(s) you purchased cannot be sublicensed, resold, shared, transferred, or otherwise redistributed on its own.
0
days
0
hours
0
minutes
0
seconds
GET THIS BUNDLE FOR FREE
Write about us! More information here.
Save 95% off the 2020 Amazing Justtheskills Font Bundle Vol.1
[shared_counts location="home-content" style="fancy"]
Get all these fonts for only $12! Worth $360
Try out the Fonts in this Bundle
The quick brown fox jumps over the lazy dog
Scary Feet - Fun Ghostly Font
The quick brown fox jumps over the lazy dog
Captain Jack - Serif font
The quick brown fox jumps over the lazy dog
The quick brown fox jumps over the lazy dog
The quick brown fox jumps over the lazy dog
The quick brown fox jumps over the lazy dog
The quick brown fox jumps over the lazy dog
The quick brown fox jumps over the lazy dog
The quick brown fox jumps over the lazy dog
The quick brown fox jumps over the lazy dog
Cup of Joe - Bold and Fun font
The quick brown fox jumps over the lazy dog
The quick brown fox jumps over the lazy dog
The quick brown fox jumps over the lazy dog
The quick brown fox jumps over the lazy dog
The quick brown fox jumps over the lazy dog
The quick brown fox jumps over the lazy dog
The quick brown fox jumps over the lazy dog
The quick brown fox jumps over the lazy dog
The quick brown fox jumps over the lazy dog
The quick brown fox jumps over the lazy dog
The quick brown fox jumps over the lazy dog
Lupines - Cute Skinny Handwriting Font
The quick brown fox jumps over the lazy dog
The quick brown fox jumps over the lazy dog
The quick brown fox jumps over the lazy dog
Spotnik Ultra Modern Space Font
The quick brown fox jumps over the lazy dog
The quick brown fox jumps over the lazy dog
BoldenVan Chubby Children Font
The quick brown fox jumps over the lazy dog
The quick brown fox jumps over the lazy dog
The quick brown fox jumps over the lazy dog
The quick brown fox jumps over the lazy dog