Designing new projects can be challenging when you found little to no colors matching what you want to make. There's probably several compact app or sites to make sure everything is in place, but you need to make sure you can put your finger on it.
This is where Adobe Color strives to inspire you!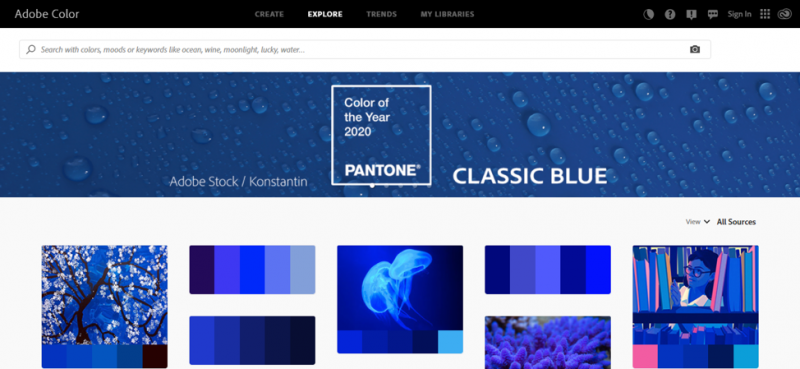 As a powerhouse for beautiful selections of a color wheel, it's not wrong to say that this can be someone's go-to color palette generator. Integrations will get easier if users have their Adobe Creative Cloud (CC) account connected, but in general, everyone can just operate the site with ease and free.
Adobe Color always has the Color of the Year that users can use as an inspiration and designing tool. With the throne currently hold by Pantone Classic Blue (Color Code: 19-4052), there are generous amounts of this particular palette upon scrolling down the page. There are also designs dominantly created with the color, which can help any designers who need a little bit of "visualization" before moving that mouse.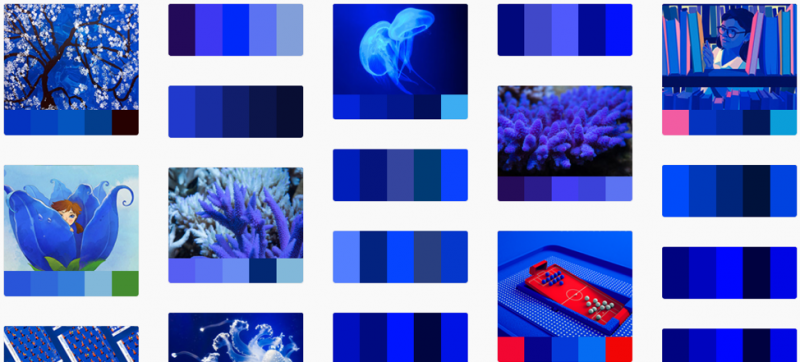 This Adobe Color exploration allows users to create color palettes with images or the color wheels creatively. The catalog users see and browse here come from thousands of submissions from the worldwide Adobe Color community.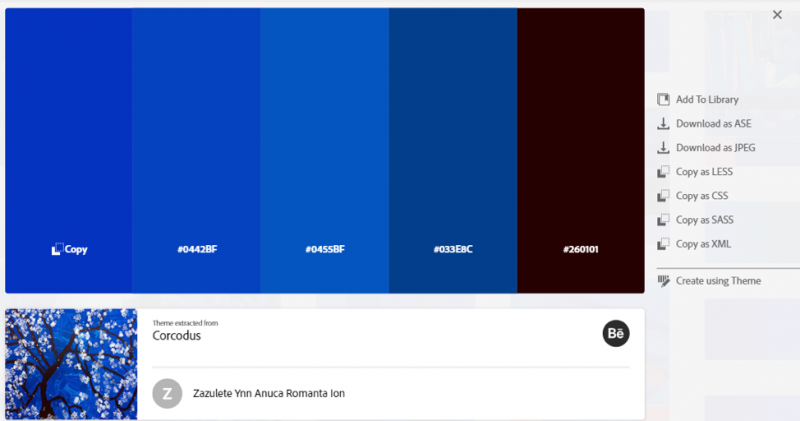 If visitors click on one of the palettes or pictures, they'll be directed to a pop-up window detailing what colors are used there. There'll be options for users to:
Add the colors to their (Adobe CC) library,
Download as ASE (Adobe Swatch Exchange) or JPG (Joint Photographic Experts Group), and
Copy as LESS (Leaner Style Sheets), CSS (Cascading Style Sheets), SASS (Syntactically Awesome Style Sheets), or XML (Extensible Markup Language)
There's also a Create using Theme button for users who wish to mix onto the existing palette. For this, they'll be directed to the Create subpage of color.adobe.com, which is also super easy to navigate. Just like in the Explore section, users will be shown each color of their selected image or palette before.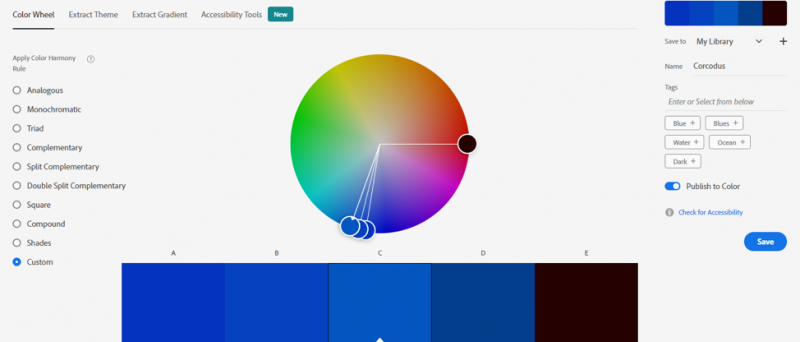 The different thing is that they can actually move the color picker, change the color code, or play with the brightness and RGB (red, green, and blue) number. On the left side, users can see the Apply Color Harmony Rule, which "ensure a harmonic balance of colors based on the color you have set as Base Color". As of the moment, the available options are:
Analogous
Monochromatic
Triad
Complementary
Split Complementary
Double Split Complementary
Square
Compound
Shades
Custom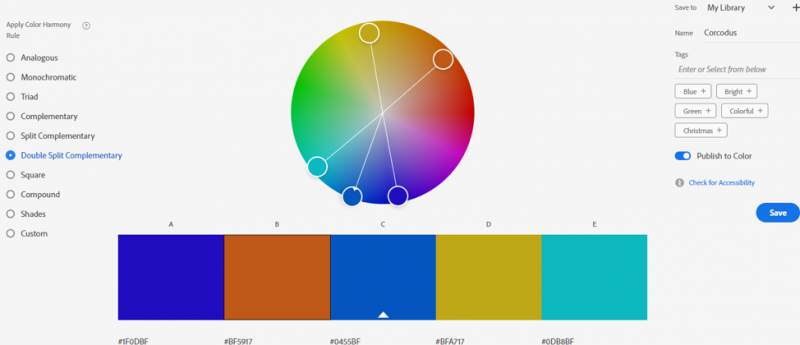 Once users are finished with their creation, they can give it a name and assign some tags to categorize the palette easier later. Users can also publish the colors if they wish or save it as a private collection to their library.
Main Features:
Free color palette creation
Intuitive and straightforward user interface
User-friendly page navigation
The pretty comprehensive color palette features suiting general needs, if not advanced or expert ones.
We hope the review on color.adobe.com/explore above gives you clear information about and tools offered on the website! Have fun with your color swatches creation with Adobe Color.
Tags: color, color tools, design, design app, design tool