Specific design system requires icon management tool that is compatible with its technology. Eva Icons by Akveo offers hundreds of icons and symbols for your specific designing needs. It combines simplicity, fresh look, and easy installation to support various general tasks. Find out why Eva Icons is a recommended icon source for your design tasks.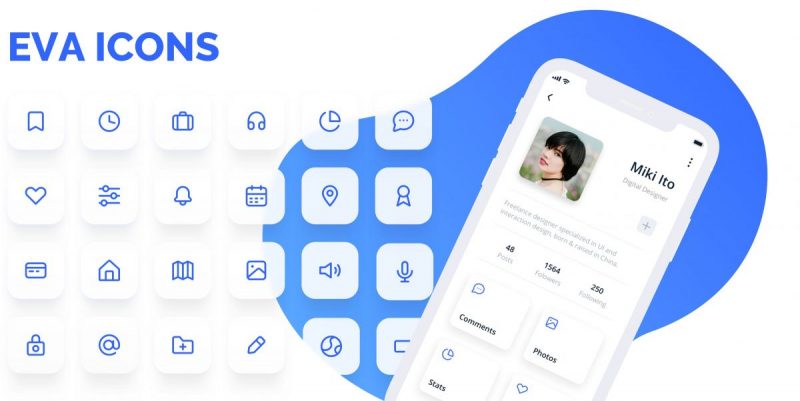 This icon management tool has several features and main characteristics to support your design tasks:
1. Large Collection of Icons
Eva Icons offers more than 480 icons and symbols to support standard web design and communication tasks. They allow users to express reactions and tasks with or without texts in various situations.
2. Clean Design
Eva Icon's most distinctive look is its fresh, minimalistic design. The no-nonsense icons are easy to perceive and make communication easier. It is ideal for clutter-free design type, especially for professional use.
3. Four Animation Designs
Eva Icons are compatible with four types of animation designs: Zoom, Shake, Pulse, and Flip in Y.
4. Wide Compatibility
Eva Icons is designed for Eva Design System. However, it is also compatible with popular systems like iOS, Android, and Web.
5. Two Visual Options
Depending on the design, you can choose between two visual types for the icons' looks: the outline and fill types. They are useful to create a website with dark or light theme and mode.
Advantages of Using Eva Icons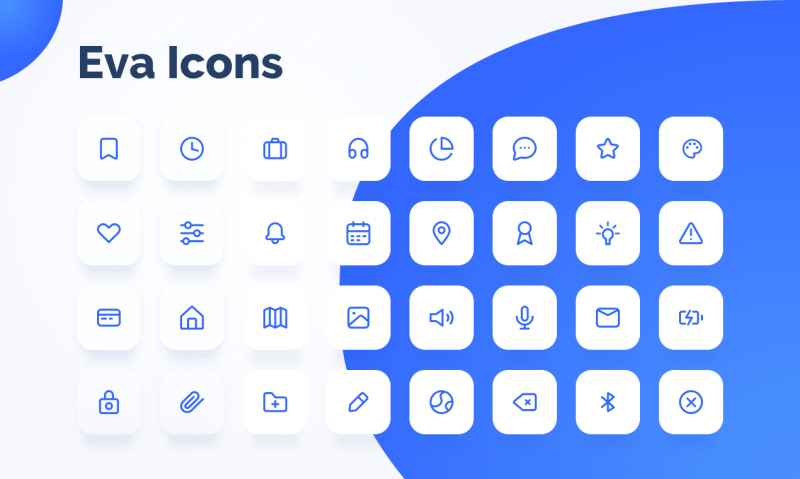 Eva Icons is a font management tool that supports an expressive verbal communication. With more than 480 icon options, users will not run out options to express or emphasize their words. The various icons also provide options to describe tasks on website layouts and UX designs. Each design was beautifully crafted using standard visual cues that everyone can immediately understand.
Eva Icons is highly compatible with Eva Design system, including Eva for enterprise. Designed for quick, practical web modifications, the icons allow easy transfers and changes between various platforms, from desktop to mobile. Designers can keep the website and UX designs clean, consistent, and fresh.
Each icon was designed with specific task in mind, using easily perceived symbols such as Attachment, Cloud, Mute, Save, social media icons, and navigational icons. The forms, shapes, and sizes are consistent throughout, reducing common problems like resizing and re-downloading icons just to ensure the consistency among designs in different platforms.
As an open-source icon management tool, Eva Icons is constantly updated, with v1.1.3 as the current version. Users can easily download the icons into the desktop and use them for various digital products and purposes.
With this icon management tool, you can:
Keep the appearance of the website consistent in all platforms
Reduce complexities in maintaining icon consistency (sizes, color schemes, and such)
Create a more dynamic website look with purposeful task icons
Create potential digital product markets between various system users like iOS, Android, and Windows
Create a customizable website or system for various businesses
Prevent crashes and other problems that make icons unusable when transforming the UX
Design a website or other digital products with clean, fresh, clutter-free look
Consistent and purposeful icons support the works of ideal websites, clouds, or corporate systems. Use Eva Icons to create a customizable, clean-looking, and purposeful UX without dealing with inconsistent, unusable icons.
Tags: design, design app, design tool, designer, eva design, eva icons, icon, icons