Font, typography, and typeface are the essential parts of a creative project. Whether it's for a poster design from your client or a web design for your portfolio, there are various online resources to accommodate your needs. Fonts In Use is an ultimate pick if you're looking for a go-to, diverse typography resource used by designers all over the world.
Established in 2010 by Florian Hardwig, Rob Meek, Nick Sherman, and Stephen Coles, Fonts In Use lets users decide on what fonts they're looking for by indexing it by typeface, period, format, and industry. Let's find out what makes them stand out amongst their competitors.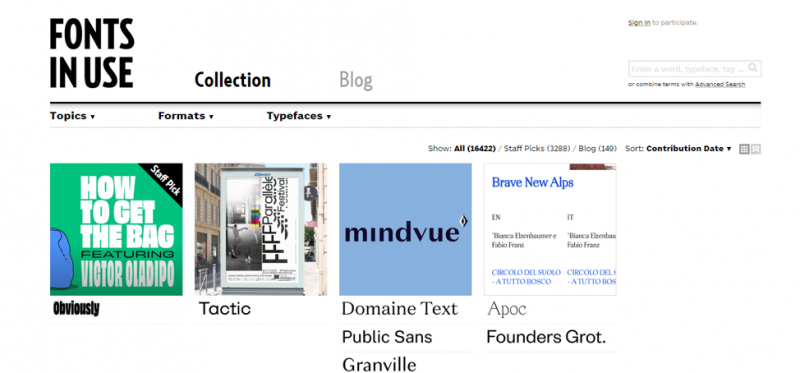 Aiming to improve typographic literacy and appreciation, Fonts In Use was initiated by its founders to provide a public archive of fonts where designers and other creative workers can learn further about type and font for their research and project.
One distinct feature that makes Fonts In Use unique is that the users can see how the font performs in a certain media, such as poster, book, or packaging. They also explains each font which covers its concept, date of making, as well as creator.
Fonts In Use was originally published in December 2010 as a blog. However, due to the large amount of support it received, it went through an expansion in July 2012. There was an addition of the Collection, a feature which lets contributors submit their font projects and findings into one of theirs assemblage.
What Fonts In Use Offers
Aside from being an awesome site for font directory, They also features other cool elements that improve your projects such as: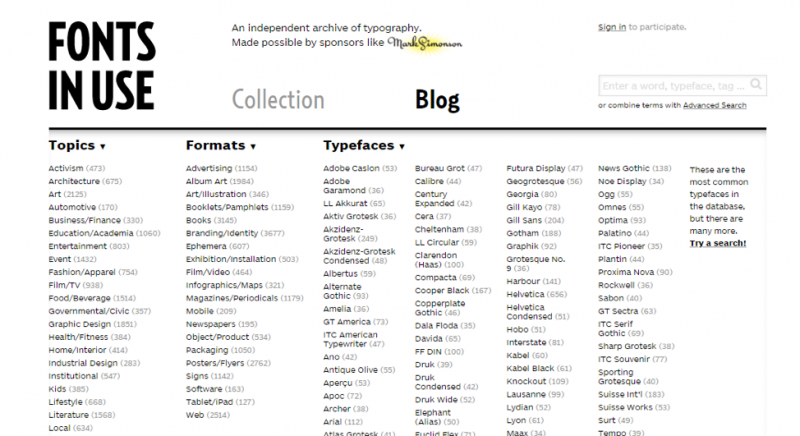 Diverse Categories of Font
They takes pride in its vast indexing system which covers period, typeface, format, and industry. Some of the categorizations include topics such as activism, architecture, art, literature, lifestyle, and many more. If you're looking for a font for a specific media, they also have various fonts specifically designed for album covers, book covers, mobile, newspaper, or web pages, among many others.
Looking for something ultra-specific? Try advanced search which includes the date of publication, creator names, and tag for a fixed result.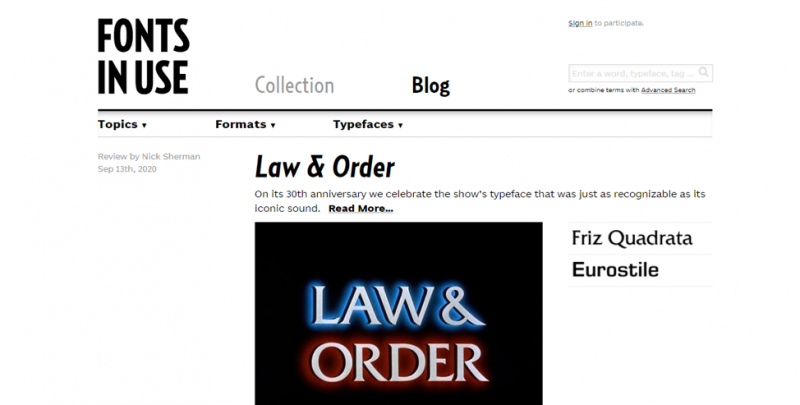 Collaborative Font Community
When Fonts In Use expanded its community back in 2012, they featured a major addition named the Collection. With a larger database, the Collection lets visitors contribute their favorite font to Fonts In Use and enrich its collection.
Simply create an account, add the font in use you want to upload and send the image via Flickr. You can access the full guide on their official FAQ page. Note that you can upload a work that isn't yours, but don't forget to put credits where it's due.
Easy to Access Font Resource
In using Fonts In Use, you don't have to download any application; simply access their website and straight away look for the right font for your project. They also has a clean interface and is easy to navigate for novice users.
On the top right corner of the page, you'll find a filtering option where you can sort the fonts based on Most Viewed, Most Liked, and Most Discussed.
A Great Place for a Great Font
Fonts In Use is a streamlined online font resource where you can find the best fonts thoroughly indexed into various types and formats. If you're a font enthusiast, you can also contribute to collection through the Collection feature.
Tags: adobe fonts, font, fonts in use, review