Designing new fonts can be challenging when there's no necessarily compact app to make sure everything is in place. Moreover, typography design seems to be made just for experienced designers.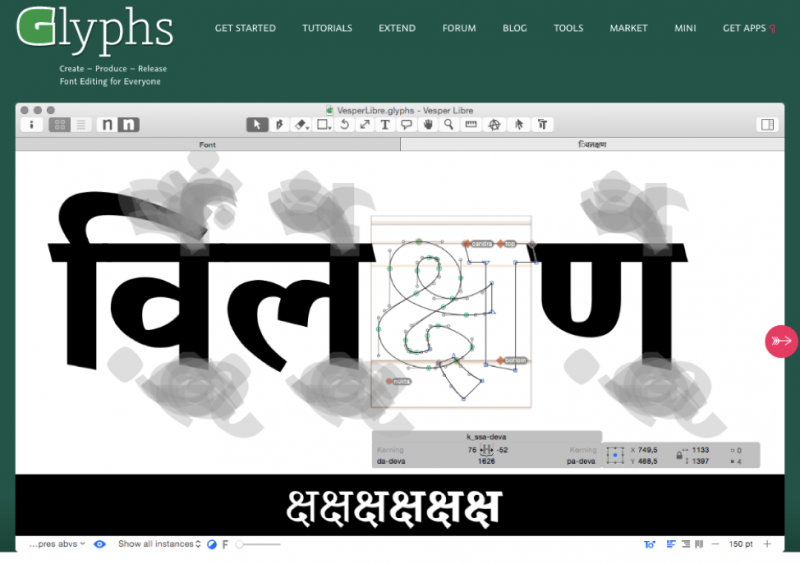 Before going to the app, let's talk about its official website first, glyphsapp.com. Proving itself to be way more innovative than the others is Glyphs, which boasts green whenever they can, as you can see from their logo and front page. With their tagline "create – produce – release font editing for everyone," it's pretty evident that accessible and welcoming are two accompanying adjectives when we talk about Glyphs.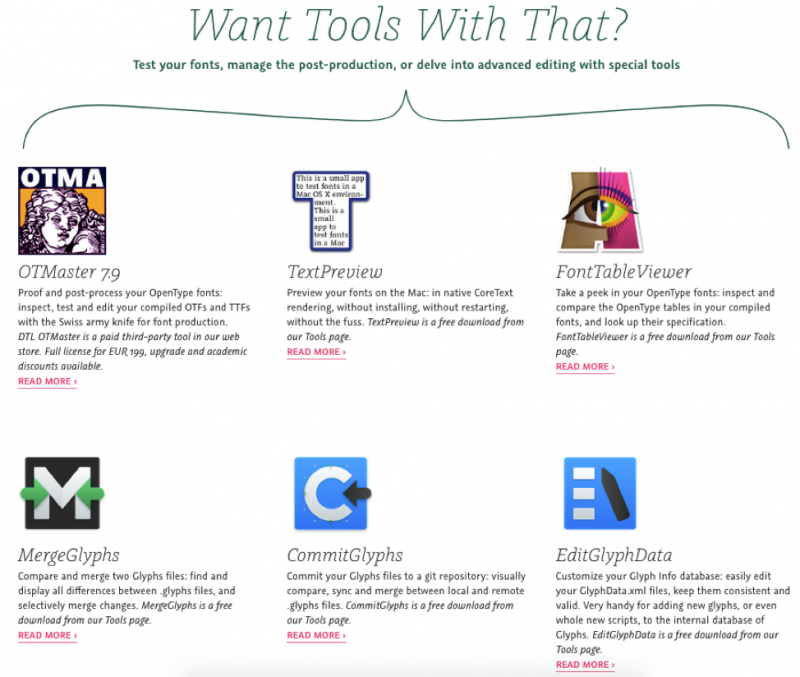 The website lists many menus from the Get Started, Tutorials, Extend, Forum, Blog, Tools, Market, Mini, and Get Apps in a glance. Specifically, on the Tools menu, you'll be directed to lists of accompanying tools that may be useful for your typography design: DTL OTMaster, TextPreview, FontTable Viewer, MergeGlyphs, CommitGlyphs, and EditGlyphData.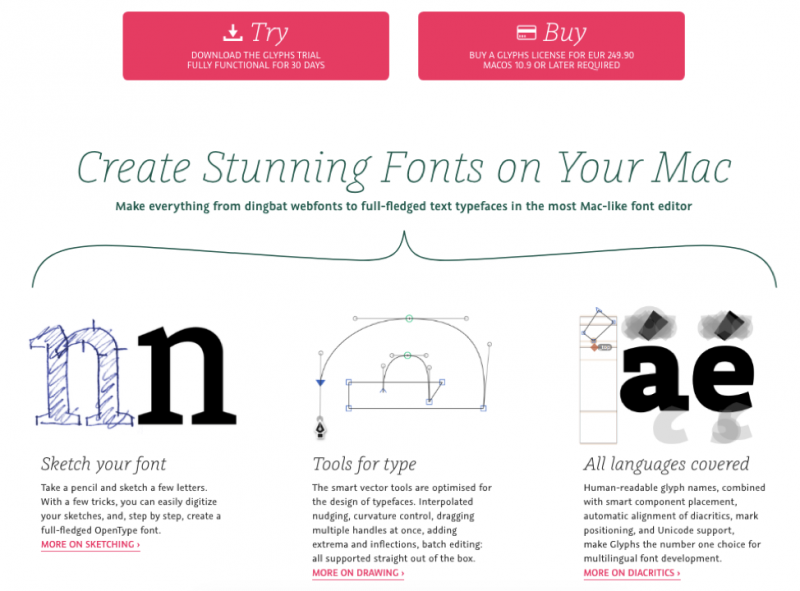 What we see after the Try and Buy buttons is a big, beautiful quote, "Create Stunning Fonts on Your Mac," followed by steps-by-steps and their links. Now, this is something refreshing for a complete beginner because they don't know where to start and what to do with the app.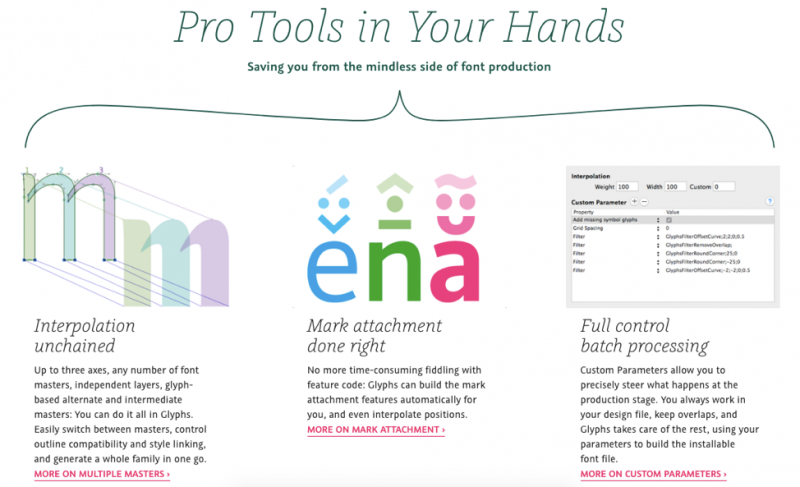 If you need more affirmation, the next section after all the steps is the testimonials from satisfied customers. Words like "integrated," "killer features," and "well-thought-out piece of software" bluntly describe Glyphs. Besides, Glyphs still doesn't stop providing its list of tutorials after that because users can have a quick reading about Multiple Masters, Mark Attachments, and Custom Parameters before putting Glyphs to practice.
Many professional font designers praise Glyphs for its comprehensive features that like hinting, kerning, interpolation, smart components, and even beta support for variable fonts.  A support forum is available with responsive developers, ensuring users waste no time in waiting for technical answers.
Regarding the language support, character sets for nearly all languages can be found in Glyphs. The app can also assist you with the requirements for characters you're unsure of.  The built-in manager lists many free and useful plugins from third-party developers, and fonts are stored securely as a plain text file, which won't eat up your disk space.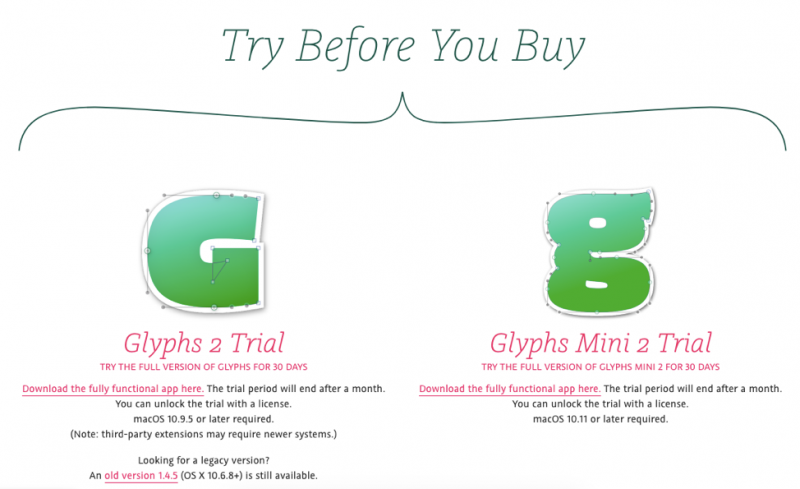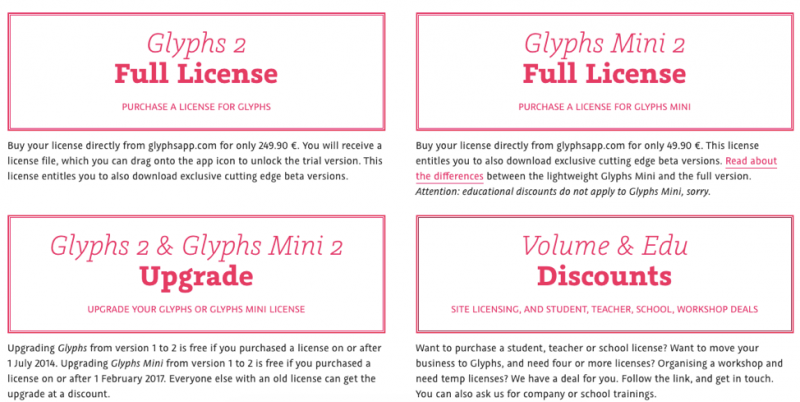 The Glyphs app readily provides the free Glyphs 2 and Glyphs Mini 2 trials that are fully functional for 30 days. The mini version is "the slimmed down" one designed with entry-level features and for no-fuss, casual font designers. For a detailed feature comparison between these two, you can refer to the Mini menu.
When users want to make a purchase, they only spend 249 Euros (around USD 279.51) for the license to unlock the trials. The app is compatible with macOS 10.9 or later.
Main Features:
Free font-designing tutorials and handbooks with downloadable PDF
Intuitive and straightforward user interface
Advanced vector drawing tools
Automatic alignment
Complete font designing features
Beginner-friendly
We hope the review on glyphsapp.com above gives you clear information about the website and tools offered on the app! Have fun with your font designing project with Glyphs.