Google, as we know it, is a logo full of colors. Google Fonts, Google's 2010-launched free licensed font families library, sticks to the old-fashioned dark gray letter color to make its statement. Although Google Fonts isn't for everyone's consumption, designers and creators have long agreed that this platform is one of the best when it comes to the typography world.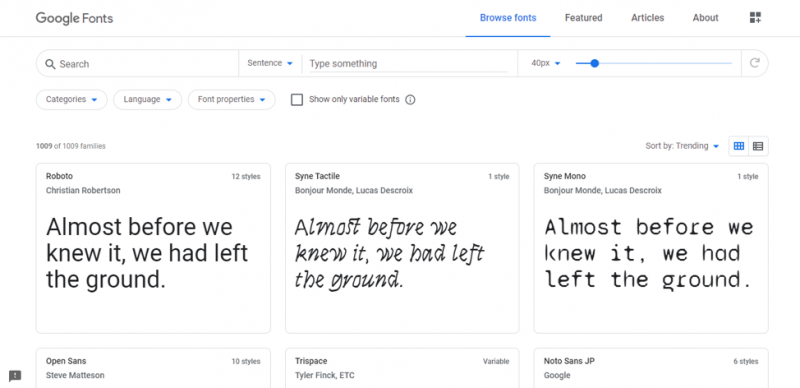 We all love practicality and simplicity, which is what Google Fonts emphasize right from the very first. As of the moment, Google Fonts have stored 1,009 font families. Unless we have time to inspect everything one by one, Google Fonts has provided the Search field in case we know the fonts we want to see.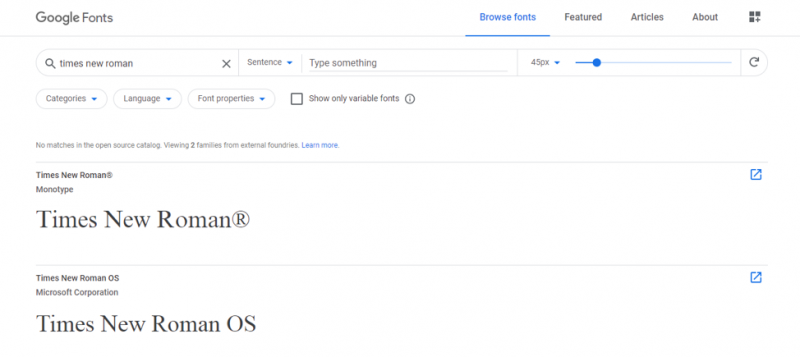 Otherwise, filter the desired font with the field:
Categories (Serif, Sans Serif, Display, Handwriting, and Monoscape),
Language (Arabic, Bengali, Chinese, Cyrillic, Devanagari, Greek, Gujarati, Gurmukhi, Hebrew, Japanese, Kannada, Khmer, Korean, Latin, Malayalam, Myanmar, Oriya, Sinhala, Tamil, Telugu, Thai, Tibetan, and Vietnamese), and
Font Properties (number of styles, thickness, slant, and width).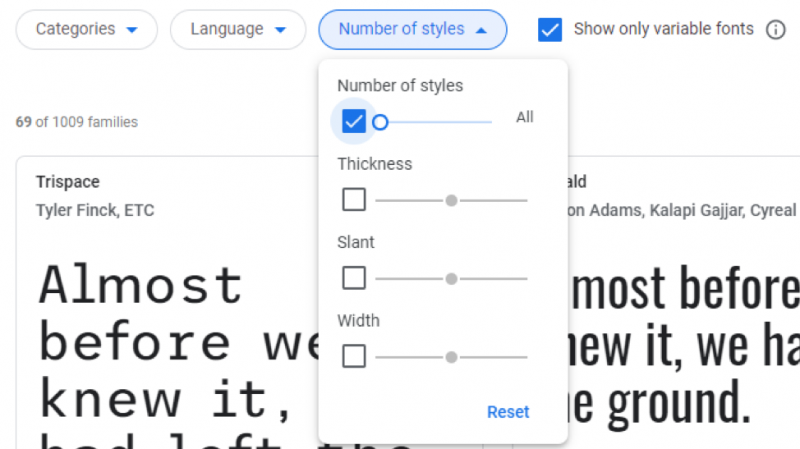 If necessary, users can also tick the Show Only Variable Fonts box. Selecting it will display fonts that can be edited a little (custom styles) on the Font profile. The current variable axes are the font's weight and width.
All font profile pages have a similar preview:
Select Styles, which also provides customizable preview text field and font pixel size,
Glyphs, which enlightens users on how the font will look like on all letters, symbols, and punctuation marks,
About [the Font], which gives a brief description of the font, designer's profile, and external link (if any), and
License, which details how users can use the fonts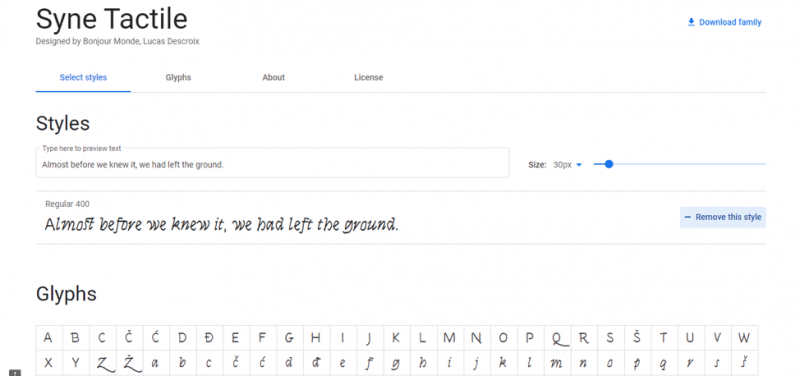 Featured (Collections)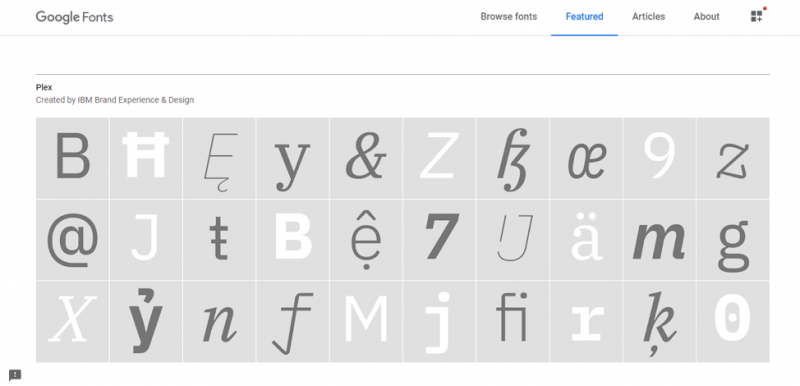 Sometimes, a bundle of fonts can be super helpful for our designing projects. It saves us time and effort from inspecting and downloading each font profile page separately. It can be incredibly inspiring when utilized correctly. This is why the Featured menu exists on Google Fonts!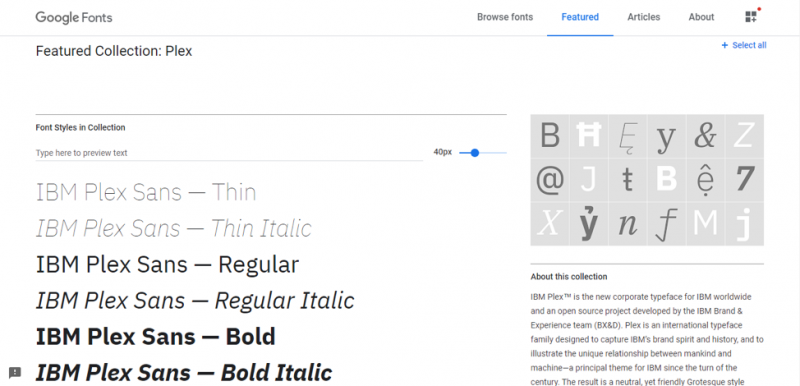 Clicking on the collection will direct users to its profile, which details the Font Styles in Collection, About This Collection, and Creator's Profile. If we want to select all the styles there, click on the Select All button on the top right corner. This button will be available everywhere on any Font or Collection profile we click.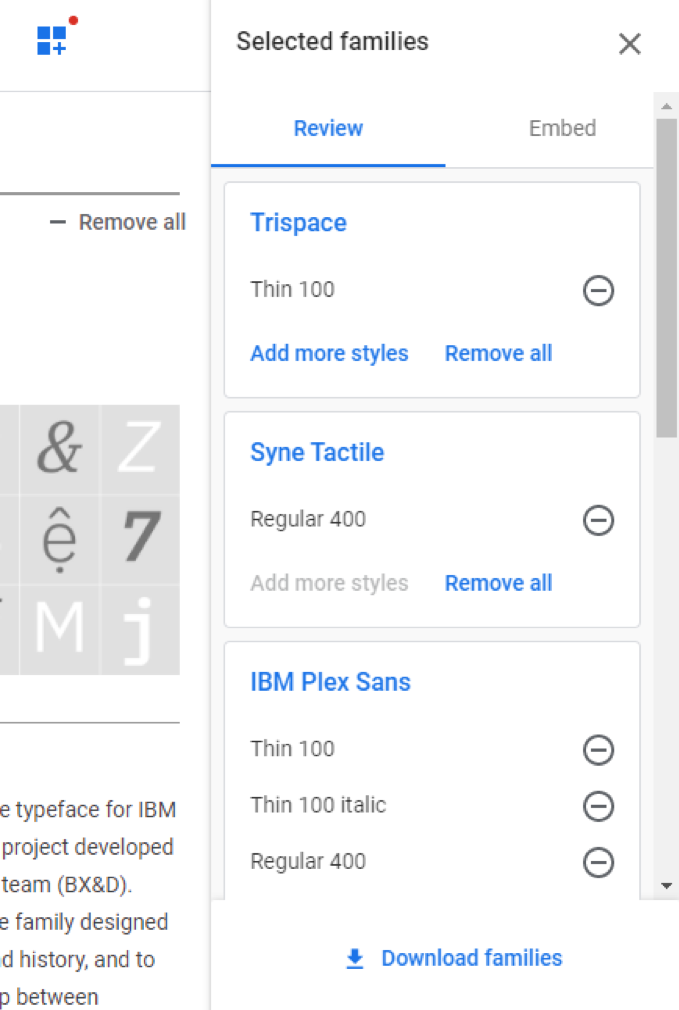 To see what fonts users have selected on the website, click on the square-ish logo on the top right corner (above the Select All button earlier). Users will see a pop-up pane on the right labeled Selected Families, further divided into Review and Embed. Depending on which one you choose, the downloaded font file will be different.
Google Fonts doesn't forget to include the Articles and About menu as well. Their articles, however, aren't in the same domain as Google Fonts. Users who click on it will be directed to one of Google Design webpages: Type and Typography. So, there's no reason not to have fun while browsing your dream font!
Main Features:
Intuitive and straightforward user interface
Free licensed font families with thousands of collections
User-friendly page navigation
Easy search with various filtering options
Updated featured font collections
We hope the review on fonts.google.com above gives you clear information about and tools offered on the website!
Tags: font, font tools, google, google font