Want to have that mural, street-style vibes using graffiti font in your design? You've come to the right place.
While it's not everyone's cup of tea, graffiti font has gained a cult of its devout users. Offering a unique urban vibe to your design, graffiti font will brighten your design with its quirky shapes and make it stand out against the crowd. Graffiti itself is often found as an art form around big cities, usually taking a considerable public wall or building.
Ever since its surging popularity, many advertising companies, cartoons, and graphic designers have inspired it. They feel inspired due to its colorful and eye-catching elements of graffiti font, not to mention its ability to capture everyone's eyes in one glance.
However, don't think that graffiti font is only used for creative endeavors, because in fact, many social movements and political rallies are using graffiti font to create a bold statement. Graffiti font is inherently versatile and unique, making every creative project feel fresh and exciting.
Whether you're a seasoned graphic designer or a novice one, why not try to put graffiti font amongst your collection? Here are 30 graffiti font recommendations that will transform your designs like never before to help you start.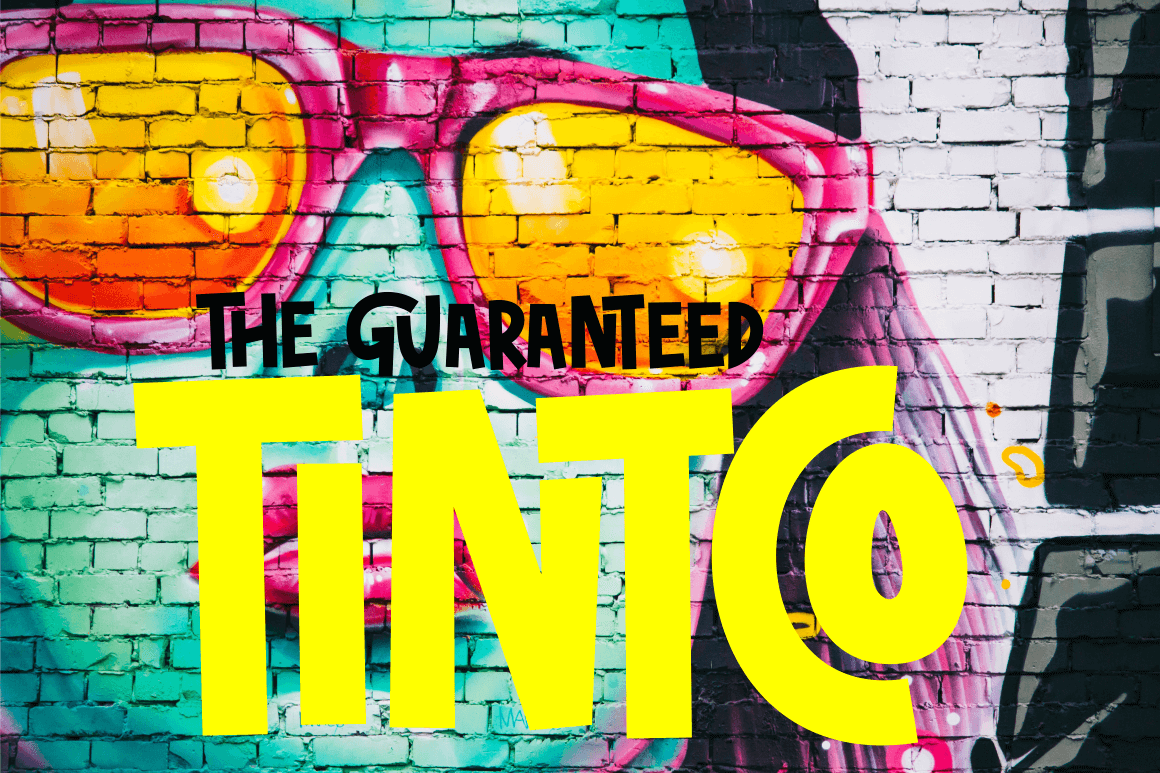 Strikingly bold, Tintco will transform everything you make into a showstopper, an eye-turner. Make your graphics stand out from the crowd using its quirky uppercase and small uppercase, all ready to use in any of your graphic design software.
Perfect for a poster, headline, or display, be ready to get your statement heard and noticed using Tintco as your font.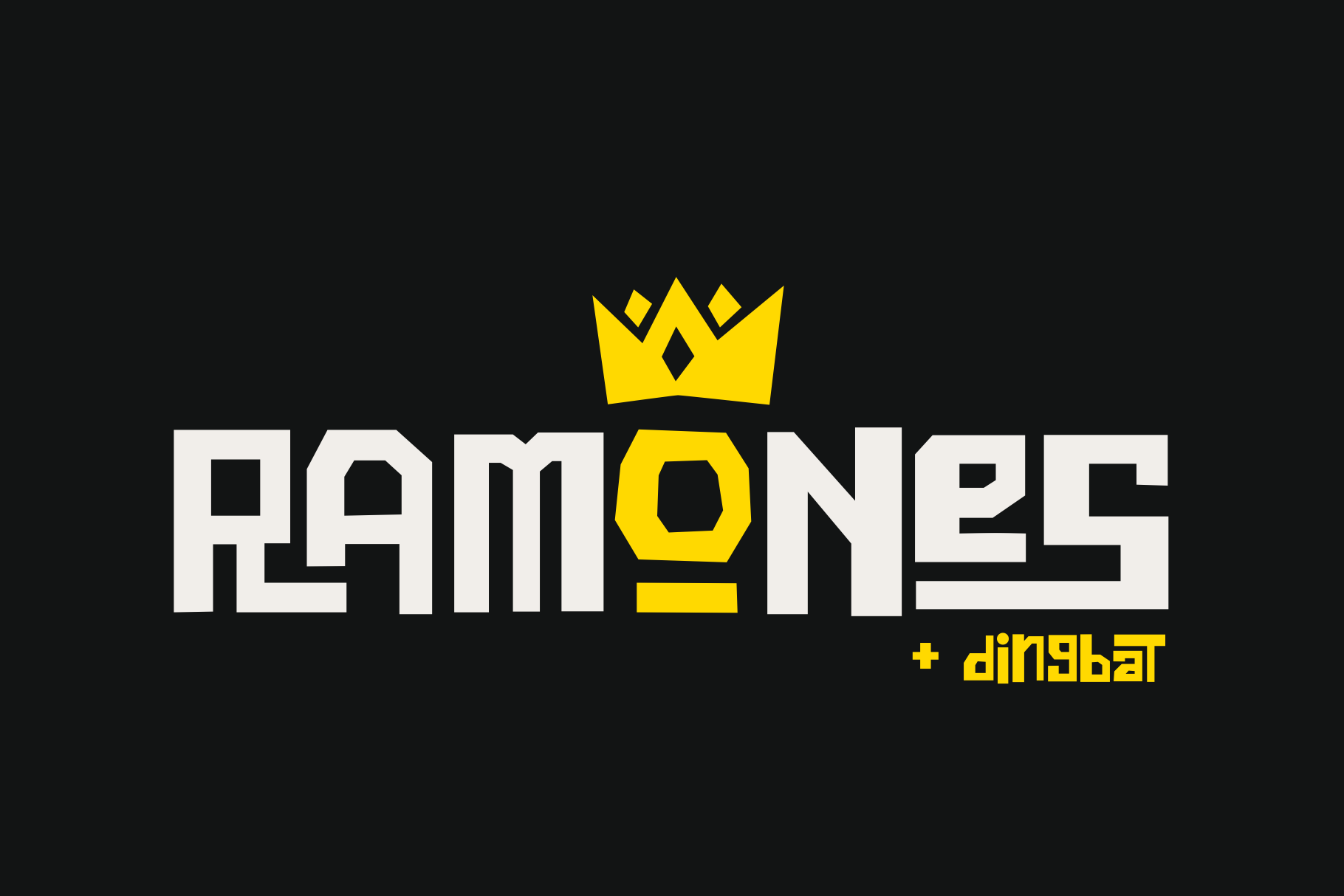 Ramones is the block graffiti font everyone wants to have for their next project full of rebellious and punk energy.
The moment you put this font in your design, it'll breathe a street vibe and steal everyone's attention along with it.
Ramones' design is jagged with bold lines perfect for statements. The design reminds you of a brave lioness with its "in your face" attitude. Make sure to use Ramones as a headline for maximum effect.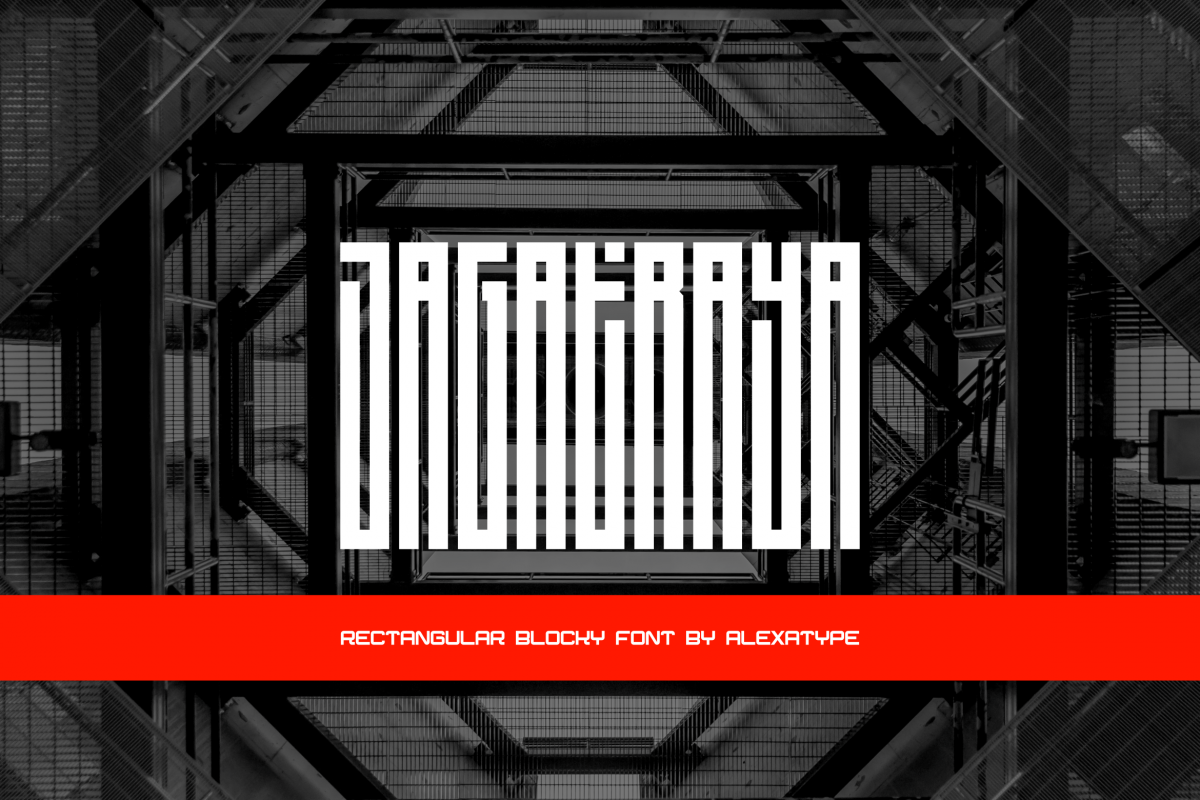 Want to achieve that edgy, puzzle-like look? Jagatraya is the right font for you. Jagatraya will definitely be your next highlight for an article, website, graphic, or any other promotional media, offering rectangular, blocky sans-serif typefaces that are perfect for modern designs.
Not only that, but Jagatraya's tall shape also gives a futuristic tech ambiance. Perfect for stealing your client's approval. Get ready to be amazed by Jagatraya!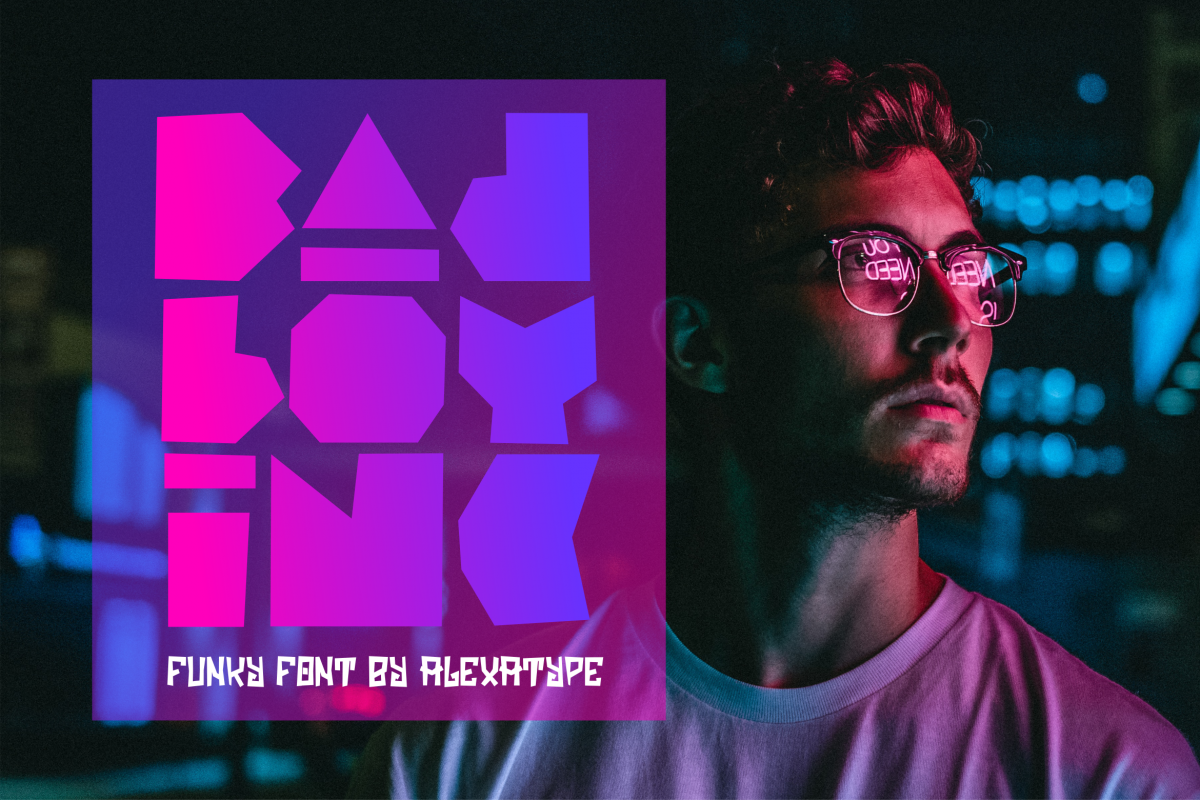 Looking for a challenge? Bad Boy Inc can be your next partner-in-crime.
It comes in a sharp yet funky typeface, be prepared to pop up your design and create some bold statements with it. Bad Boy Inc is perfect for anyone who's feeling rather adventurous or rebellious and has that in-your-face attitude in them.
Combine it with neon lights, bold colors, daring shapes, and get ready to speak out loud!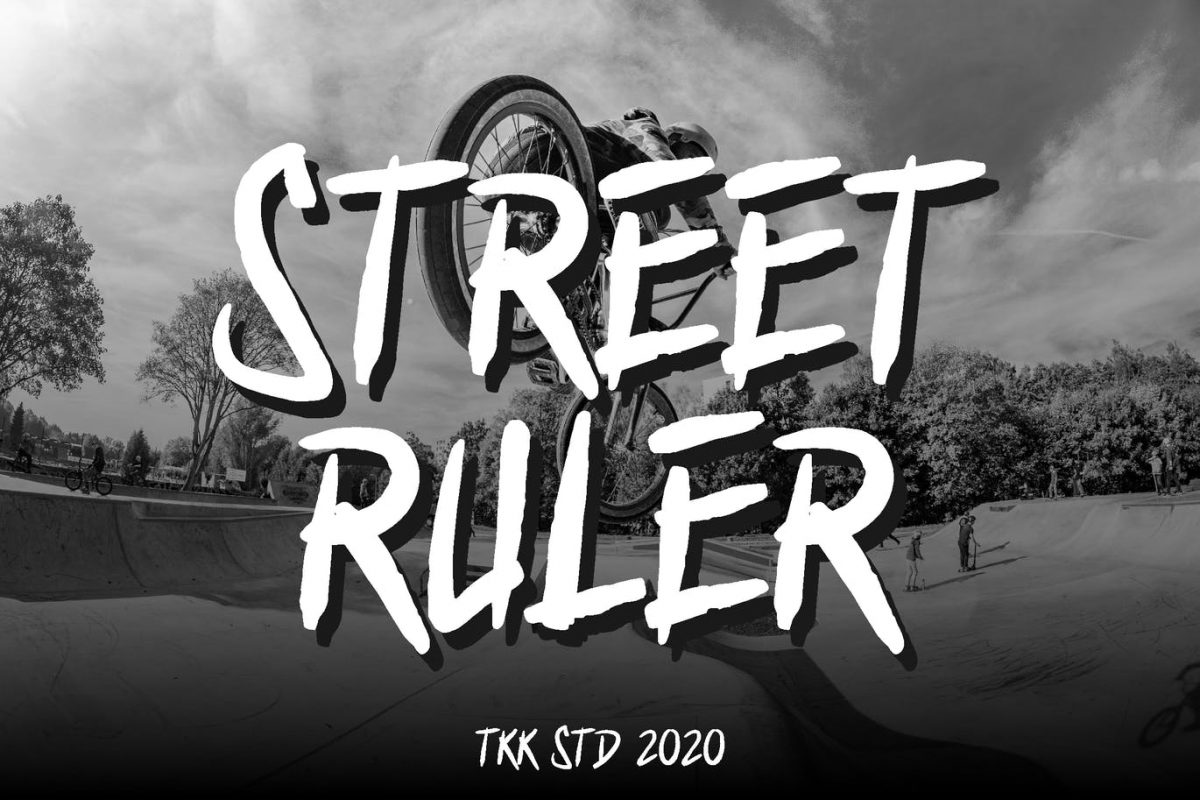 Coming back to its graffiti roots, Street Ruler will take you back where it all began: the street.
With its messy handwriting style, Street Ruler will bring aggressiveness and rebellious youth energy into your design. The font is perfect for Urban-themed designs such as indie clothing brands and skateboards.
You can also slab it as a headline in your event posters, movie titles, edgy magazines, restaurant menus, social media designs, and so on. With Street Ruler, it's all about experimentation.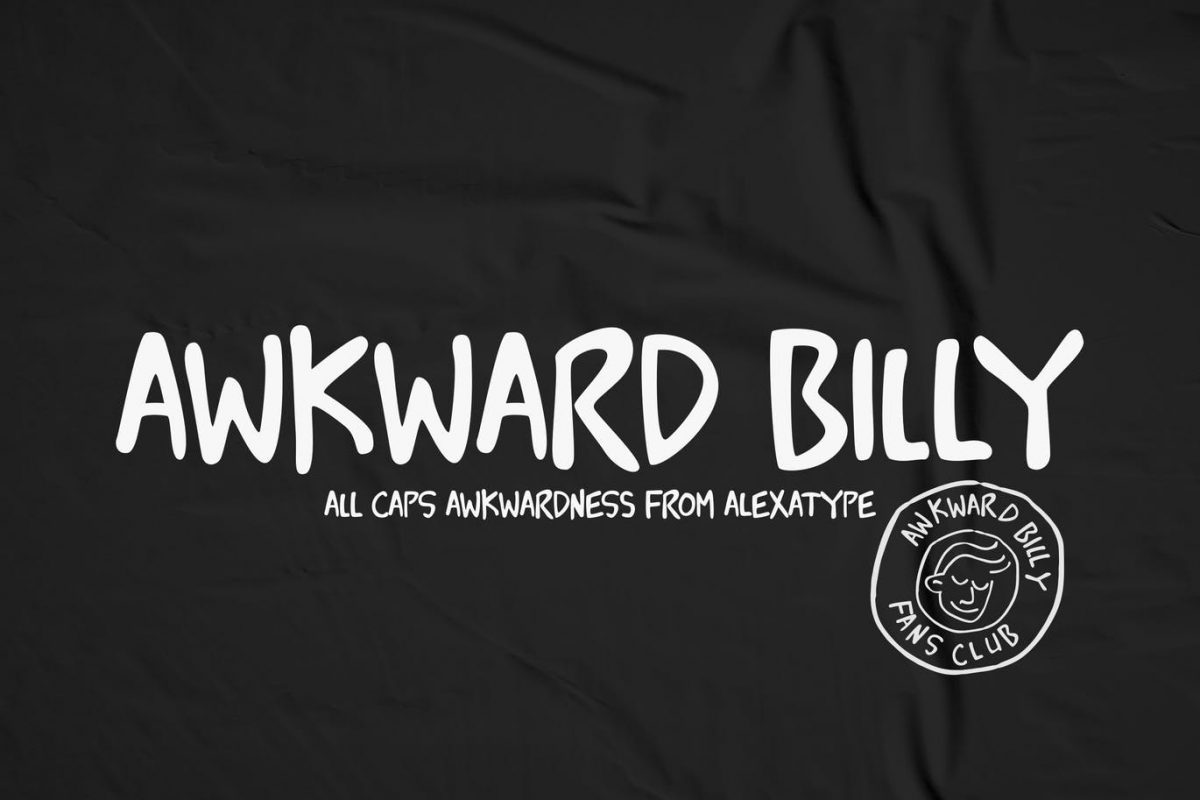 The only way to grow is by stepping outside your comfort zone and into awkwardness. Only after you've befriended awkwardness will you create a lasting impact that everyone will remember.
Luckily, Awkward Billy has exactly just that. Its all-caps typeface with daring width and bouncy baseline screams nothing but bravery and uniqueness. Suitable for posters, t-shirt designs, murals, and many more.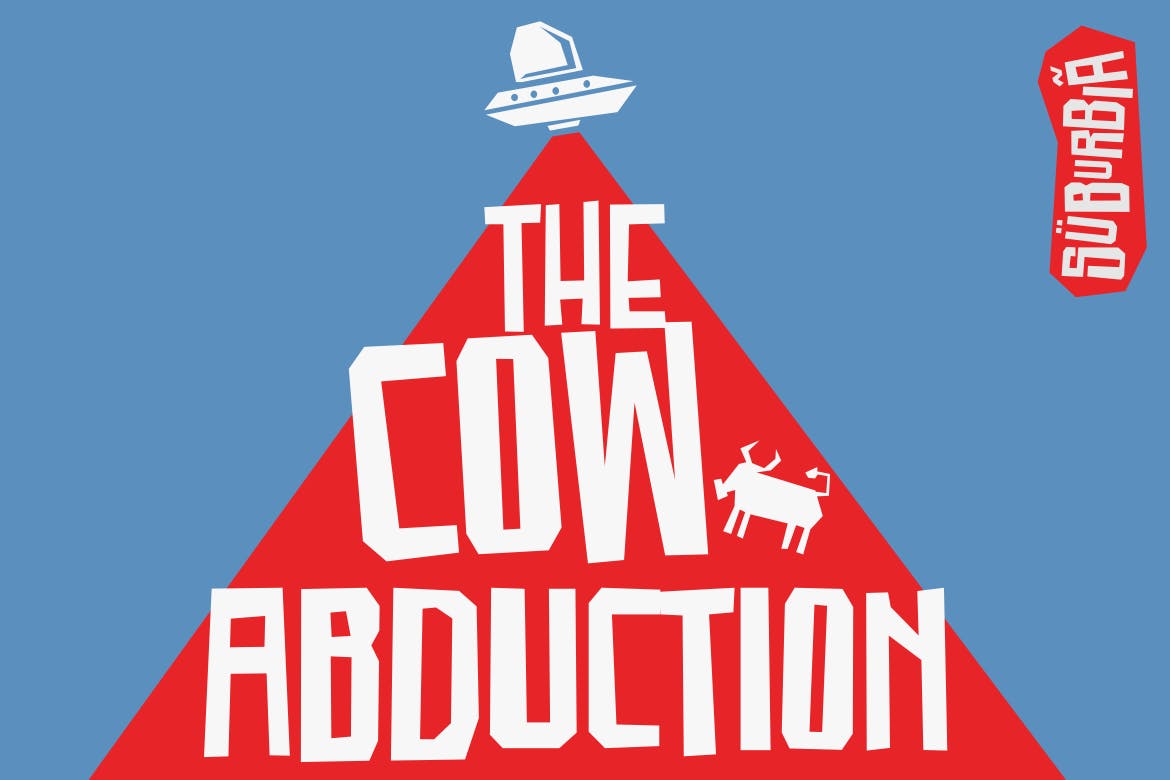 At a glance, SUBURBIA might come off as simple and casual, with only geometric shapes and a cut-out feels as its distinct point. However, once you've managed to combine it with the right color palette and design feel, you'll realize that SUBURBIA is so much more than that.
Add it to your future graphic design project and deliver a powerful message as no one else does.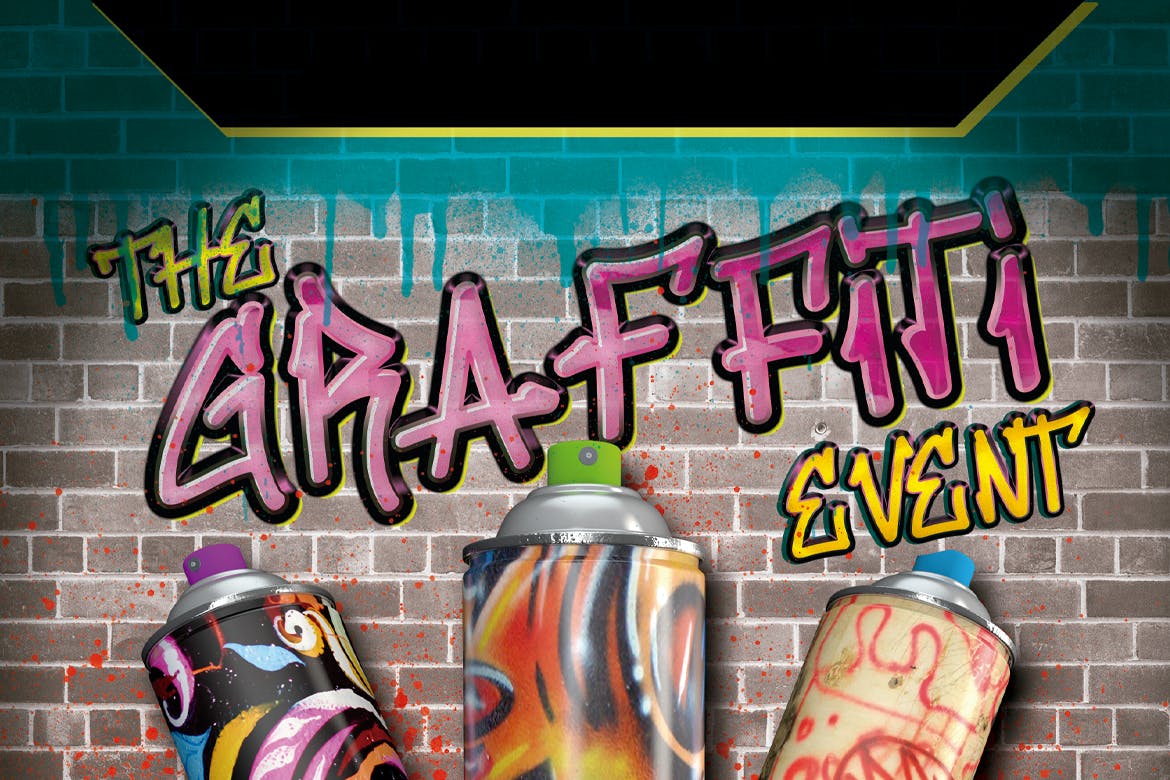 If there's anything that needs to be splattered by art, it's your next design project.
Fortunately, Wall Bomber is here to make that happen. Offering an art pop-style typeface that definitely will stand out from the rest, claim your spot and let your design speaks for what it's worth.
Pair Wall Bomber with sophisticated logos, surfing apparel, beach graphics, movie headline, edgy magazine, and so on.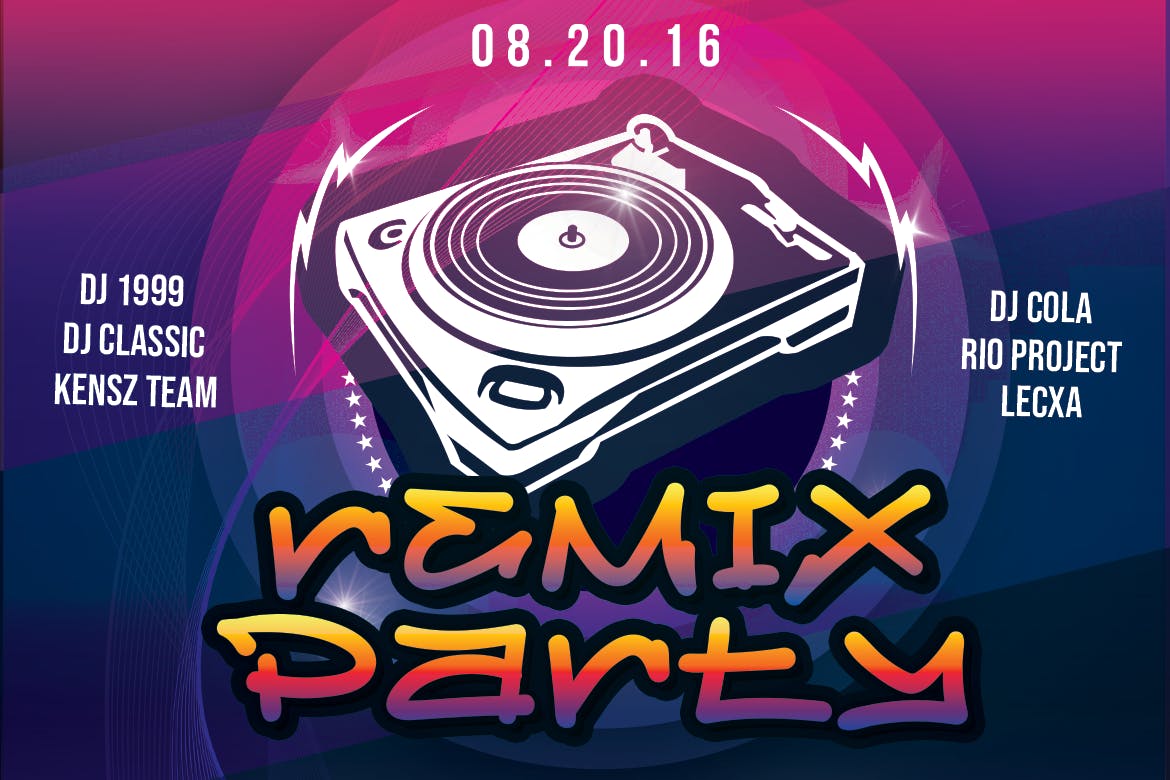 Ever felt like you want to lose your mind after seeing a perfect design? INSANITY will bring you the same experience. Perfect for the wild, chaotic, and "insane", show your design to the world with INSANITY slabbed on its headline.
For you working on a horror movie promotional media, horror games, or Halloween-themed graphics, INSANITY will be your best fit for the job.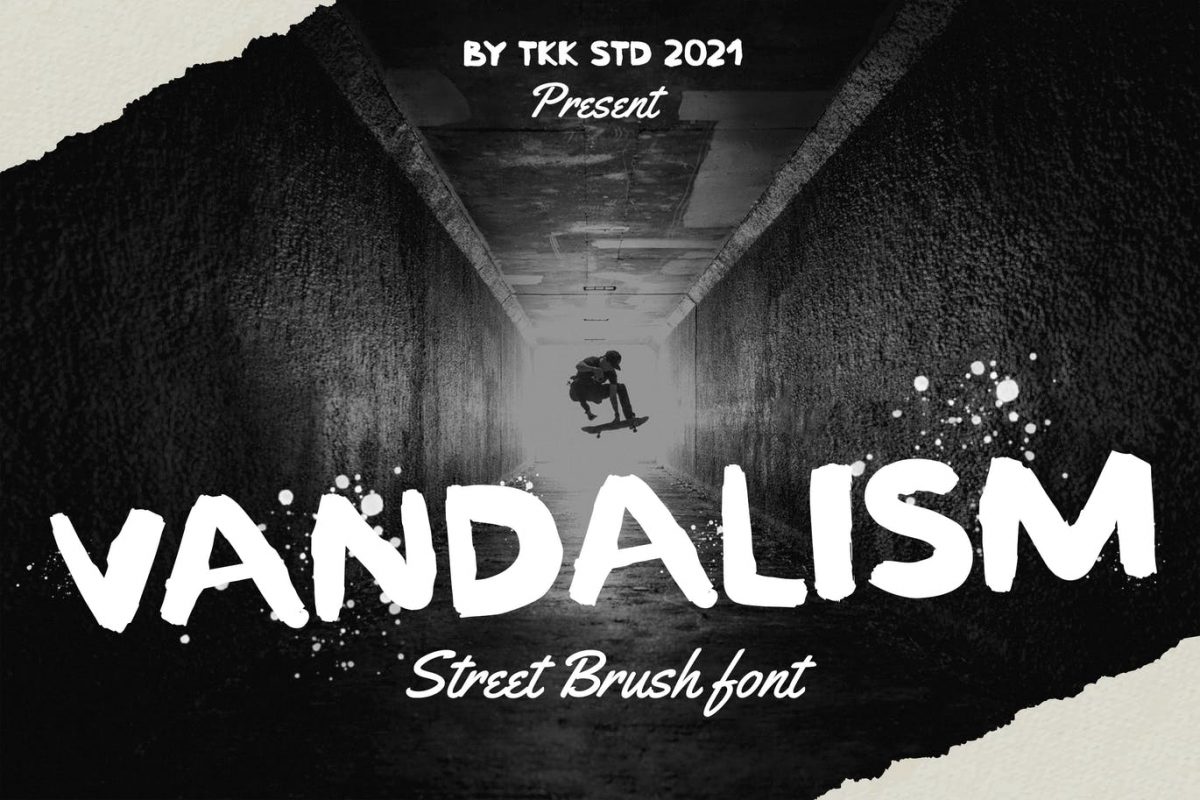 Rough and full of splatter, youthful spirit, Vandalism makes everything you make into an avant-garde mural art. It'll bless your project with unlimited energy, and everyone will stay on the edge of their seat, a font that's full of adrenaline.
Vandalism would suit perfectly for urban-themed graphics or online games posters. But you might want to consider using it for other media such as movie titles, posters, or social media posts.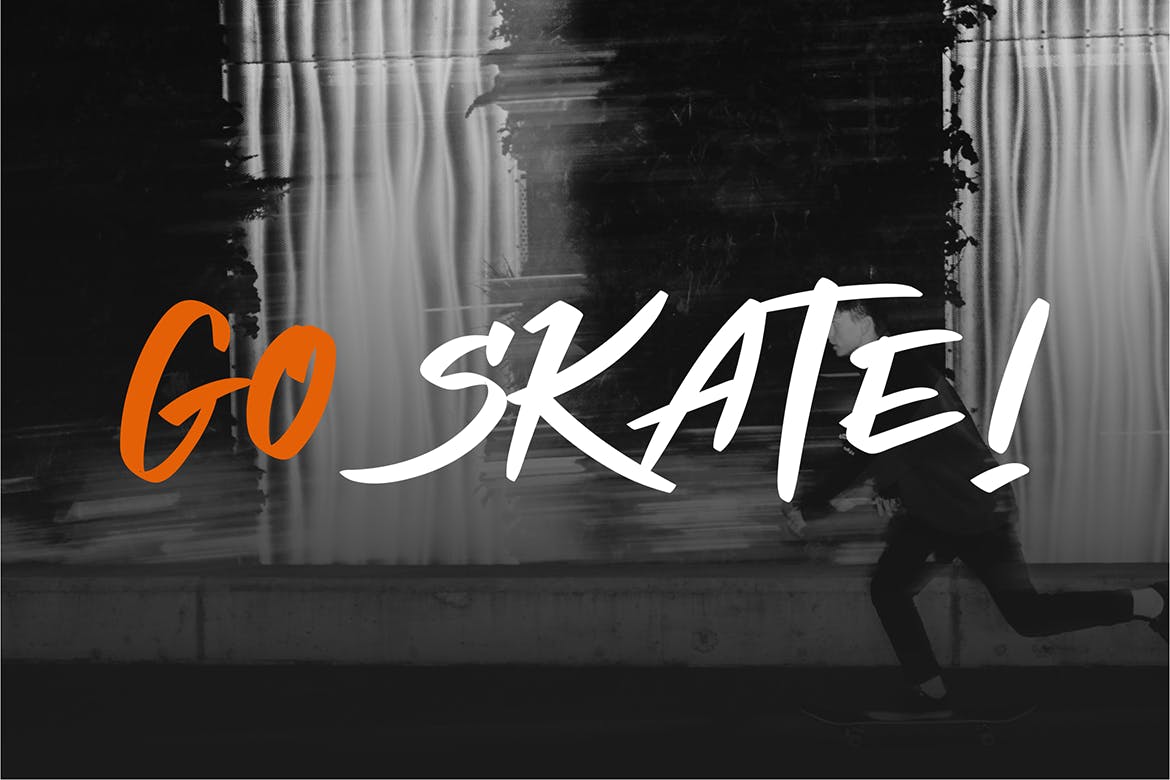 Inspired by the rebellious teenager phase, Shockwave will shock your audience with a carefree but full of adrenaline spirit it contains. Well-matched for movie headline, poster, skateboard, and indie graphics, make sure to reserve this typeface for your next project's success.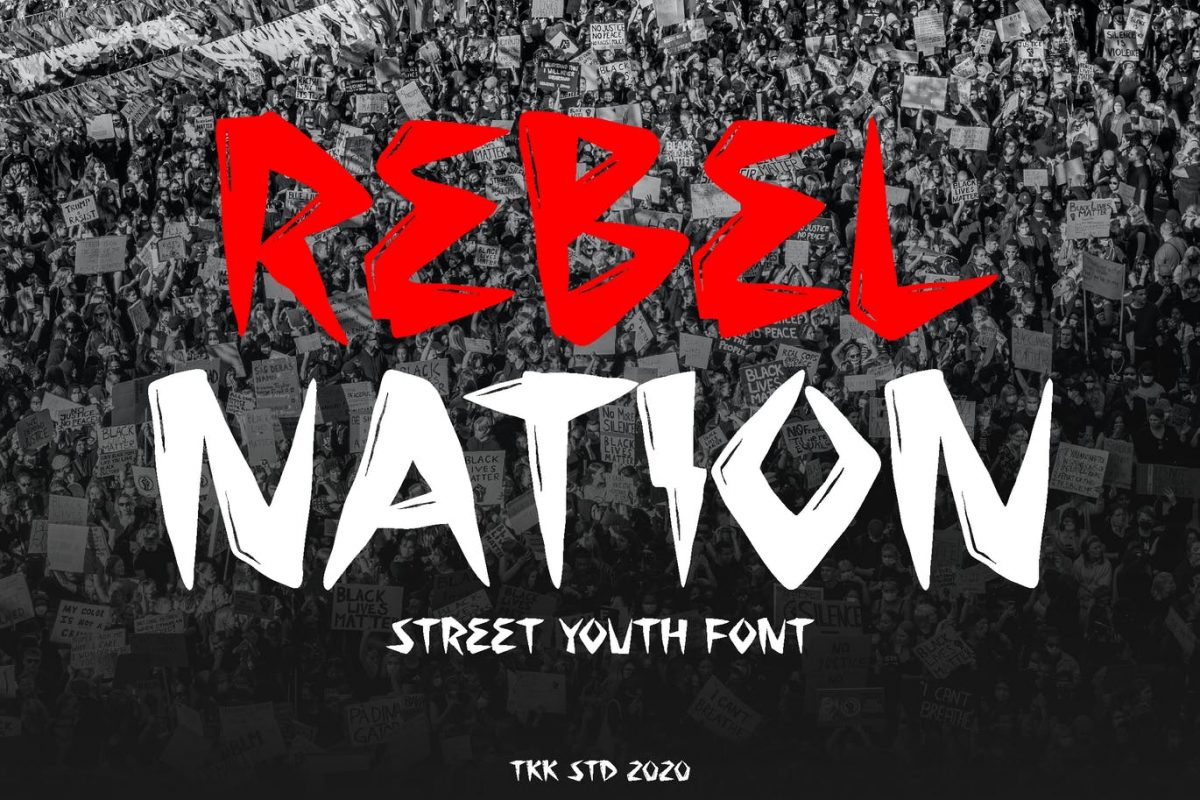 Bursting with strength, raging with rage, and empowered with the inner spirit of youth, Rebel Nation is the perfect embodiment of the young generation. The font is bold and statement-worthy, with an inner gloss effect to make it even more pop up when it's being splayed on your design. Put it on your next project, and you won't be disappointed with the result.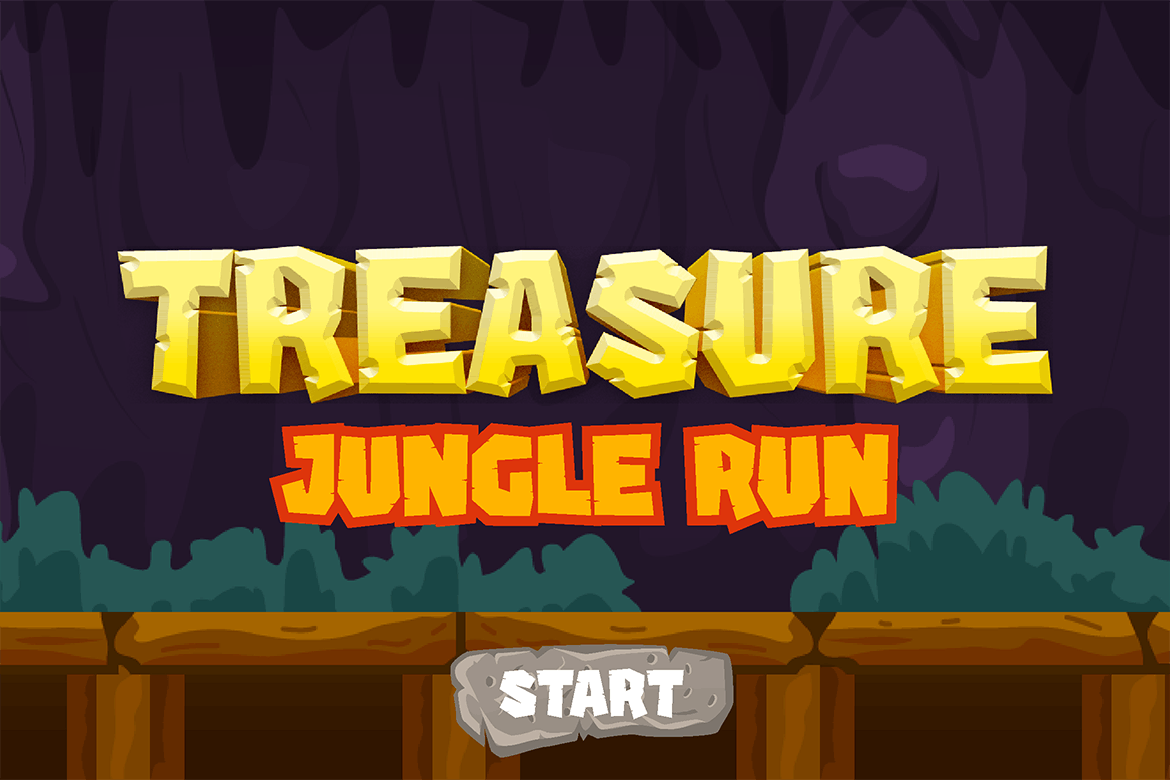 Surging with a wildlife vibe, this adventurous, bold sans serif font will make you feel like you're racing outside in the wilderness. The shape reminds you of a rock boulder from the riverbank, A wildlife vibe and adventurous blocky sans serif font, with an all-caps shape. Stern, full of conviction, and breathes the image of an adventurer to your design.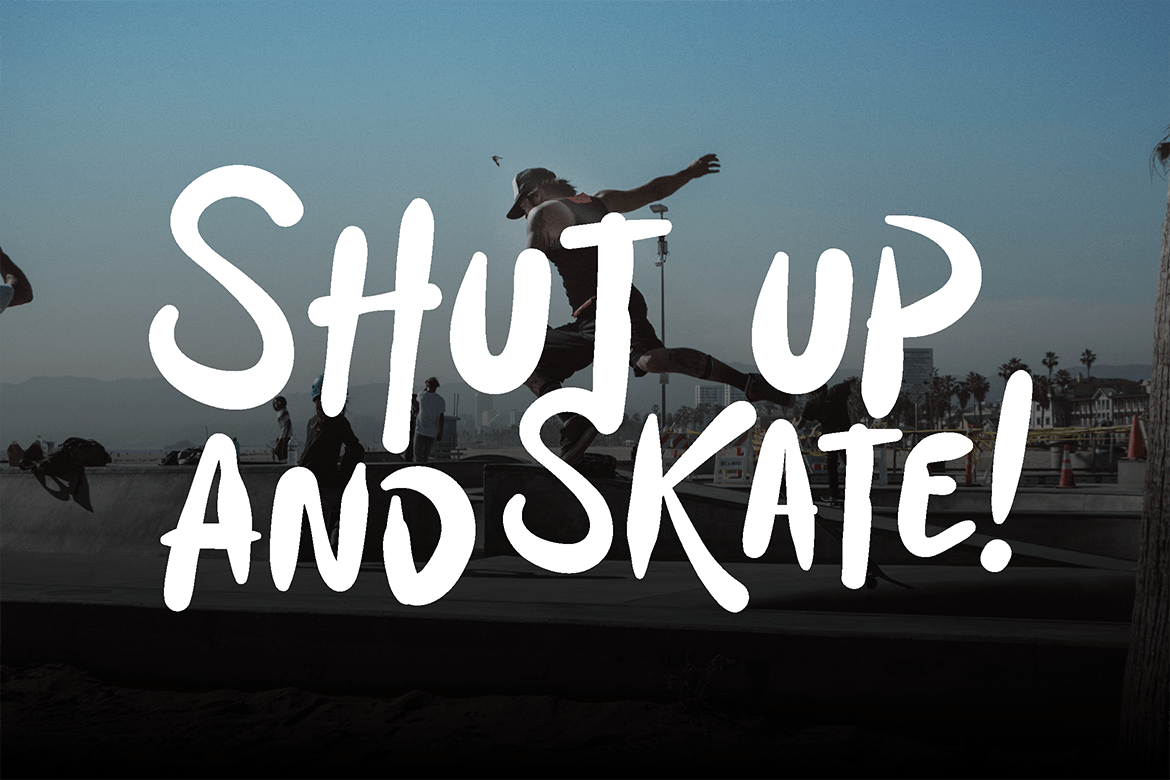 Never let the soft blob and rounded edges fool you because it's time to be brave with Southpaw graffiti font. The sheer aggressiveness it exudes reminds you of the street and nightlife, as well as the endless energy of rebellious teenagers during their phase.
Add Southpaw to your latest collection and proudly slab it as the headline on your poster, magazine, menu, YouTube cover, or social media design.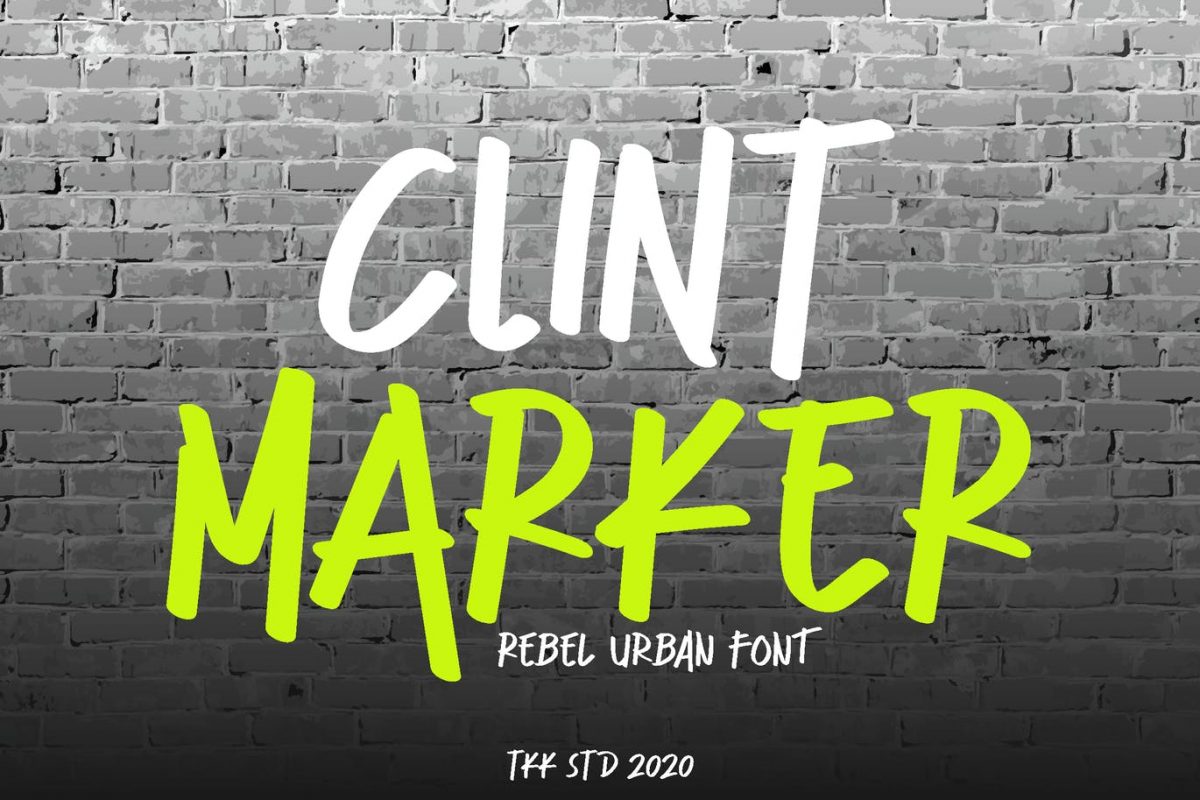 Carefree and full of adrenaline, Clint Marker is what you need for a graffiti font. The marker-like typeface reminds you of mural art along the riverbank, bringing unlimited energy to your design. Pair Clint Marker with an urban-style magazine or RPG online games. Feeling experimental? Why not try using it for your poster, t-shirt, and social media design as well?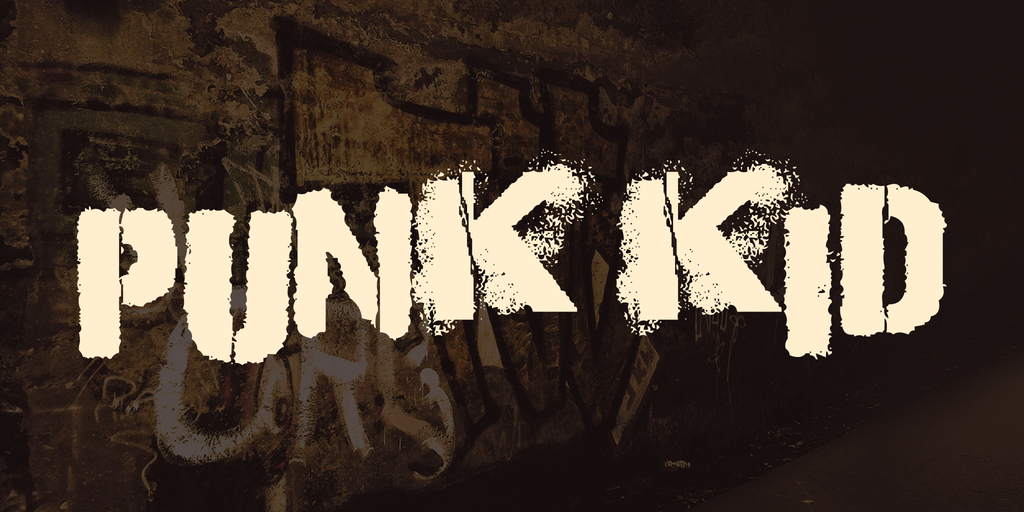 Kinda cool, kinda quirky, kinda makes you want to use it in all of your design. Looking straight out of your punk kid dream, Punk Kid font will deliver you exactly that. Breathing bravery and youth into your design, let your design scream out loud using this typeface.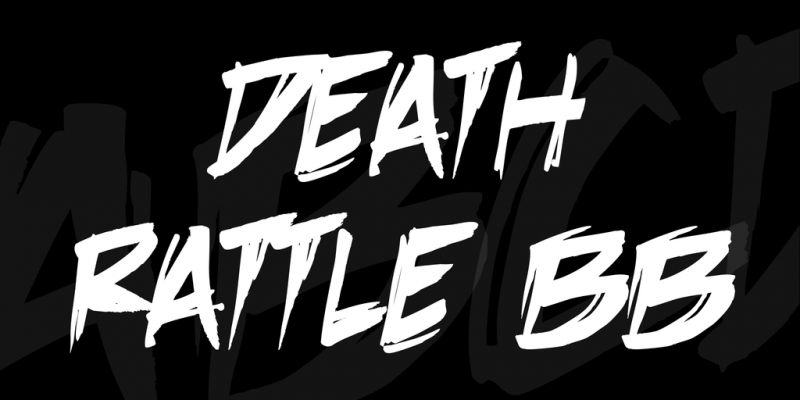 Have you wanted to find the right font for your next jumpscare graphics? What about trying Death Rattle BB for the headline?
Be it rending some intestines, gouging an eyeball, or screaming everyone's head with a macabre aesthetic, become your horror expert with this messy, loud, one-of-a-kind font.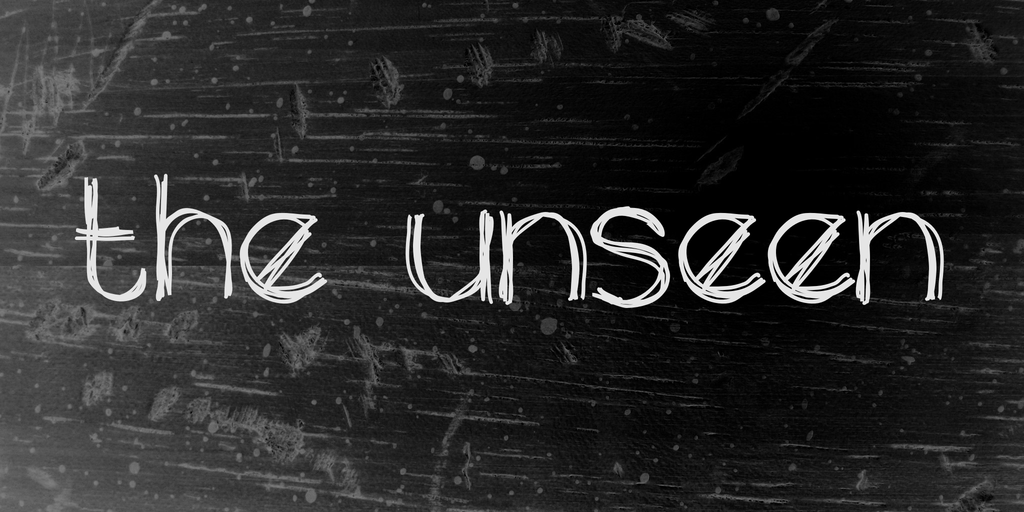 Another horror-adjacent font, the unseen, will bring that creepy scribbles inside the bathroom vibes we're all excited about.
With a handwriting style and Halloween vibes, pair the unseen with a horror color palette such as red, black, and gray. The font is suitable for body text, be it in movie posters, video games, or social media posts.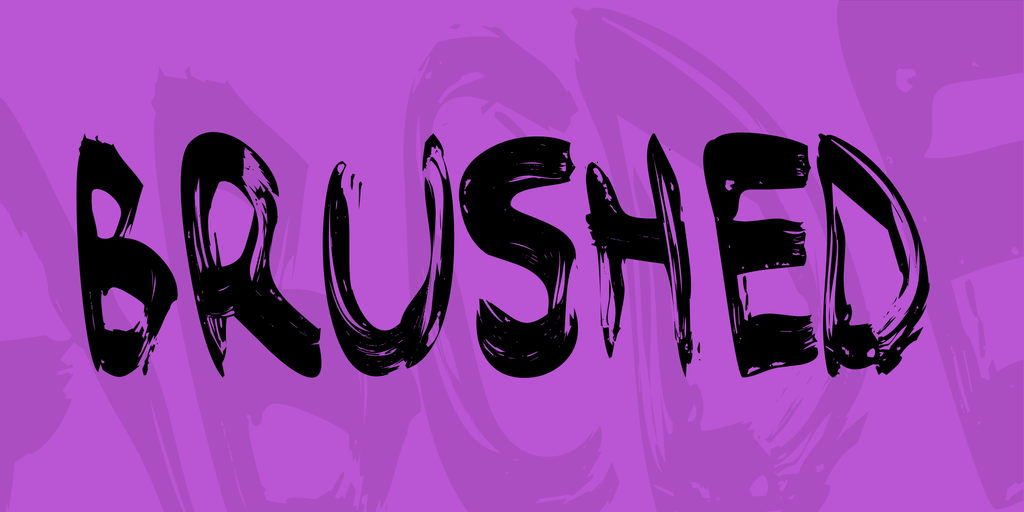 Brushed-style font never goes out of style! Especially the one with a graffiti streak like Brushed. With a heavy, bold, headline-like typeface, Brushed will steal everyone's attention and stand out proudly amongst the crowd.
Be it horror games, thriller movie posters, or Halloween social media posts, achieve that scary-looking aesthetic with Brushed.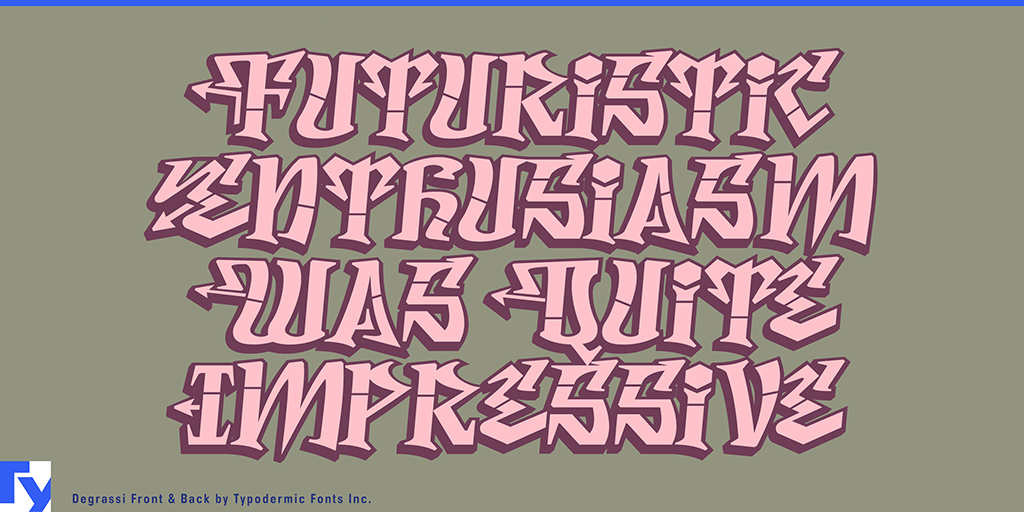 A wack, graffiti font, Degrassi is what you need for your next design project. Looking straight out from the street, it'll transform anything you make into a splendid mural wall art you see along the NYC streets.
Of course, it doesn't always mean that you can't use it outside mural projects. Slab Degrassi as a headline, social media post, YouTube cover, or anything, and it'll still look awesome.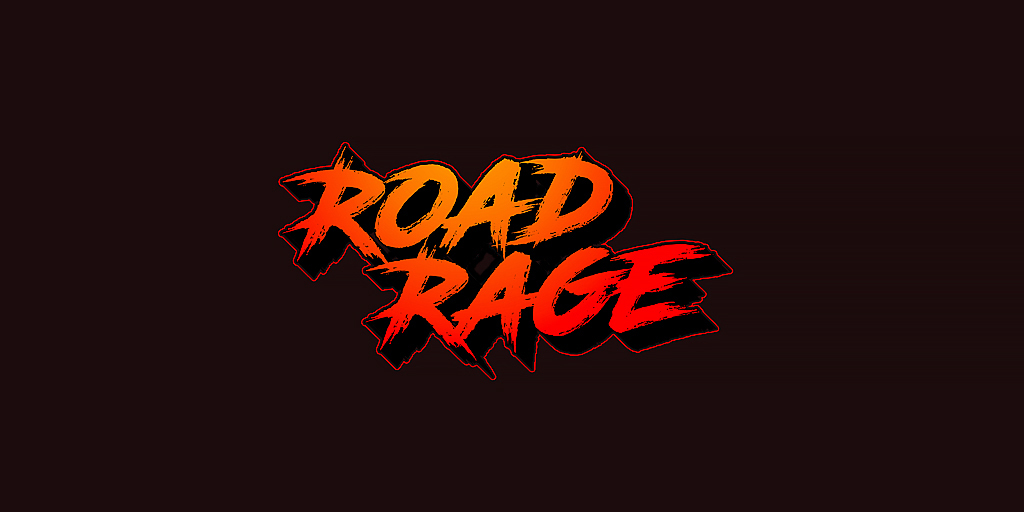 The embodiment of anger and all-consuming rough energy, Road Rage is your pick if you need something full of adrenaline. With a messy brushstroke and sharp handwritten typeface, Road Rage will make your graphics stand out from the rest.
Use it for your t-shirt design, movie title, game promotional media, or anything that needs a touch of rage in it.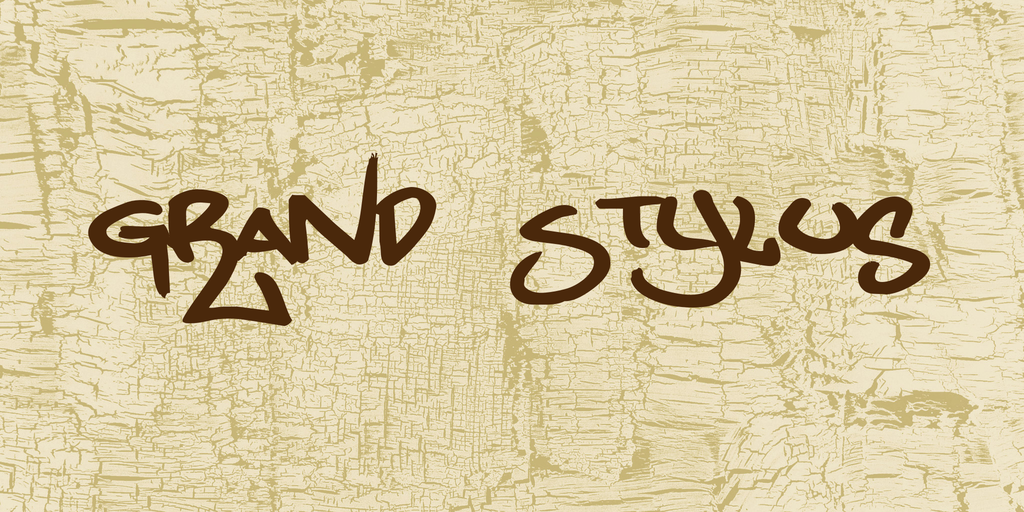 Grand Stylus is the perfect graffiti font for the job, a quirky, unique touch for your branding and promotional media.
With an unusual streak and typeface, it's hard to forget this particular typeface after landing your eyes on it. Additionally, it'll also look good on any surface, be it a digital platform or your skateboard.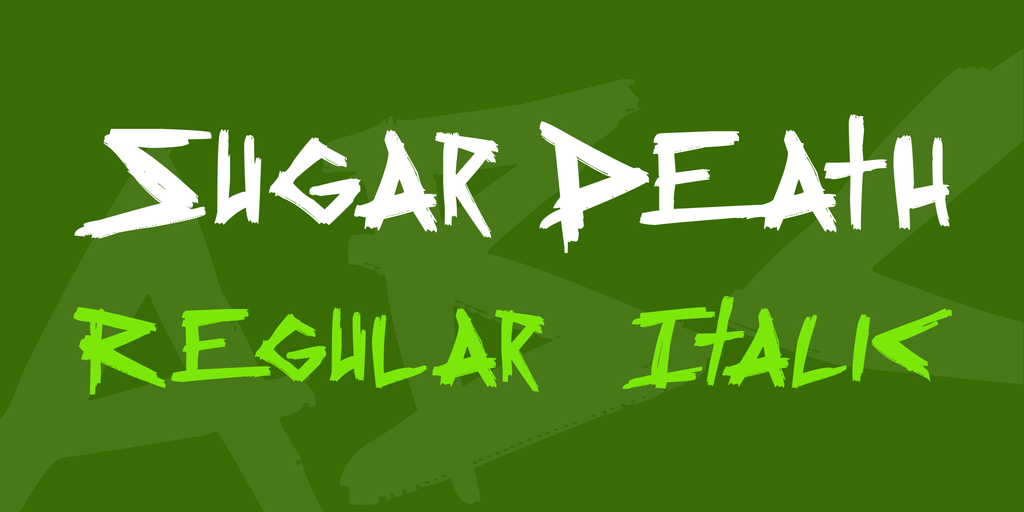 Ever felt like you're so high with sugar you almost fainted? The Sugar Death 2 offers you a more-or-less the same experience.
With a rune-like typeface, scratched style, and a street touch, Sugar Death 2 font is everything you need for a graffiti font. Make sure to put it on your headline—surely you won't regret it.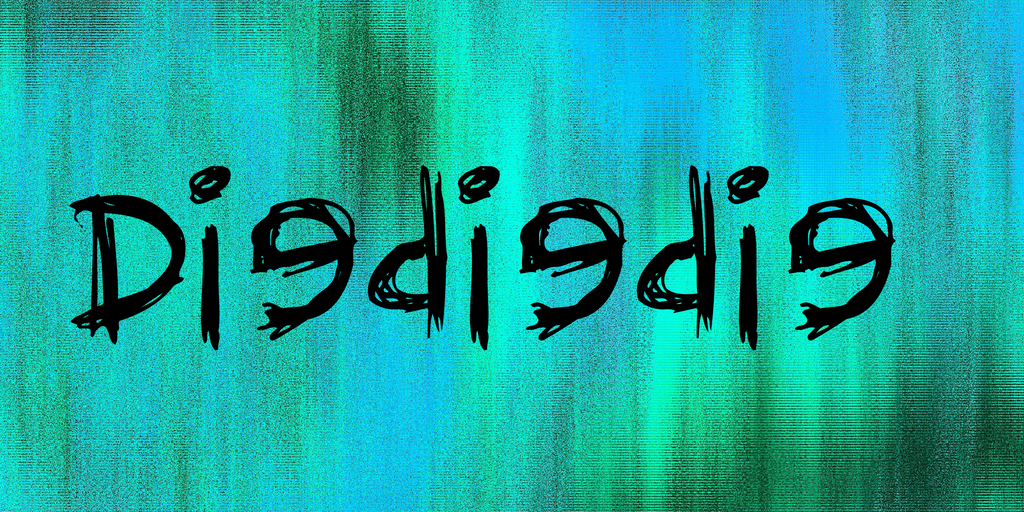 The epitome of scribbles from Satan himself, DieDieDie font is heavy with malice and obsessiveness. Fortunately, it's exactly what makes it awesome. The scribbled style makes it suitable for both body text and headline, especially for projects that need a horror touch in them.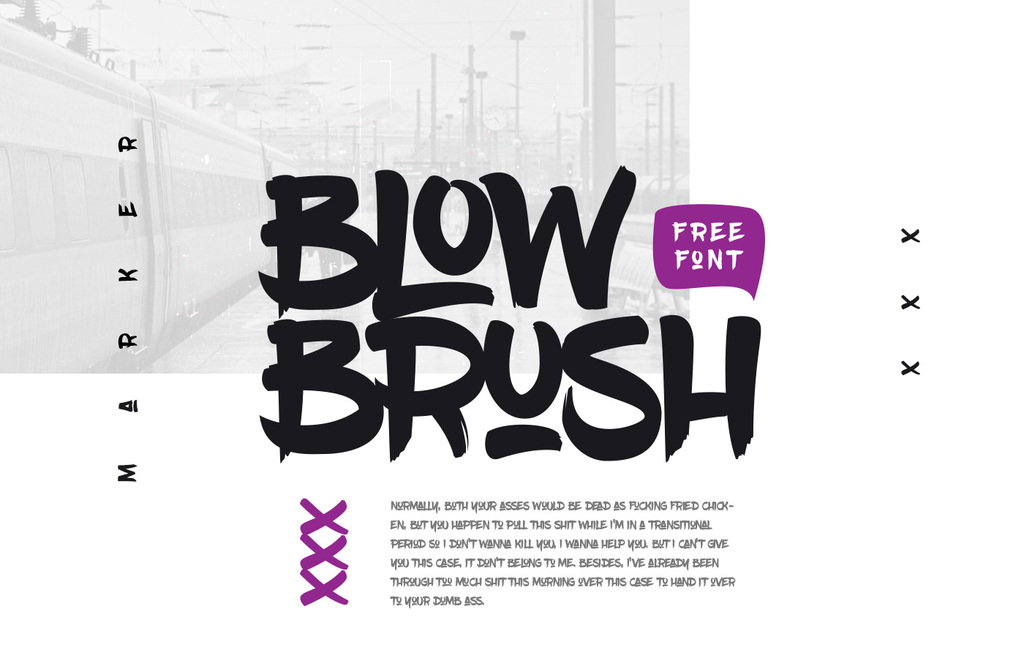 A slab of fun, bold, and quirky in one place, BlowBrush font is exactly where to look. With a handwritten, marker style, BlowBrush and its natural lines will breathe a fresh, original look to your graphics. Transform it into a t-shirt, poster, skateboard decoration, or anything you like—it'll not disappoint you.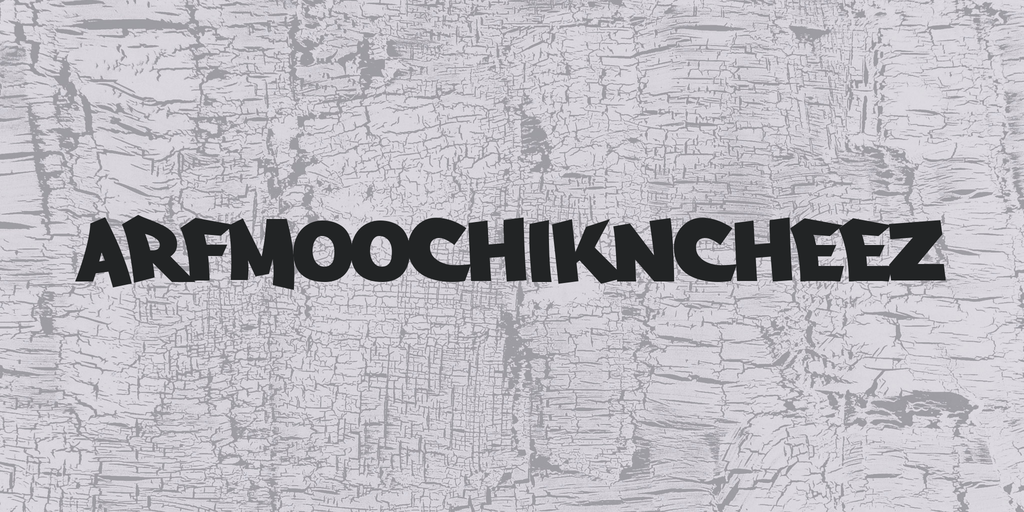 Wait—how do you pronounce it correctly?
This unique-sounding font has a unique look to it as well. Arfmoochikncheez is a bold graffiti font suitable for headlines, posters, and anything that needs attention-grabber.  The chunky shape also makes it fun and original to look at.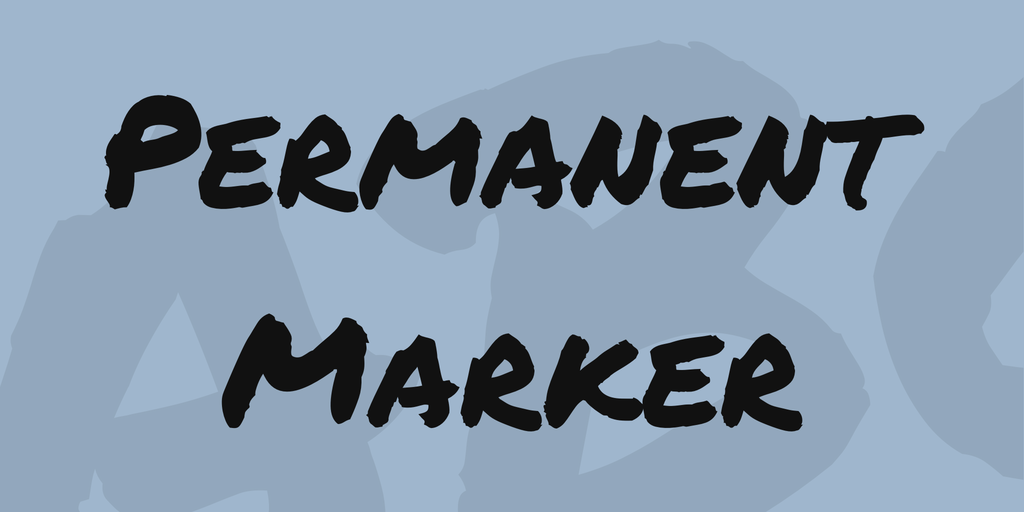 It reminds you of middle and high school, and the Permanent Marker font takes the shape of a literal permanent marker with its bold lines and messy strokes.
Funky and attention-grabbing, this is what you need in a graffiti font.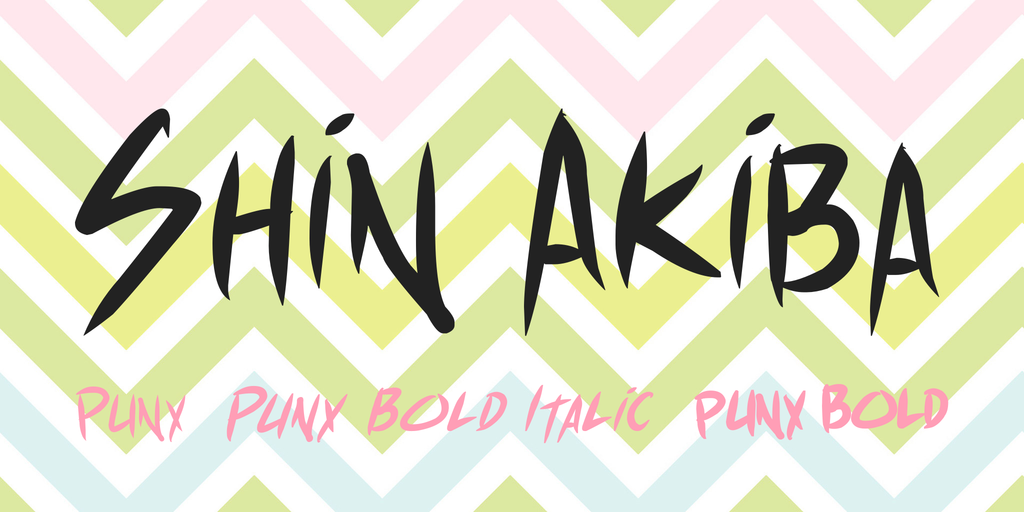 Tracing its inspiration from Japanese typeface, Shin Akiba combines both graffiti font and Japanese aesthetic. It's bold, full of messy yet powerful strokes from every direction. Shin Akiba is perfect if you want to create a Japanese-infused mural or graphics.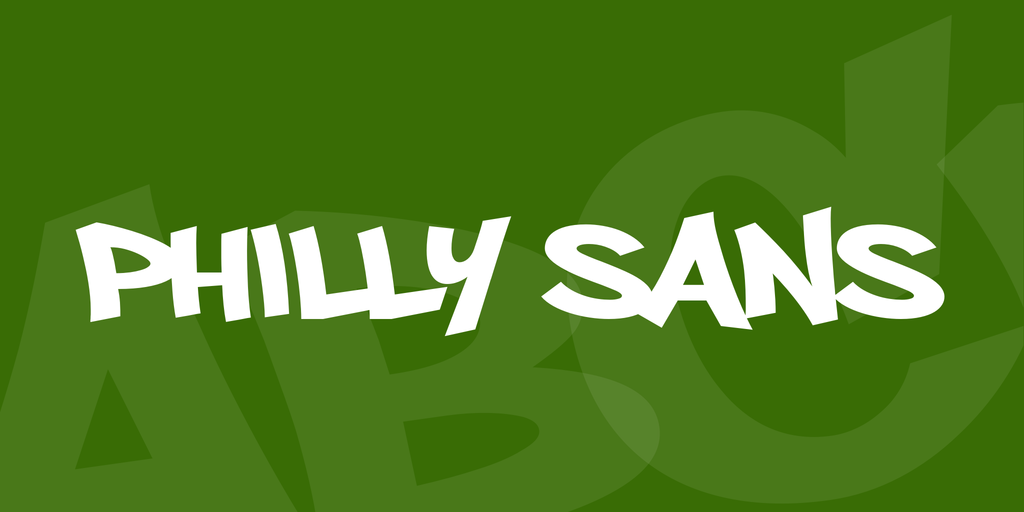 Another graffiti font to pick into your collection, Philly Sans, is everything you want to have in a typeface: fun, attention-grabbing, and versatile. Freely combine it with a various color palette and other typefaces to create movie headlines, posters, YouTube covers, or social media posts.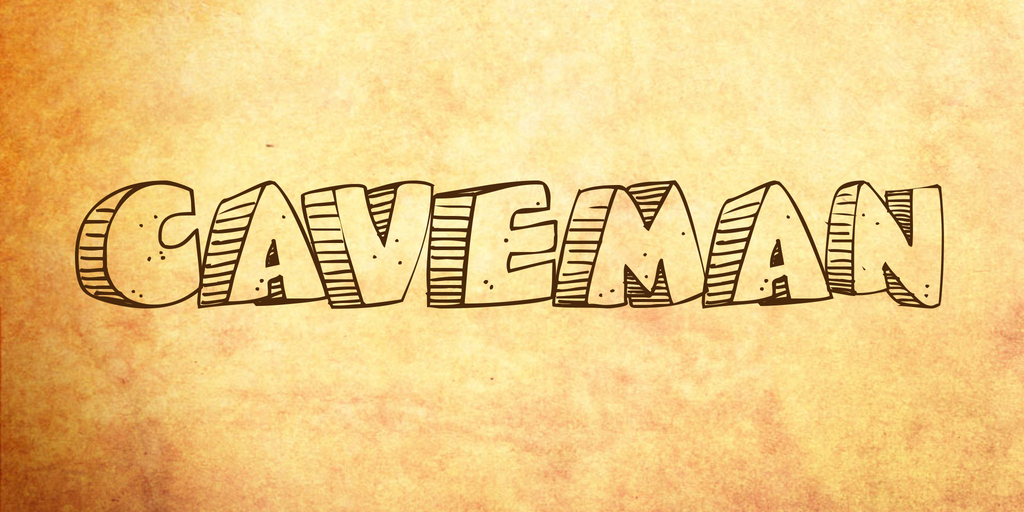 With a touch of retro and a slab of shadow, this font speaks to its name: Caveman. However, don't let the cavey aesthetic distract you. This font makes a great design for urban-themed graphics and promotional media.
Conclusion
Graffiti font is unique, fun, quirky, and, most importantly, versatile. Freely slab it as headlines, movie posters, YouTube covers, t-shirts, and so on. It will create a sense of individuality to your design and make it stand out amongst the crowd.
Tags: graffiti, graffiti font, mural, rebel, urban, wall art