Graffiti is about expressing ourselves, even though most of the time, it is not in a publicly tolerable manner. Then and now, graffiti has so many enthusiasts in the world of typography thanks to its urban feel and uniqueness. Graffiti never fails to draw much attention because it displays authenticity, impressive style and outlines, as well as bright and multi colors. 
While back then graffiti was considered an unauthorized marking of a public place, now it has become more permissible in the use of advertising campaigns. Let's explore the graffiti fonts guide further!
The History of Graffiti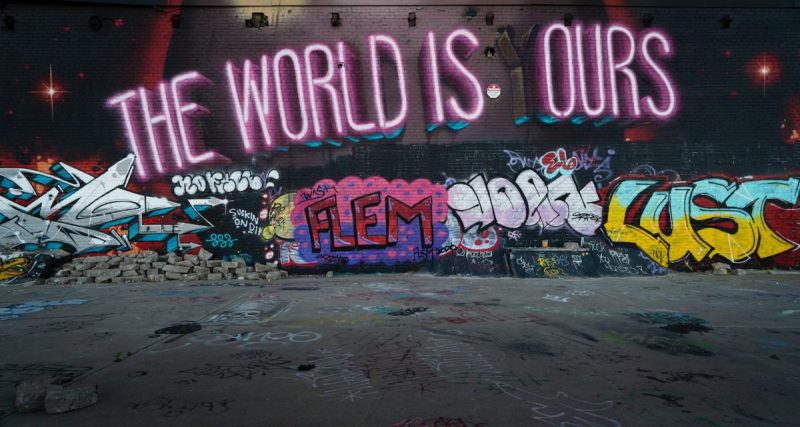 To learn the history of this street art font, it is important to find out the root of it. Most of us probably know graffiti was hip during the 80s and 90s. However, this art typography was found far before that. According to a study published in the journal Nature, graffiti was found back around 40,000 years ago as it was found in an Indonesian cave.
This stoned-written-found-in-Indonesia is even before the same art found in European caves. How can we call that pre-historic sketch graffiti? In Merriam-Webster dictionary, graffiti is described as "any pictures or words painted or drawn on a wall, building, etc."
Later, an artist in the 60s was dubbed the earliest modern graffiti artist after he tagged city walls throughout Philadelphia in 1967. Why did he do that? He simply wanted to impress a girl. From then on, modern graffiti was displayed in several art exhibitions in the United States. Instead of just being recognized as illegal street painting and drawing, graffiti was accepted as real artwork.
Nowadays, graffiti grows bigger developments and transformations in technique and style. Many believe graffiti is a great choice for many design needs. Next, we're going to list 31 exquisite typefaces for your graffiti fonts guide.
List of Best Graffiti Fonts
If you are looking for graffiti typefaces for your design projects, there is no need to go through an exhaustive search. Here, we've collected 31 best graffiti fonts for you. Enjoy!
The name Bajak Laut itself means pirates. Like pirates who are mostly known for being fearless and free-spirited as they conquered the seas, Bajak Laut font is pretty much saying the same. With its strong line and forthright style, this font will satisfy your need for any designs like magazines, music posters, social media posts, flyers, posters, and more.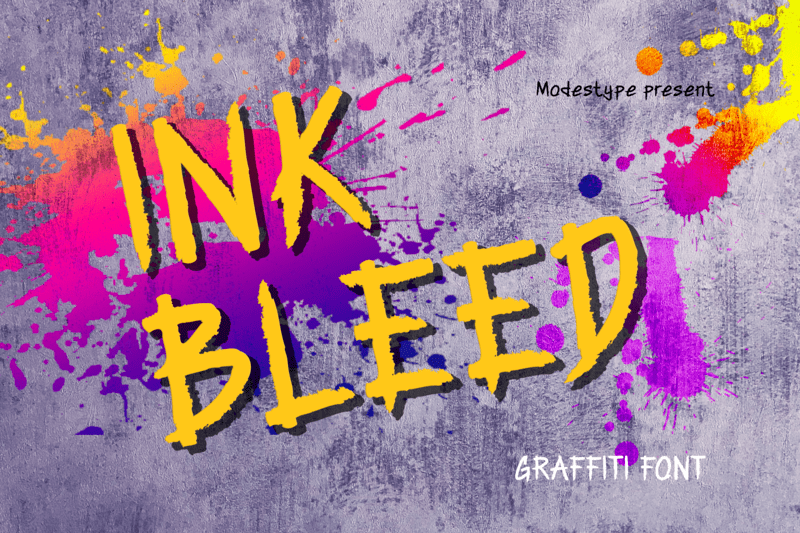 The brush effect will make your texts stand out from the crowd. It also delivers a strong sense of energetic life. Ink Bleed is simple and readable, making it a perfect choice for brand logos, posters, T-shirts, album artwork, events, social media page covers, invitations, and more.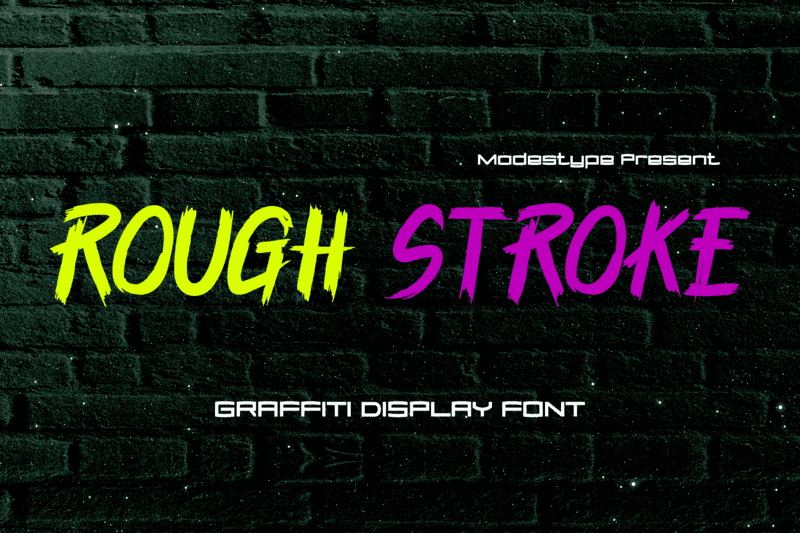 It is called rough because it's all about. Storing furry strokes of youngsters, Rough Stroke is so much in character. The strong, striking lines make this font perfect for posters, invitations, Youtube covers, banners, events, movie titles, headings, and more. This font comes in uppercase, lowercase, numbers, and punctuation.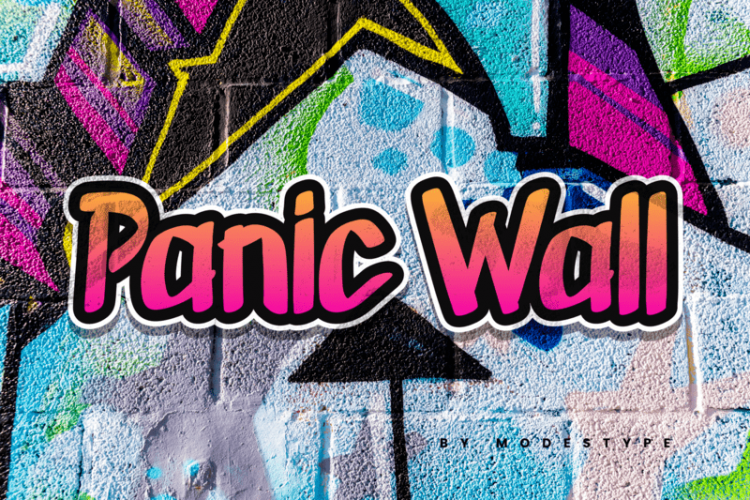 Well, it may say Panic, but Panic Wall won't spark any dread, fear, or frenzy in any of your projects. Instead, the straight-to-the-point shape of each character delivers a strong and fearless vibe of the rising generation. So, Panic Wall will be a great pick if you are looking for the perfect font for your magazines, music covers, book covers, posters, events, and other projects.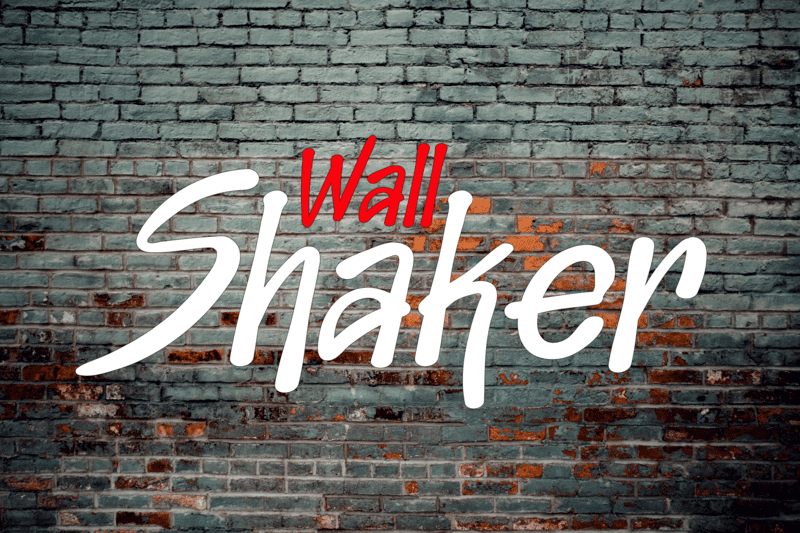 Just like its name, Wall Shaker is ready to shake your audiences with its edgy and harsh style. Perfect for rebellious and extreme online games or sport-segmented magazines, posters, movie titles, events, social media page covers, and more, Wall Shaker can do everything you need.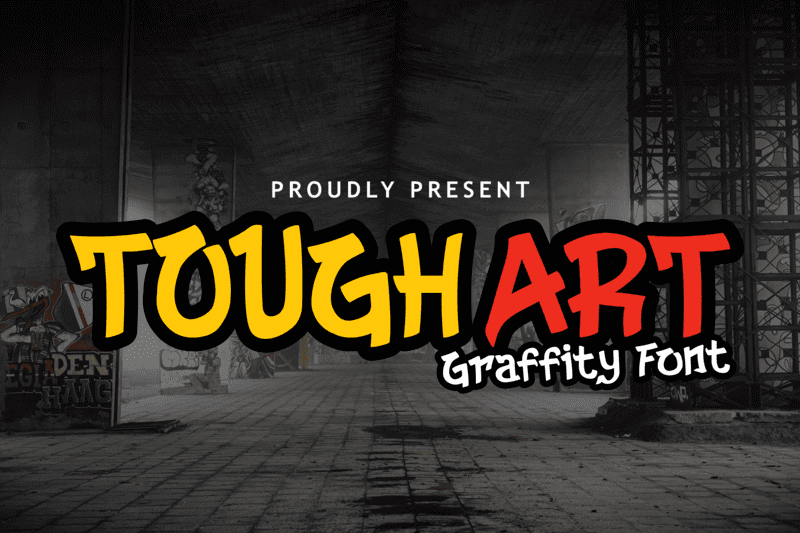 Optimizing strong and unique edges, Tough Art is equally readable as it is harsh and artsy. Uppercase, lowercase, punctuation, and numerals are included to provide any idea related to the young spirit, rebellious ego, and urban vibe. Tough Art works perfectly for streetwear and sportswear branding, posters, stickers, events, posters, invitations, and more.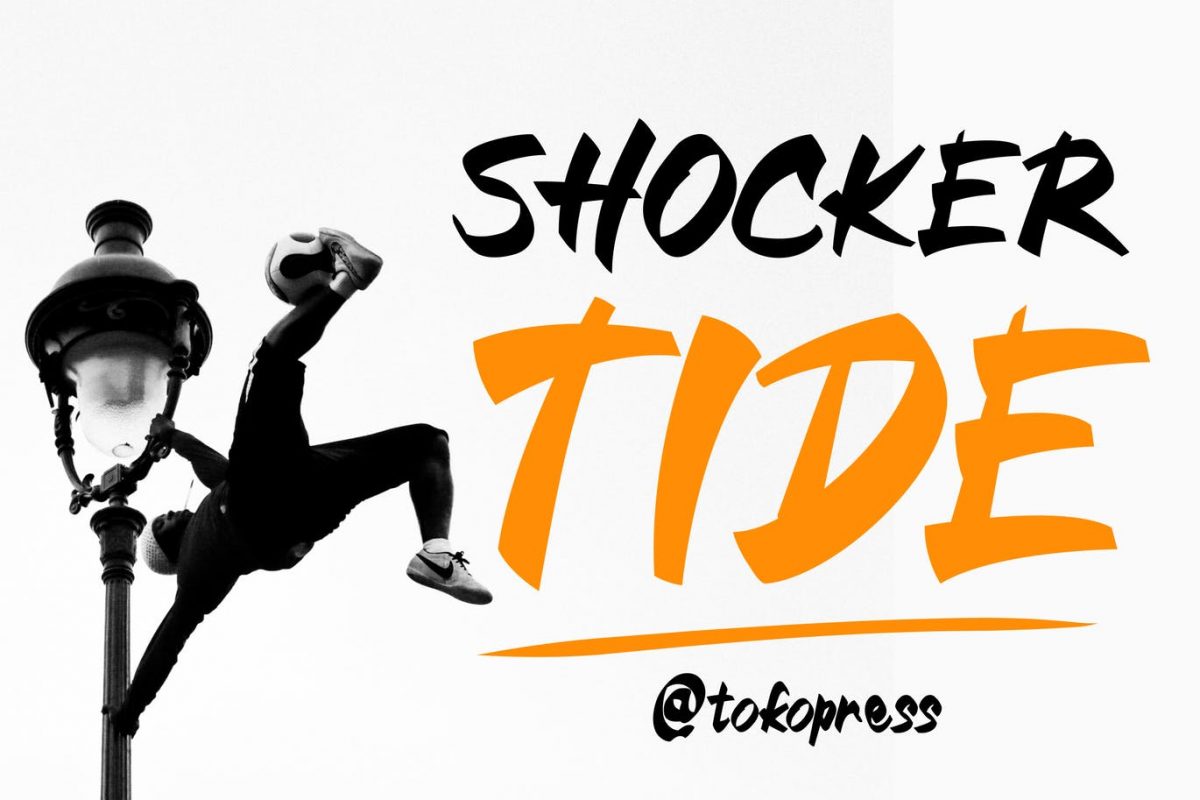 Shocker Tide will arm your out-of-the-box design needs. The blunt, fresh, and strong feeling of this graffiti font is perfect for peppy ideas for your movie titles, music titles, branding signatures, events, posters, and more. This full-spirited font will help you create eye-catching products.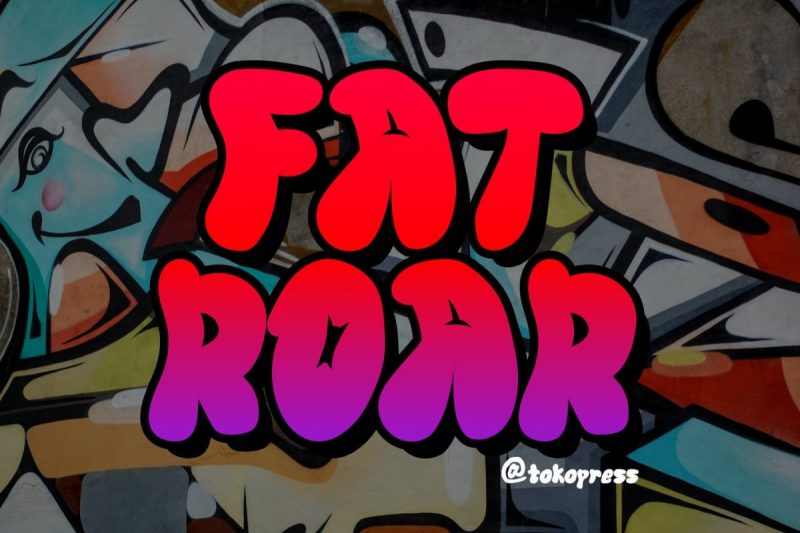 Filled with everything related to underground culture, street art, and hip-hop music, FAT ROAR will inject a strong and powerful mood into your projects. The fluffy style somehow also inserts a fun feel but intensifies the rebel side in the same sentences. FAT ROAR will be a great pick to highlight your skateboard designs, extreme sport segmented magazines and posters, music posters, and more.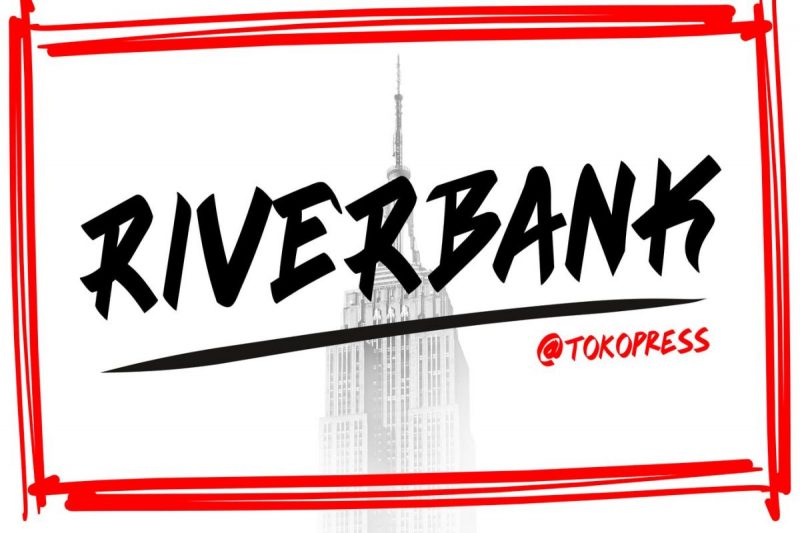 RIVERBANK is the kind of graffiti font you need if you don't intend an extremely gritty reaction. The simple and assertive style will infuse a sense of strength and power into your designs. A vigorous font like this is great and fitting for packaging, clothing brand logos, poster titles, events, and more.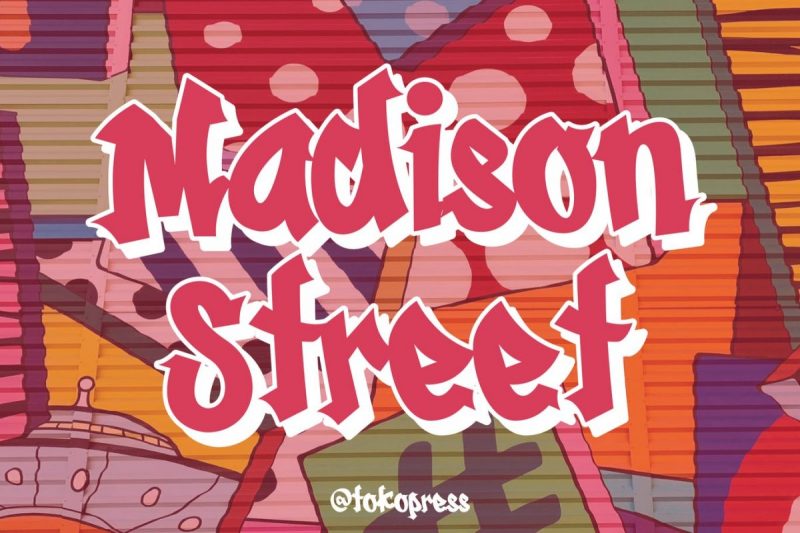 For many reasons, Madison Street will take you back to old-school MTV shows filled with funk, hip-hop, and jangling. The vintage yet modern style makes it perfect for any creative projects demanding an urban vibe. So, spray it on the wall, or maybe your posters, banner, advertisements, logos, and other design projects with Madison Street.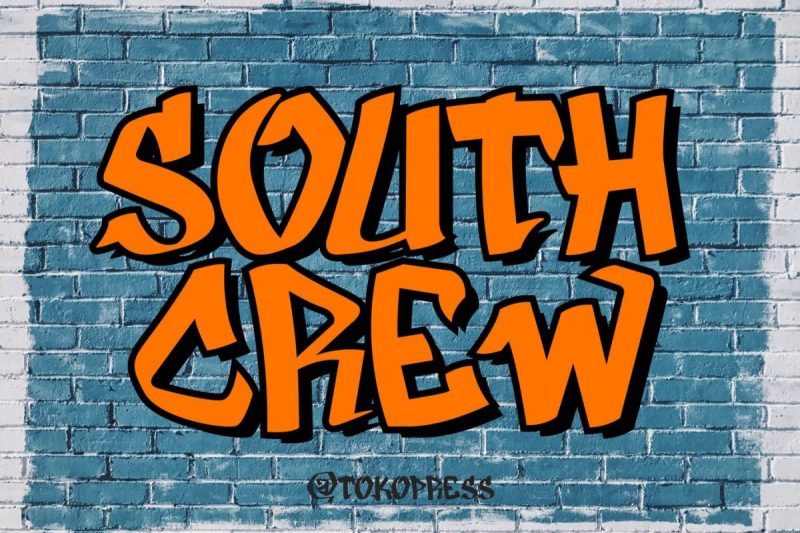 It's hard not to surprise your audiences with South Crew font. The bold style and shadowy effect in the back of each character will deliver a strong urban feel to your designs. South Crew will be perfect for your posters, movie titles, music titles, young-segmented branding signature, greeting cards, logos, and more.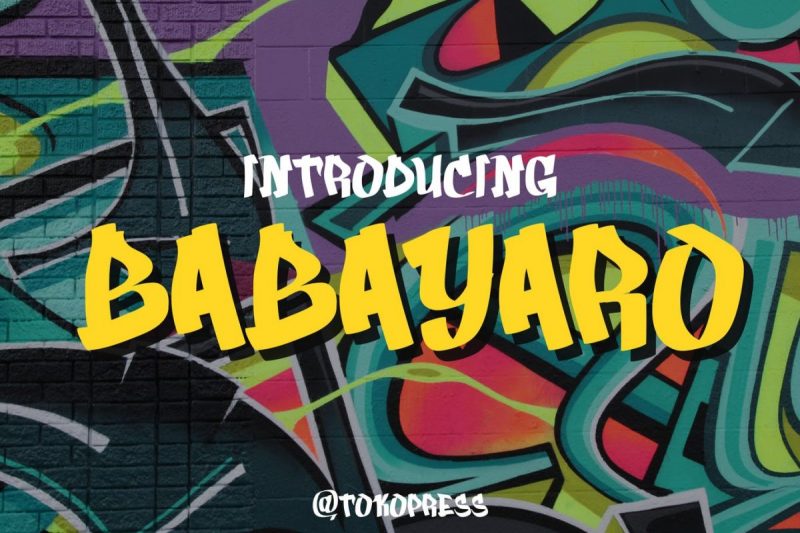 BABAYARO will remind you of street art on the big city walls. The sharp urban feel will turn your designs into a true masterpiece, exactly like Mozart conducted his music. BABAYARO will truly highlight your hip-hop, rebellious, and extreme sport segmented magazines, posters, movie titles, Youtube covers social media covers, and more.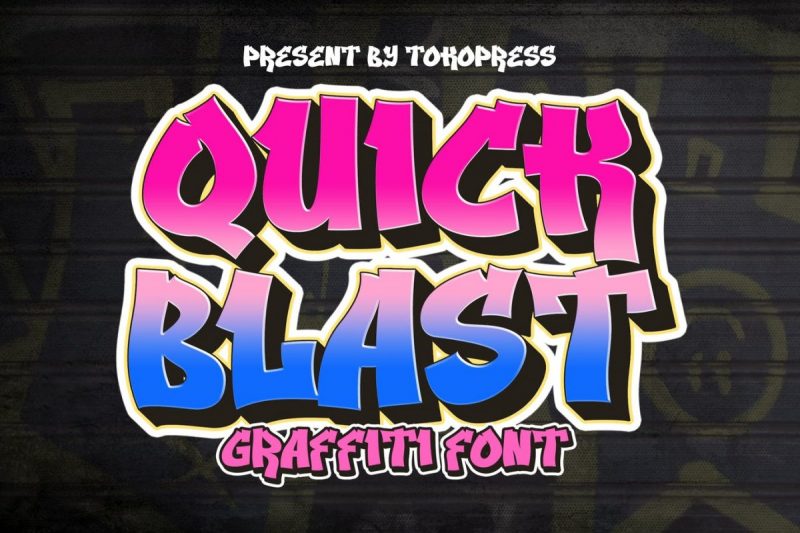 If you need a truly fierce and untamed graffiti font, Quick Blast is the perfect option to work with. This bold urban graffiti display will give the rush of adrenaline felt at bike roads or skate parks. Quick Blast will perfectly suit hip-hop-themed designs, extreme sport-segmented magazines, music posters, YouTube covers and thumbnails, movie titles, and so on.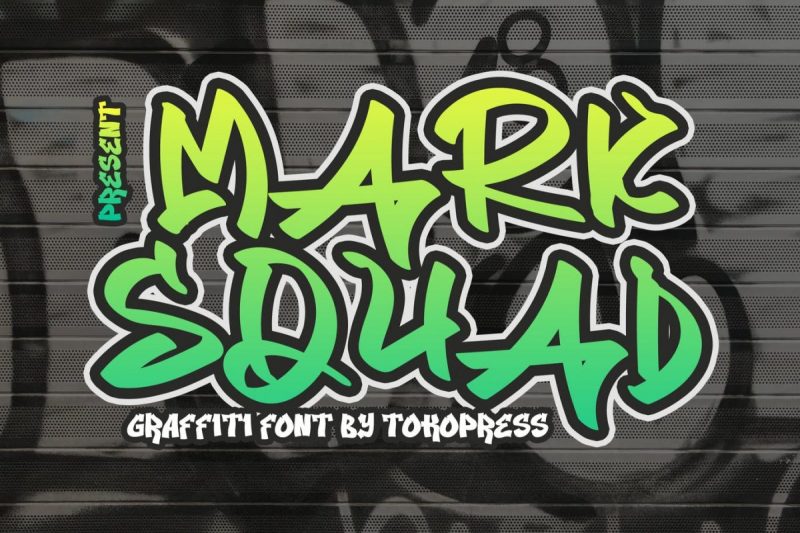 MARK SQUAD is faithful to the urban spirit of the art street. The exquisite and unique curves work best for hip-hop and rebellious branding campaigns, music posters, extreme sport segmented magazines, movie titles, and more. MARK SQUAD is, without a doubt, a captivating graffiti font at first glance.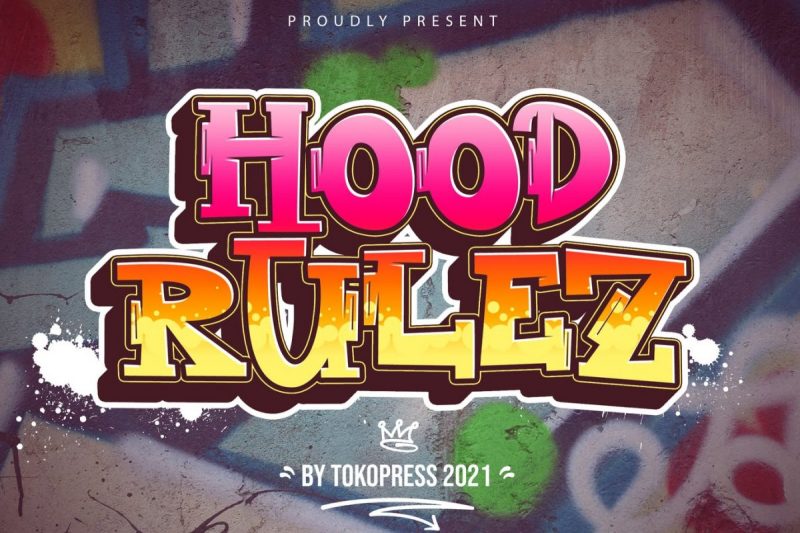 Looking for powerful, rebellious, yet playful graffiti font for your next projects? Try Hood Rulez. This fun and dynamic font is a perfect pick to woo your audience in commercial and personal projects. Hood Rulez will also look stunning in T-shirts, posters, greeting cards, and so on.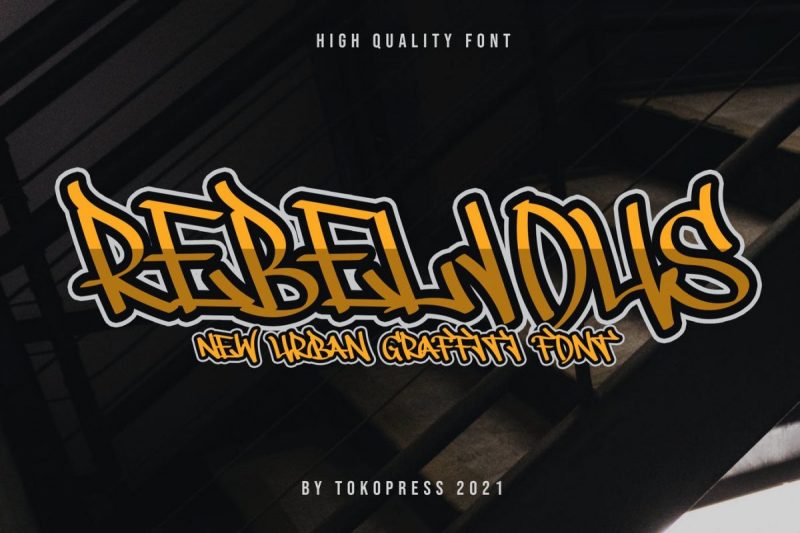 Go urban. Be rebellious and hit the street. REBELIOUS – powerful graffiti font will help you do it. Taking the chisel-tipped marker of a street artist, this strong and staggering font will elevate the chic and urbanity of your design. This graffiti font arms you with the wildest branding concepts for apparel, stationery, lively posters, backgrounds, and more.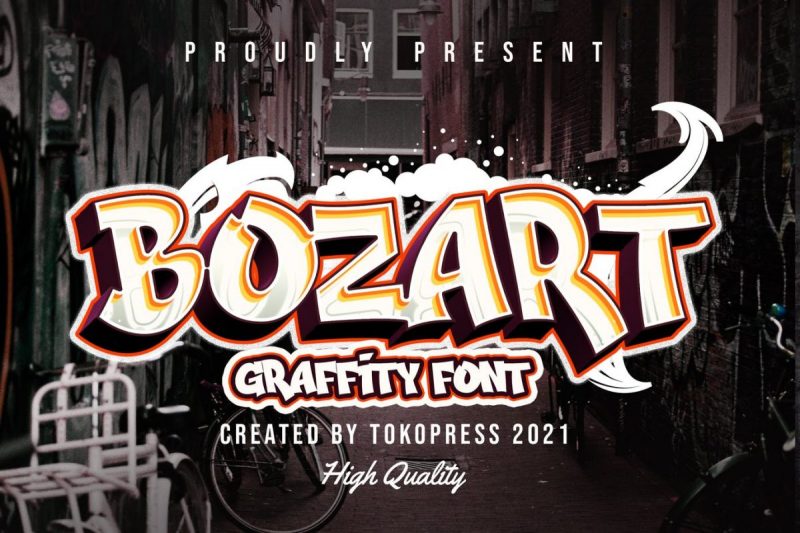 Bozart was inspired by the rebellious composer Mozart as he created his musical masterpiece. Fuel the same freedom and tension to your designs, like Mozart did, with BOZART font. BOZART will make your movie titles, music posters, social media page covers, magazines, logos, and other projects more prominent and notable.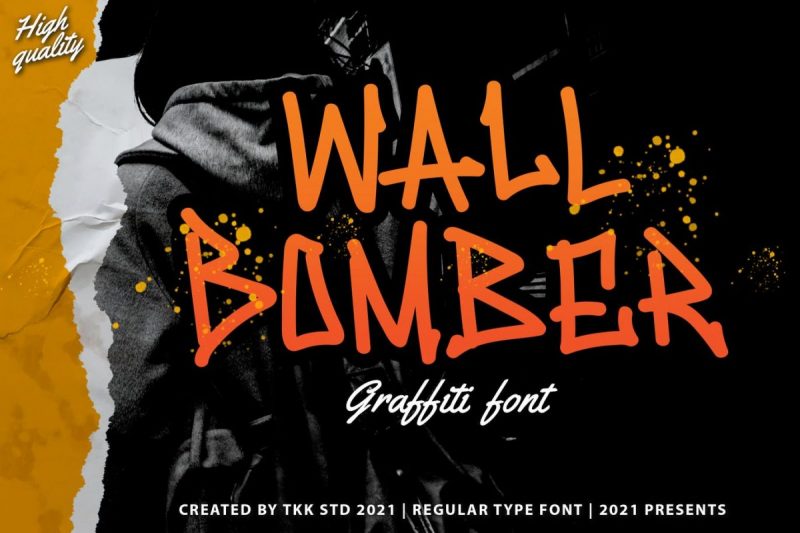 Bomb the wall with stunning street art. That's what Wall Bomber is meant for. This making-statement font will make your art pop more stunning and exceptional. Select Wall Bomber for your fearless branding concepts, posters, vintage logo, movie titles, surfing apparel, street magazine, and more.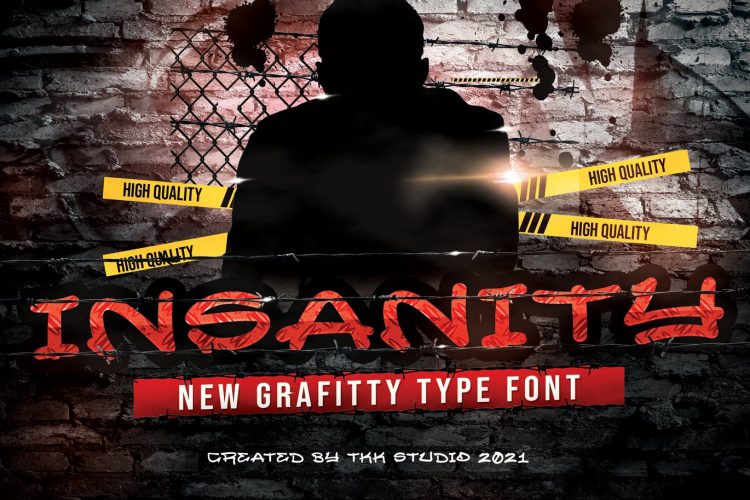 Looking for something totally insane for your design? INSANITY will do the honor. INSANITY brings out the sane inside you. This font is so perfect to accompany designs drawing inner wildness, chaotic side, and the insanity itself. Use this font for online games, surfing apparel, beach posters, social media page covers, street magazine, movie titles, posters, and more. Improve and add a grunge feel to your designs with INSANITY!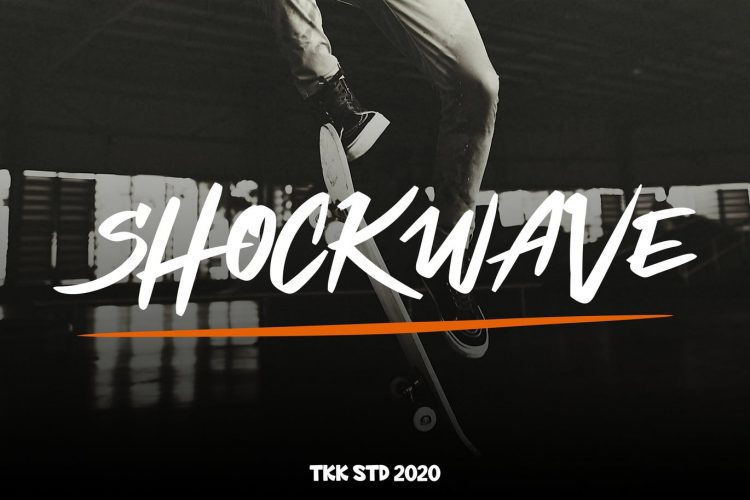 Shockwave – Graffiti Font is inspired by rebellious teenage soul and urban spirit. This font is perfect for describing something that is carefree and stimulates adrenaline. Shockwave – Graffiti Font will infuse a great sense of energy and coolness. Shockwave works perfectly for movie titles, food truck menus, fast food menus, extreme online games, posters, events, Youtube covers and thumbnails, and so on.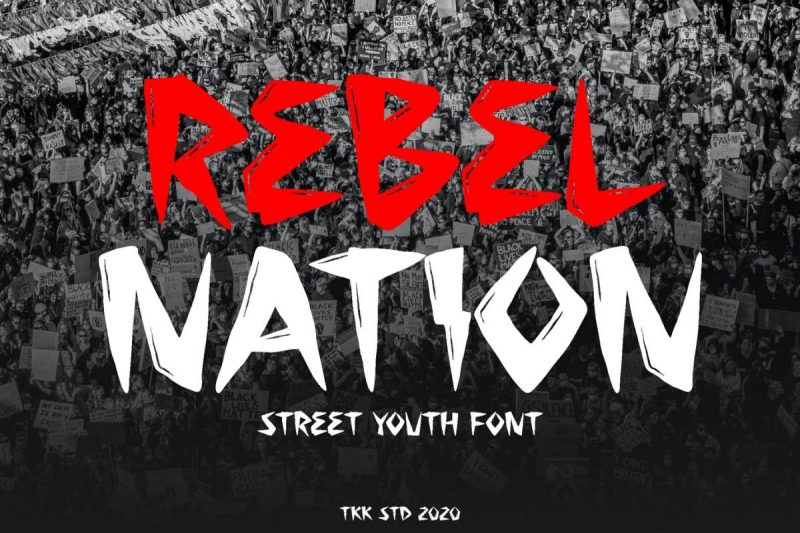 Rebel Nation – Tattoo Graffiti Font portrays the ambition and the limitless energy of the youths. Both strong and readable, this font is perfect if your designs speak of empowerment, rage, and strong statements of all teenagers and the young generation. Use Rebel Nation for online games, surfing apparel, movie titles, street magazines, vintage logos, posters, and more.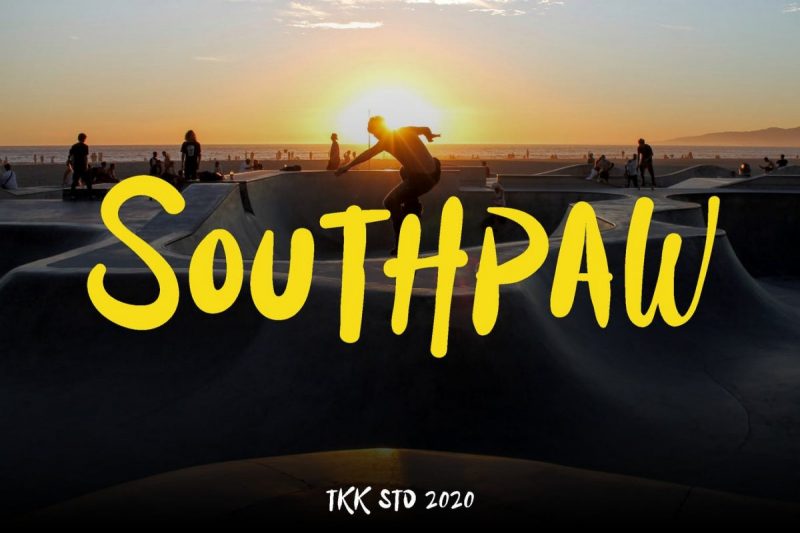 Don't let the rounded and blob edges deceive you. This graffiti font is nothing but a punch in the face! The simple and hoop corners will elevate the energy, rebellion, and aggressiveness of youngsters to your projects. Stamp this aggressive font to your T-shirts, skateboard and BMX events or posters, movie title, music titles, street magazines, fast food menus, and more.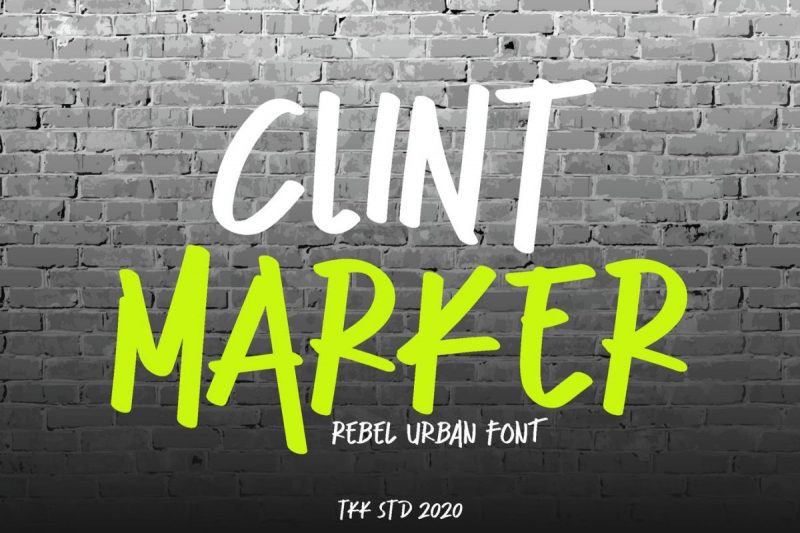 Uniqueness and rebelliousness were reborn! Optimize your designs with this young-spirited, rebellious, and free font. The simple and strong strike makes a powerful statement. So, play around with this rebellious font on your posters, movie titles, extreme online games, menus, brandings, and more.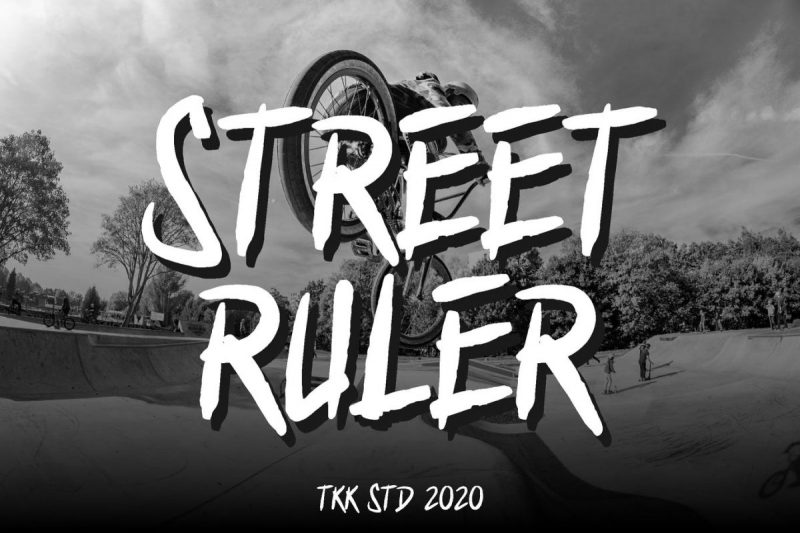 Street Ruler – Graffiti Font is a street art font with an urban and young spirit feel. This font brings a rebellious and frisky feeling to your designs. It is suitable for extreme online games, skateboard and BMX events, urban clothing brands, fast food menus, social media pages, YouTube thumbnails, etc.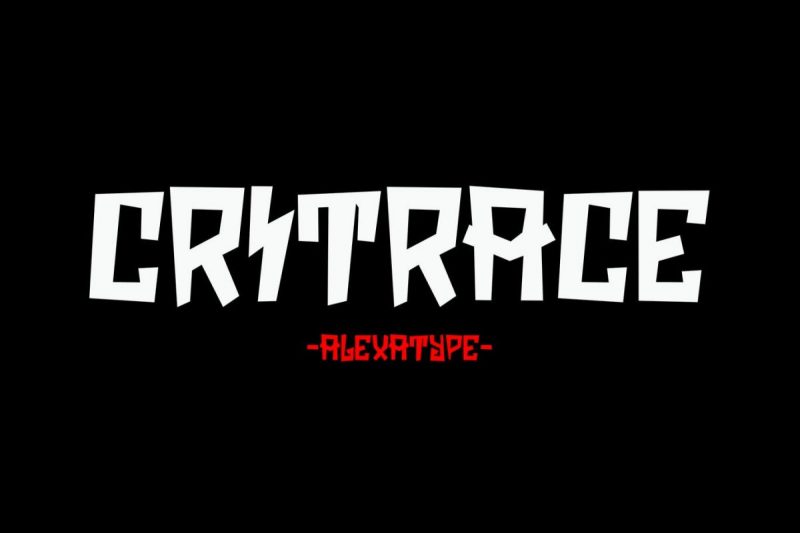 Looking for something quirky, peculiar, and urban? Critrace – Graffiti Display Font will satisfy your design needs. Even with a plain background, Critrace can make itself stand out and be seen. It also states a powerful and energetic mood. This all-caps font will be perfect for your headings, logos, brandings, taglines, posters, events, and more.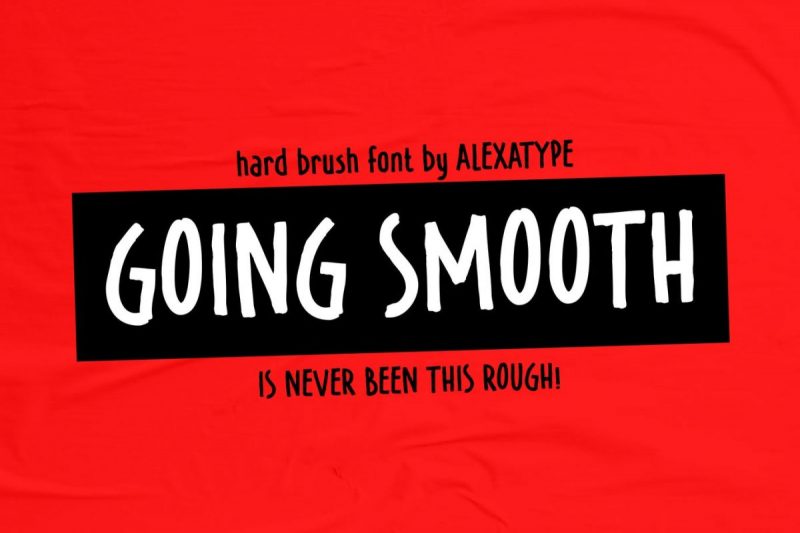 Nothing is smooth with GOING SMOOTH. In fact, this sans-serif font will make highlight and boost the urban and street charm of your projects. GOING SMOOTH – Graffiti Tattoo Font will look great for T-shirt designs, quotes, motivational posters, headings, brandings, advertisements, and so on.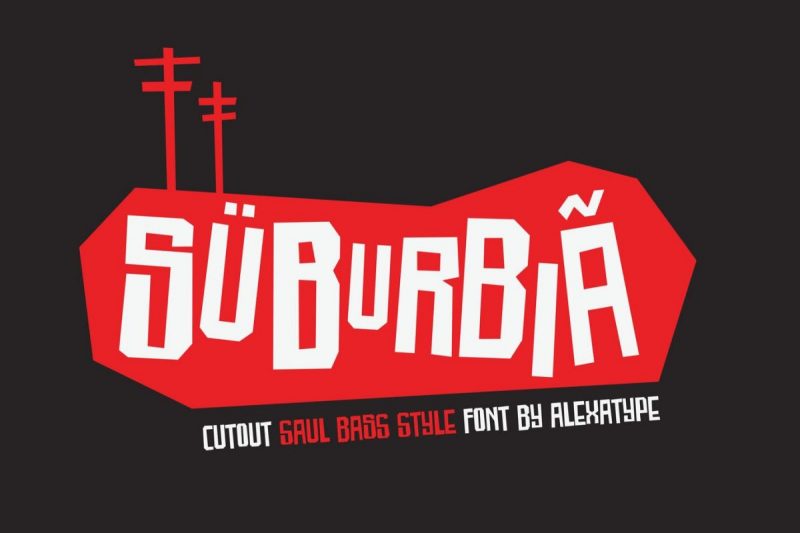 Our next pick for your graffiti font guide is SUBURBIA – Graffiti Display Font. What makes SUBURBIA stands out is the simplicity, uniqueness, and causality of each letter. The cut-out feel and geometric shapes create a strong and powerful feel to your texts. SUBURBIA is available in .otf, .ttf, and .woff.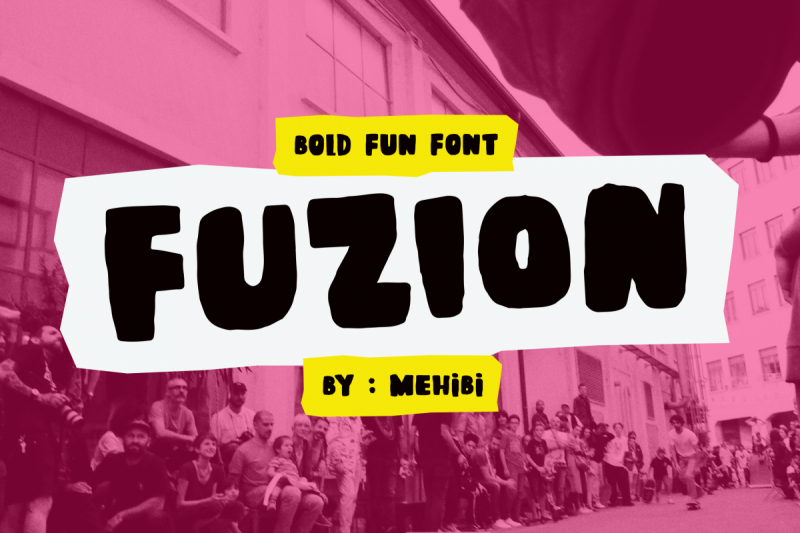 This bold, chubby, and all-caps font might remind you of that 80s and 90s movie shows. It delivers a rebellious and lively feel at the same time. Although the difference between the uppercase and lowercase is nearly invisible, you will still be able to notice them. Fuzion is great for games, online games, movie titles, posters, website designs, fashion logos, and various other projects.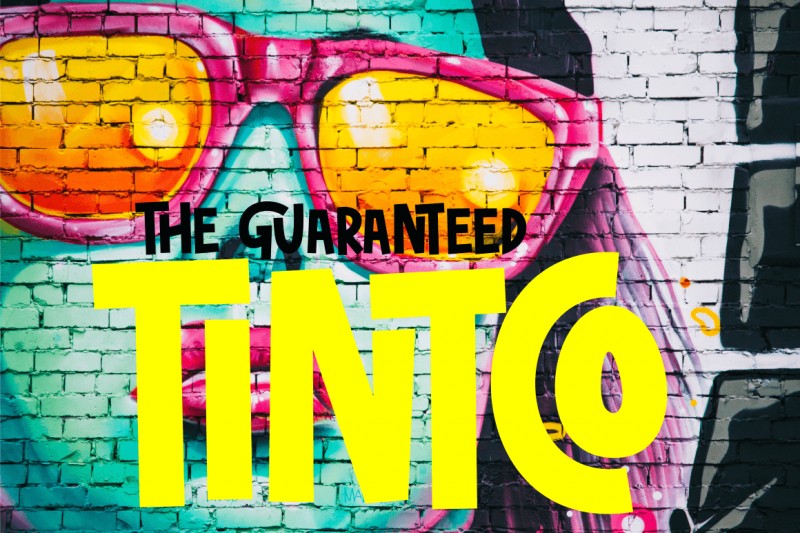 You will definitely love our next pick! Tintco – Sport Graffiti Font features stunning ligature and superlative style. This typeface is perfect for any design portraying energy, rebellion, and a strong spirit. That is why if you are searching for something outstanding, Tintco is, no doubt, the answer. Use this font for your logos, headings, displays, and even body text. It comes in uppercase and smaller uppercase.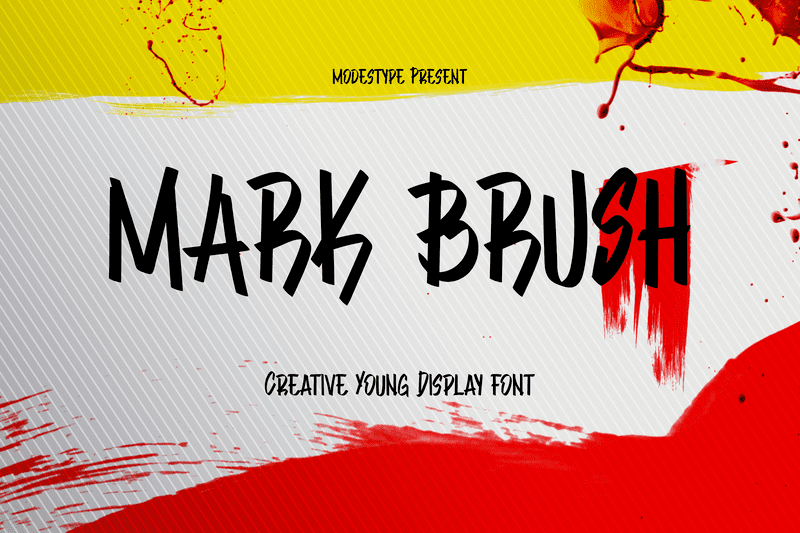 Eager to create a new wave of style? Mark Brush is the perfect typeface for you. It illustrates the youth's energy. So, break the boundaries, make a statement, and be distinguished with this graffiti-style font. Mark Brush works perfectly for posters, movie titles, music posters, Youtube covers and thumbnails, fashion logos, and other projects.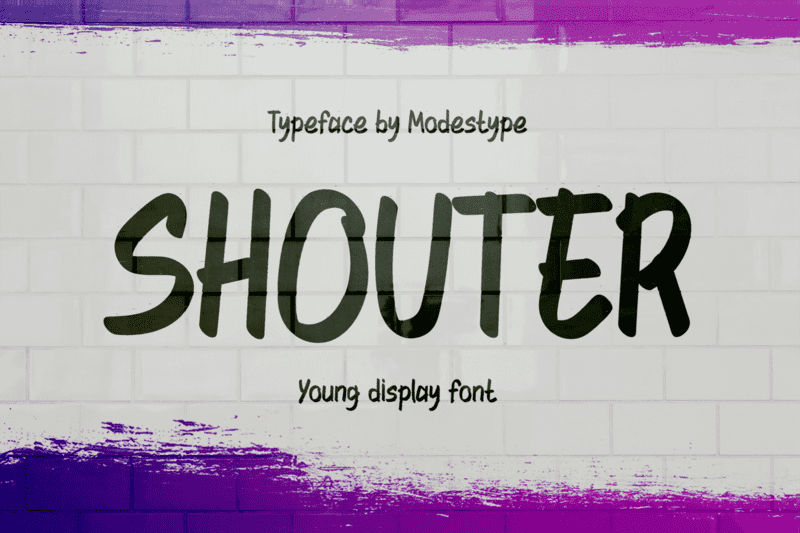 Give a shout-out on how graffiti has mysteriously taken over the world. Resembling how the young generations bombed the wall with freedom of expression and a strong message, SHOUTER will give a powerful shout-out for your text. This font works perfectly for young-age-segmented magazines, posters, social media page covers, website designs, merchandise, greeting cards, and more.
Selecting the perfect fonts is the best choice to inject extra boldness and uniqueness into your designs. Fonts are able to speak your message louder. We hope the graffiti fonts guide above helps you pick the best urban fonts for your next projects.
Tags: font, font guide, graffiti, graffiti font, guide, street art, urban