Find yourself getting fascinated by everything related to design and want to learn more about how to become a graphic designer. A good design demands a good eye and creativity, passion, and dedication.
You can start as early as possible, for example, in high school.  Or else, you can familiarize yourself with the world of graphic design – its basic principles, tools, and software mostly used by designers, prospects or careers, and more.
Before figuring out some helpful steps to be a graphic designer, let's discuss in brief what exactly does a graphic designer do?
A Graphic Designer in a Nutshell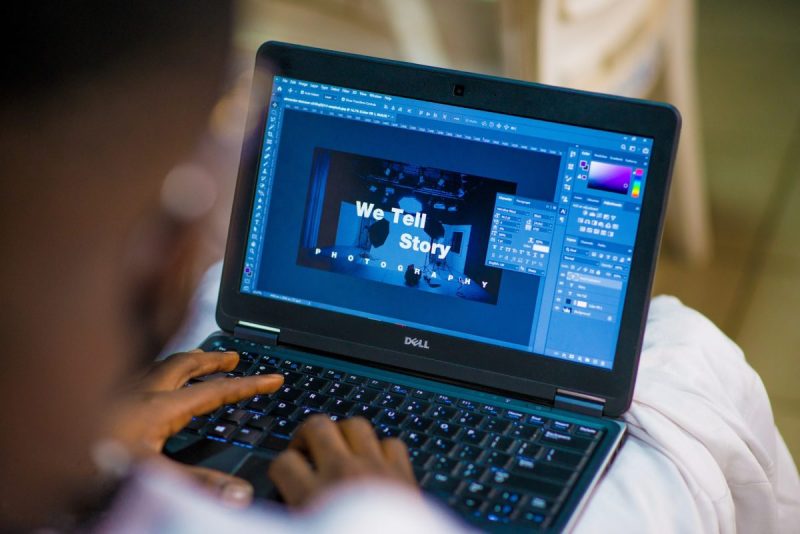 First, we can say that a graphic designer is a type of storyteller through visual things. Graphic designers deliver specific messages or information and engage with audiences through graphics, images, and texts.
In more detail, they apply and combine the design elements – colors, shapes, lines, textures, etc. – to create various finished works. You can find a wide range of their final products, such as posters, logos, animations, product packaging, ads, and many more.
Second, graphic designers are increasingly popular as communication designers. They create visually attractive and engaging designs that speak for any particular brand's messages to evoke target-to-potential customers' emotions ultimately. Indeed, graphic design is inseparable from today's marketing and advertising strategies.
Accordingly, we can see and enjoy those visual communications every day and every second. You can find them all over – in printed and digital news, entertainment, advertising, etc. – across the globe.
7 Helpful Steps to Become a Graphic Designer
Before officially entering the steps of becoming a graphic designer, you can nurture your skill since high school.
As the old saying states, the earlier, the better. As students, you can take design-related classes like drawing, art history, website design, or graphic arts. You can gradually build your initial creativity, practical skills, or even design-related software fluency.
At the same time, you can consider the following steps.
Step #1 – Understanding of Graphic Design Principles
The first step is in-depth learning about the principles of graphic design. A good design requires thorough planning and proficiency in applying the theory and design principles.
A carefully crafted design needs to take into account essential elements like color, lines, shape, typography, texture, space, and scale, as well as emphasis, dominance, and harmony. All of them can impact a design and how the audiences perceive and feel it.
Step #2 – Join a Graphic Design Course
By enrolling in any graphic design course, you can learn more about design fundamentals and develop your skills by working on various projects. You will also meet mentors and peers, one of your ways to build your future network.
Most graphic design courses cover key topics like color theory, layout, and typography, as well as tools and software in graphic design. Some other courses even offer other topics, such as graphic design history, website design principles, user experience (UX), etc.
You can pick out various course options, more structured academic courses, more flexible online courses, and the like. Choose the best one that suits your passion, learning preferences, and schedule.
Step #3 – Get to Know Key Graphic Design Tools
There are basic or key tools you need to learn and master while pursuing the graphic design world. Make yourself familiar with the most commonly used tools and/or graphic design software – Adobe Photoshop, Adobe Illustrator, or InDesign.
You can learn them by reading and following the widely available user guides, tutorials, toolkits, or other training resources. Or else, as previously said, joining a course will introduce you to the key graphic design computer technology mostly used.
Step #4 – Earn a Degree in Graphic Design
Similar to other job fields, most employers today tend to look for designers with a more comprehensive and well-rounded educational background. The ones you can get from a college degree.
You can complete your course certifications or associate's degree with a bachelor's degree in graphic design. The range of schools you can enroll in is from public universities, smaller private colleges, or prestigious art schools. Doing so will get more extensive coursework related to graphic design or even business and marketing.
Another helpful tip here, regardless of the degree you opt for, is to find any accredited program of a trustworthy school.
Step #5 – Work on More Projects of Your Own
While mastering the theory, principles, and tools, you can also build your practical skills by working on graphic design projects. The main purpose is to hone your proficiency while getting real-life experiences.
You can start by creating logos or mock advertisements for real or made-up businesses. Another good practice is looking up certain companies' existing designs and trying to make new ones. Or, you can go for volunteer work for local brands or non-profit brands.
Step #6 – Finish Internships
Internships are invaluable opportunities for students to obtain practical experiences with real-world fields or industries. Students will get the chance to build more professional relationships with the graphic and other general design community. Also, those internships may fill up their portfolio.
Step #7 – Build an Impressive Portfolio
A portfolio is like your "design" book to showcase any of your graphic design work or projects you've done so far. It is like the first impression of yourself as a designer you will show to your prospective employers or potential clients. Indeed, apart from a strong resume, an impressive portfolio is an essential asset for a job search in graphic design.
A portfolio exhibits a range of work and also your growth as a graphic designer – projects while completing courses, individual or occupational projects, etc. It may comprise a collection of printed ads in newspapers or magazines, online advertisements, website graphics, commercial reels on TV, or even animation demos.
The graphic design field continuously grows to keep pace with fast-moving technology developments and advancements. If you consider graphic design as your future job, you can start now and look for helpful tips or steps on how to become a graphic designer. Good luck!
Tags: design, designer, graphic, helpful steps