Looking for specific icons to describe various moods, situations, trends, and atmosphere in unique ways? Icons8 offers numerous unique icons from various categories to complete your design elements. Offering more than 155,000 icons, Icons8 boasts diverse image styles and extensive collections to match your web designing project.
Main Features of Icons8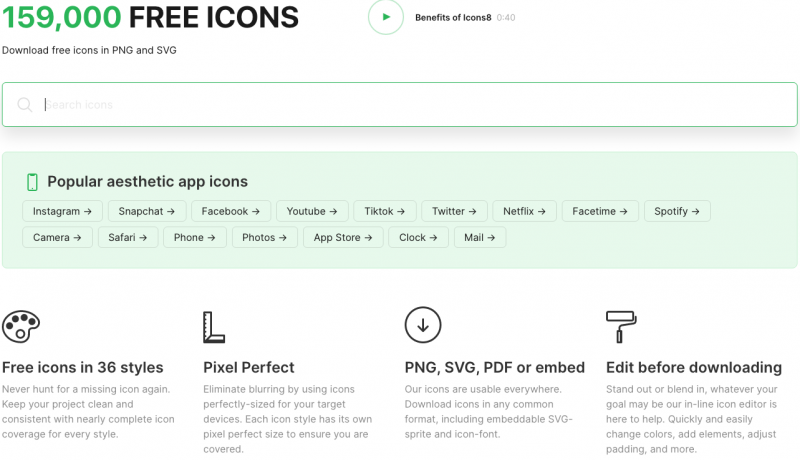 Icons8 has several main features to assist developers and designers in various creative projects, such as:
1. Multiple Icon Styles
Icons8 offers 36 style options for its 155,100 icon collections, giving you more visual options compared to similar open-source icon websites. Specific style options allow designers and developers to find icons with consistent visual appeals and looks.
2. Pixel Adjustment
Each icon has "Pixel Perfect", an adjustment system that enables you to make sure it is compatible with your apps, devices, or website interfaces. The icons will stay in their best qualities even after being pasted to new platforms.
3. Pre-download Editing Feature
This editing tool allows you to design, blend, and edit the icons to match the purpose before downloading.
4. Universally Embedded Icons
Every icon is PDF, PNG, and SVG embedded. They can be used in universal platforms, compatible with various operation systems.
5. Drag-and-drop Feature
Make designing easier with drag-and-drop feature. Downloaded icons can be dragged, dropped, and manipulated in different app or software with cursor.
6. Icon Packs
Looking for icons with similar themes? Icon Packs offer icons grouped into specific themes, like Astrology, Animals, Baby, Clothing, Logos, Finance, and Hand Gestures. Perfect for developers and designers working on specific projects.
7. Icon Request Form
Icons8 has a request form for designers and developers to get specific icons based on descriptions, models, references, themes, and styles.
Advantages of Using Icons8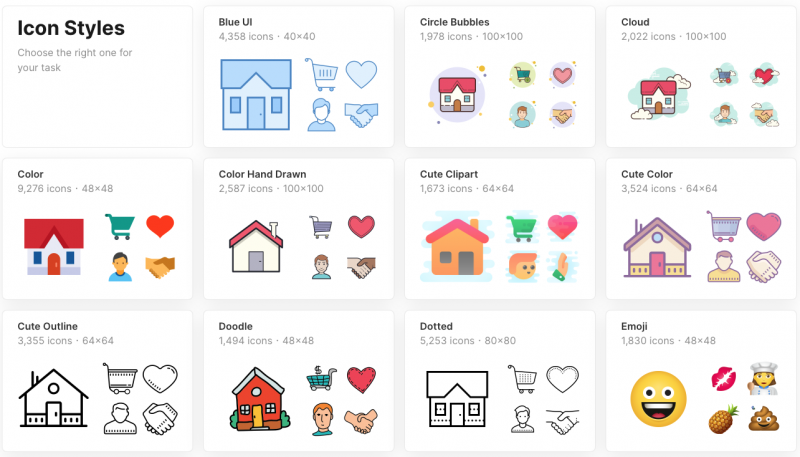 Icons8 offers vast options for creative designers and web builders looking for icons to match their messages. The diverse forms, colors, and themes allow more effective communication through visual forms. Icons8's 36 distinctive styles offer more designing possibilities, with options such as Pastel, Office S and M, Windows 10, iOS Glyph, Outlined, Filled, Doodle, and Gradient Line.
Every icon is highly customizable. Designers can choose from basic stocks and follow customizing steps to get the perfect icons for their apps or websites. The results are pixel-ready icons suitable for various platforms, apps, and website interfaces. You can use the icons to design website UX, mobile apps, and interfaces for software or system.
Icons8 also provides option to request an icon. The source website provides a form to request icon where users can describe the details, choose icon style, and attach the references. The sorting system underneath allows users to get more specific icon for personal and commercial projects.
With Icons8, designers and developers can:
Communicate messages more effectively with different visual icons
Quickly edit icons before downloading them
Download the entire pack based on theme or visual style
Customize icons without losing qualities
Request for specific icons
Icons8 is an open-source icon website for specific design needs. The icon packs, themes, and styles open wide possibilities in creating personalized projects. Download the icons now or request specific ones to create your visual preferences in apps and websites!
Tags: design, design app, design tool, designer, icon, icons, icons8