All experienced graphic designers know that you need multiple resources to get creative, especially if you use Adobe Illustrator. The best Illustrator power tools designers can get help realizing even the wildest ideas. From creating various brush effects to imbuing a "traditional" look on digital artworks, these tools will help you release your creativity.
Here are various tools modern graphic designers that work with Illustrator should add to their arsenal.
1. 105 Vector Paint Brush Strokes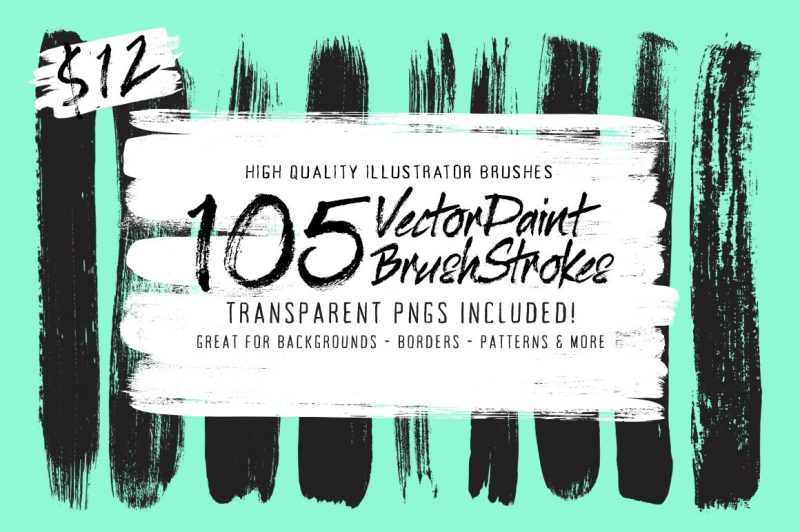 Having hundreds of different brushes in your drawing kit has been made easier. The 105 Vector Paint Brush Strokes is an add-on that contains realistic, high-definition paintbrushes for Adobe Illustrator. Each brush creates a unique stroke that you can apply in various digital images and illustrations.
The add-on package offers EPS and AI formats for each brush. The smooth, easy use makes this brush package ideal for professional designers, beginners, and casual hobbyists. This is a great place to start experimenting with various designs, styles, and looks.
2. WaterPress Vector Watercolor Set
WaterPress Watercolor Set is an Illustrator power tool designers need to create a real-like watercolor drawing. Even without painting skills, you can 60 watercolor graphic styles to spice up any design projects, such as invitations, social media posts, advertising images, posters, business cards, and many more.
You can also get watercolor swatches that offer seamless effect, plus 100+ watercolor vector effects like drops and splashes. There are also 13 pages of beginner and advanced guides so you can use the features in maximum capacity. A perfect tool to make your design more interesting and authentic.
3. Procreate Character Drawing Toolkit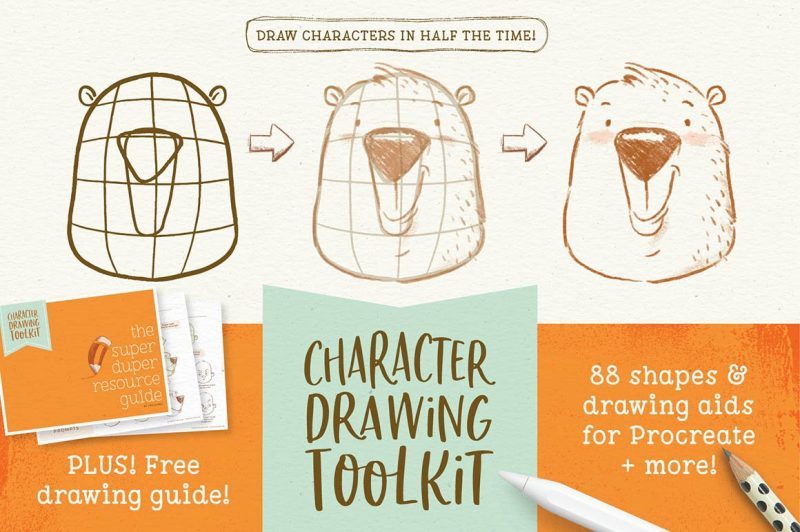 Creating a new character can be difficult, even for seasoned designers. How many times have you had "blank canvas" moments when looking for character ideas for specific designs? Procreate Character Drawing Toolkit is a great add-on to draw interesting, cute, and unique original characters. It comes with 88 brushes that you can use to make your characters stand out.
Compatible with Adobe Illustrator and Photoshop, Procreate Character Drawing Toolkit offers five sets of brushes. Each brush offers different sets to draw parts of faces like eyes, ears, head shapes, and noses. You also get brush sets to draw organic shapes and forms to expand your creative ideas.
4. ColorLab Illustrator Vintage Comic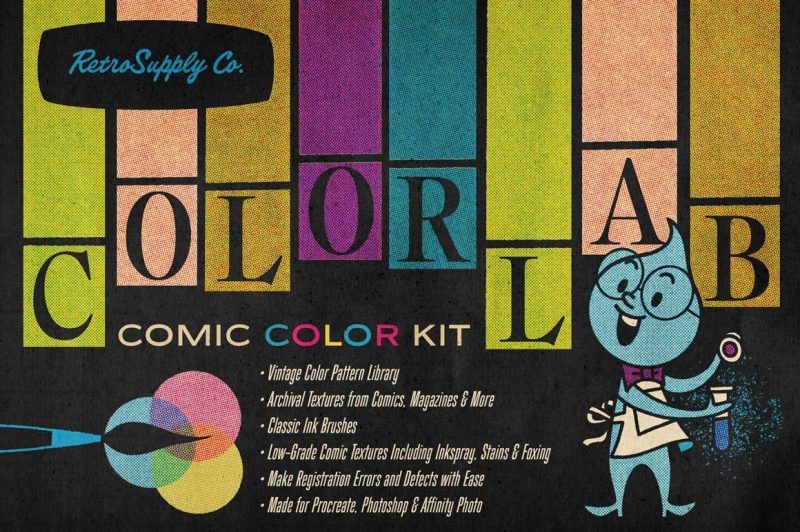 Retro arts are making comebacks in the modern digital art era. You can join the trend by using add-ons to easily create vintage comics and characters. ColorLab Illustrator Vintage Comic has everything you need to draw and color vintage characters, with a step-by-step video to guide you through all the features and tools.
ColorLab Illustrator Vintage Comic showcases 125 halftone swatch files that have been pre-mixed. Aside from automatic coloring, you also get 12 manual color halftone swatches and three brush pens. You can make the final designs look more authentic by using eight textured paper templates as the backgrounds. There are also handy color charts to find the best vintage color formula.
5. Memento Shader Brusher for Illustrator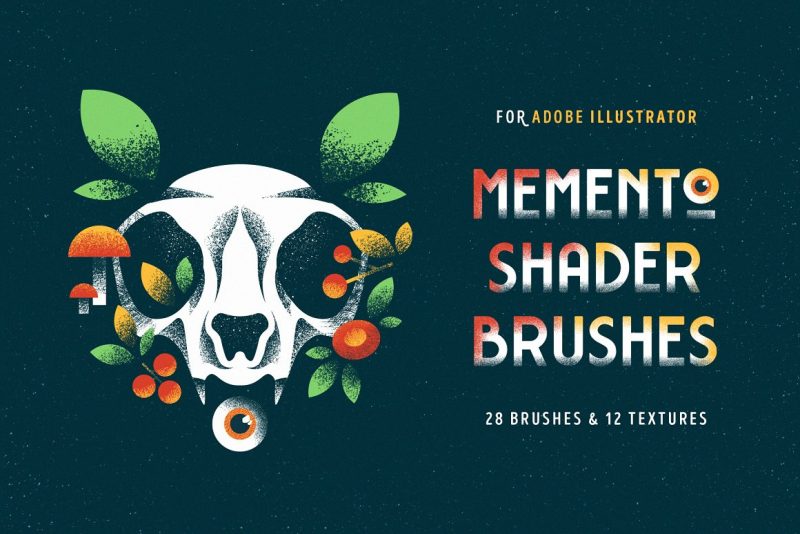 Multiple brushes are Illustrator power tools designers love to have. You can unleash your drawing creativity with Memento Shader Brusher. This collection of brushes creates various effects for making your ideas realities. From fine-grain effects to chunky, these brushes help you create any types of illustrations you have in mind.
Memento Shader Brusher offers 28 unique brushes to create hatch, edge, noise, and shade brush effects. Combine them to create unique artworks, designs, and vector images that represent your creativity in following design ideas. There are also 12 texture options to make the final designs look more authentic.
6. Gouache Shader Brushes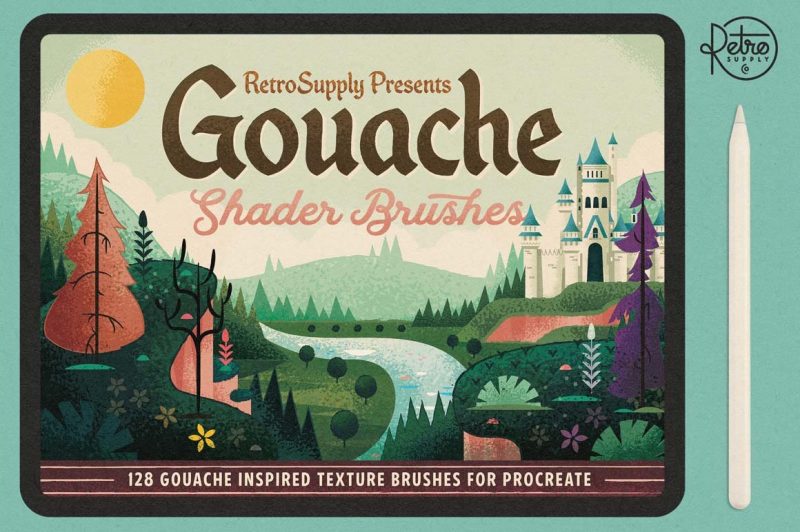 Create stunning gouache painting with Gouache Shader Brushes, a collection of 52 brushes to create the matte painting effect that you look for. This set gives you rich, high-definition gouache effects in simple steps. Avoid the odd, awkward results from manually adding layers and angles to get the right final result.
Gouache Shader Brushes give you the edge, shader, and liner types of brushes to create various textures. This add-on is great for creating design projects like book illustrations, invitation and birthday cards, digital artworks, advertisements, and many more.
7. Vector Watercolor Brushes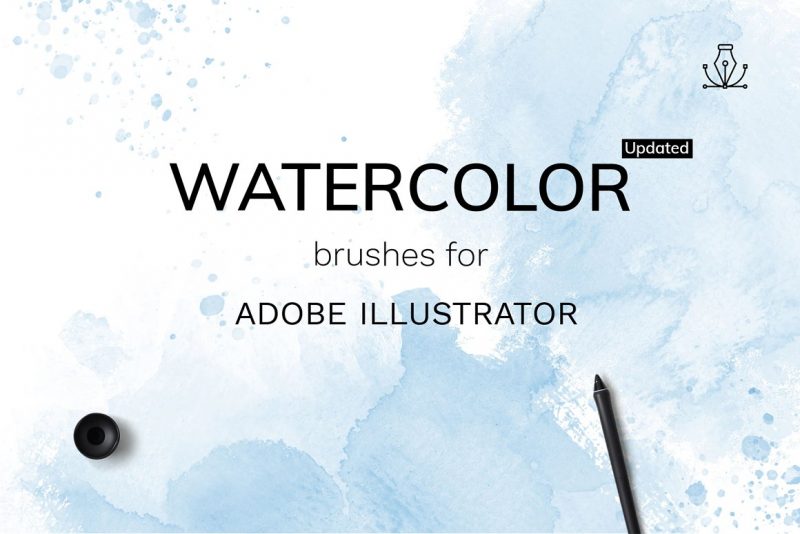 The watercolor effect makes your illustration soft and airy, and you can achieve it with simple steps. Vector Watercolor Brushes for Adobe Illustrator offers 44 brushes that display unique watercolor effects. The texture is so real-like that you can see it even with 100-per cent zoom. You can easily move the brushes with a stylus, and your design will be immediately uplifted by the watercolor effects.
The brushes can be used in layered mode, creating various visual effects. You can use the result to adorn invitations, digital illustrations, advertisement images, and many more. The add-on also comes with six textured watercolor paper slides to create real-like painting effects.
8. VectorSketch Pencil Illustrator Kit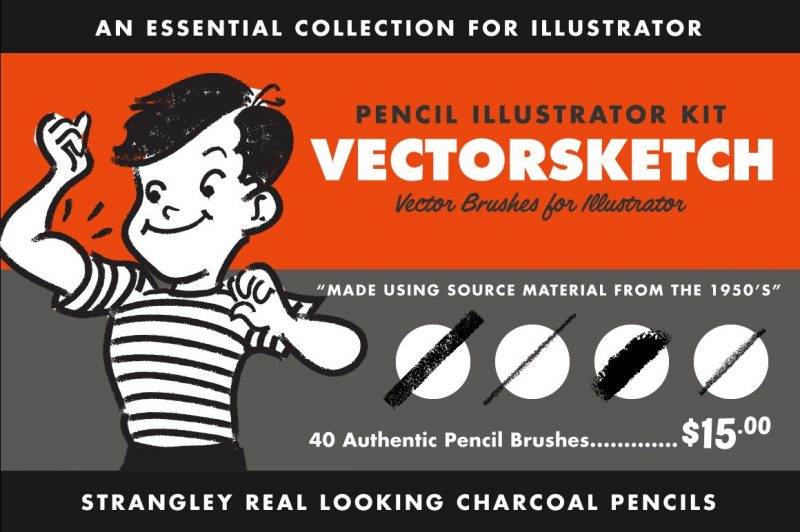 Want to create vintage-style pencil illustrations without sticking with Photoshop? VectorSketch can be your solution. Compatible with Adobe Illustrator, VectorSketch comes with 40 brushes that recreate charcoal, willow sticks, No. 2 pencil, and carpenter pencil effects. All the pencil effects are similar to the ones you see in vintage comics and illustrations.
VectorSketch comes with scalable features that prevent pixelated images. All the lines come out of good quality as if you draw with actual pencils or charcoal sticks. You can focus on drawing great vector images or other design projects with your Illustrator, without thinking about the scales and image quality.
9. AI Hand Drawn Ink Brushes
Want to create smooth, real-like ink lines with Adobe Illustrator? AI Hand Drawn Ink Brushes give you the right tools to do that. It gives 168 options of ink and pen brushes with numerous styles. The mix between any styles and types you like; rough, smooth, thin, or thick. The ink lines are real-like, all based on real pen types, which you can compare by using handy examples.
Create any effect you like by mixing and matching these ink lines with each other or different media. Hand Drawn Ink Brushes are perfect for creating various design projects, from digital artworks to printed materials.
10. AI Hand Drawn Crayon Brushes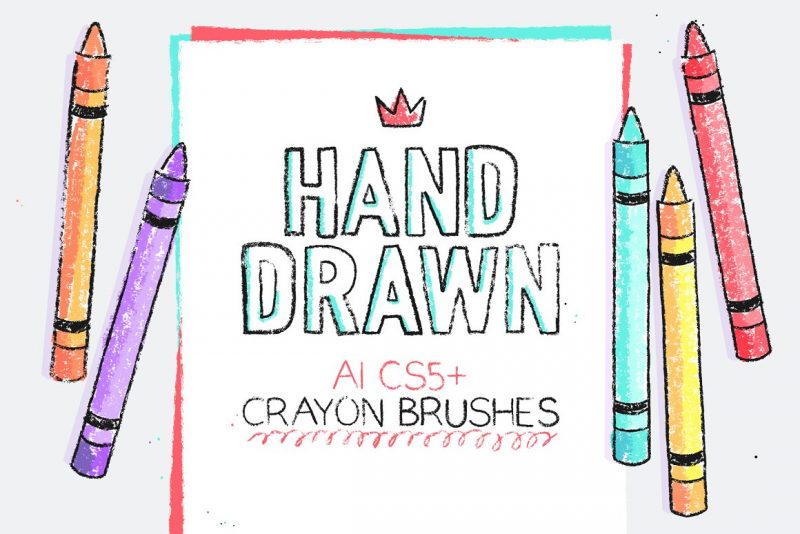 Make your brush effects fun and lively with AI Hand Drawn Crayon Brushes. Just like the previous ink version, this crayon brush set is real-like, with numerous effect options from thin to thick. You get 134 crayon brushes that are fully adjustable. You can easily change the length, thickness, textures, and colors depending on the final design look you want.
Each brush of AI Hand Drawn Crayon Brushes is pressure-sensitive, easy to maneuver and manipulate. Create straight lines, blurred edges, or wacky and creative lines to make your visions realities. AI Hand Drawn Crayon Brushes is great for making vector arts, graphic arts, and various printed materials.
11. Mosaic Maker Brushes & Patterns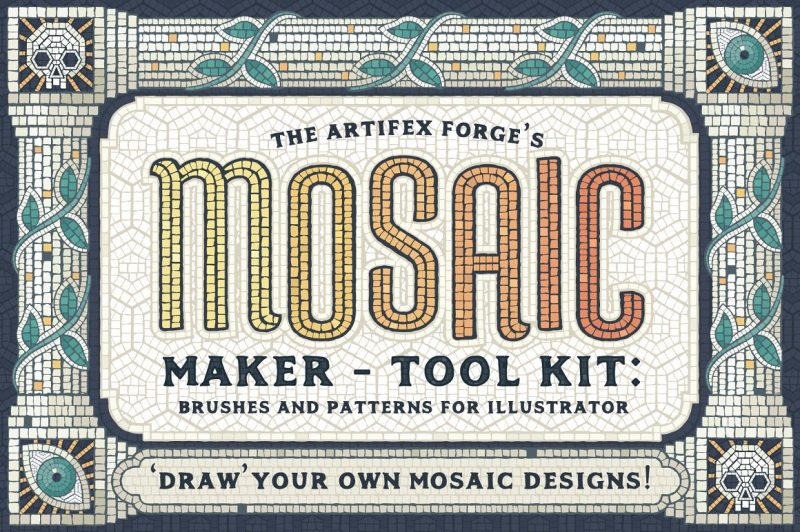 Mosaics are intricated and attractive. However, creating one from scratch is not easy. Mosaic Maker Brushes & Patterns help you create mosaic designs based on actual Ancient Greek mosaic arts. You get special brushes to create perfect mosaic arts, plus six repeat patterns that you can apply in various designs and illustrations.
The mosaic arts used to create this add-on have realistic-looking irregularities like chipped edges. They help make your designs look more authentic and attractive. The basic pattern designs help you create intricate designs without mistakes, something that can happen when drawing mosaic patterns from scratch.
12. Outstanding Oil Paint Brushes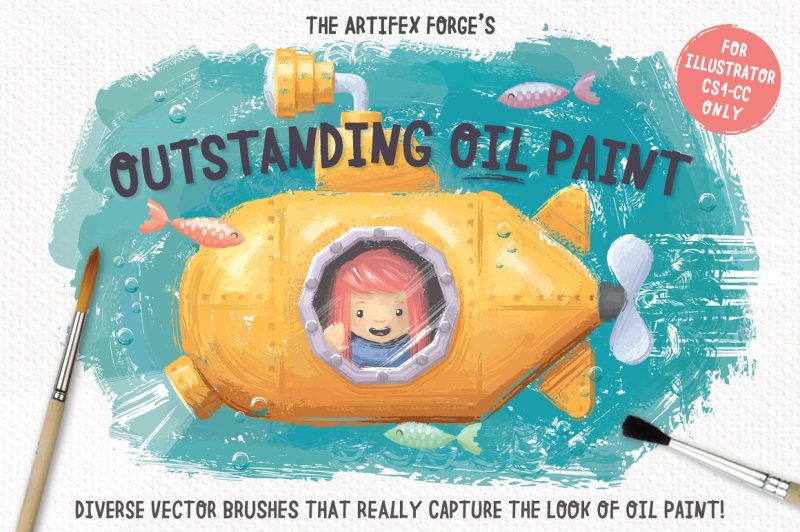 Want to recreate oil paintings without a classical art background? Outstanding Oil Paint Brushes for Illustrator will help you create realistic painting effects in easy steps. It features a handful of brushes with various thicknesses, lengths, and effects that will not get stretched and faded. The strokes have different textures that mimic actual painting, and you even get realistic-looking canvas backgrounds to mimic actual paintings.
Outstanding Oil Paint Brushes also come with a useful guide and references so you can quickly find the right brush. You can also get a guide and examples in managing and adjusting the brushes. This add-on is perfect for creating advertising images, cards, invitations, book illustrations, logos, and many more.
13. Splatter & Smear Brushes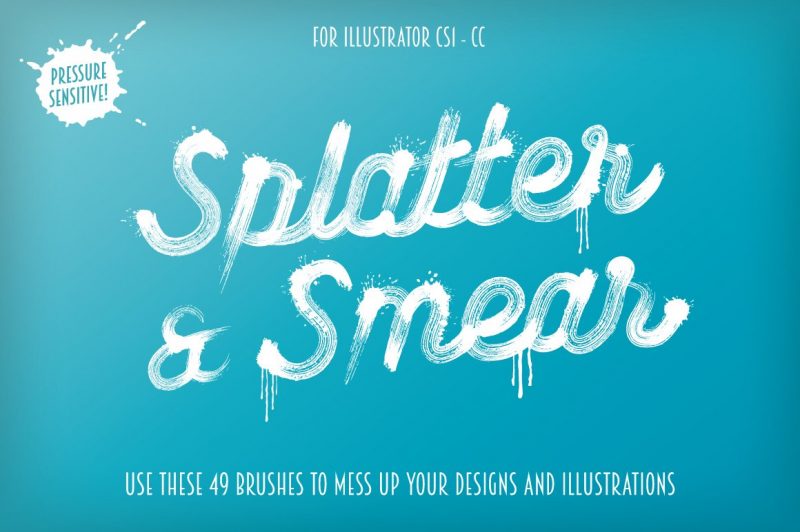 Splatter & Smear Brushes is what you need to get creative with explosive drawings. These brushes create "messy" artworks, which mimic the splattering look of paint sprays and splashes. The result is digital art that provides the authentic look of an actual painting. A perfect add-on to create modern, unique artworks.
Splatter & Smear Brushes comes with 53 brushes to create splatters, drips, smears, and paint drops. There are options to adjust the sizes of the splatters and drops. The brush collection includes combo brushes that you can use to mix several effects. This add-on is perfect for various projects, from business cards to fashion items and website illustrations.
14. Linocut Brushes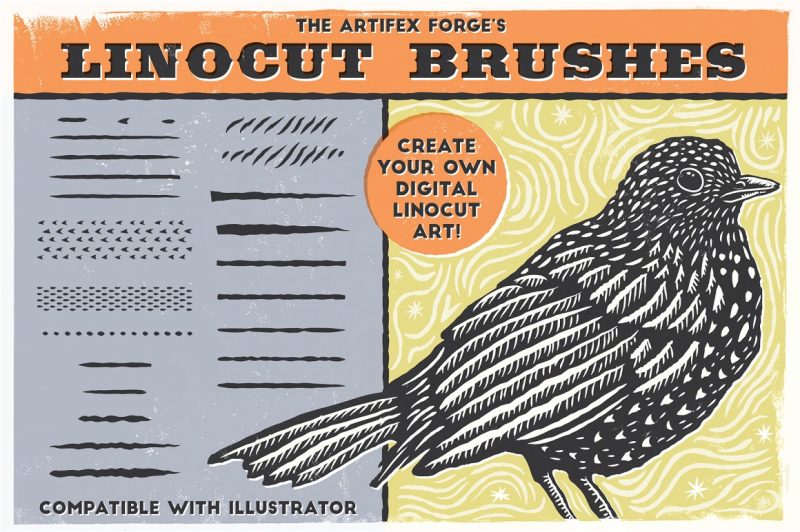 Linocut is a type of printmaking technique using pre-carved designs, which are stamped on a linoleum sheet. Now, you can replicate this unique technique using Linocut Brushes for Adobe Illustrator. This add-on frees you from the hassles of making linocut prints by giving you a set of brushes you need to get the same effect digitally.
Linocut Brushes for Adobe Illustrator presents 80+ brushes with different thicknesses, textures, and shapes. You can mix and match them to create various shapes, forms, and designs that give a real-like linocut effect. The package also comes with references, instructions, and a guide to help you create unique, creative designs.
15. Drunk Sailor Stippling Brushes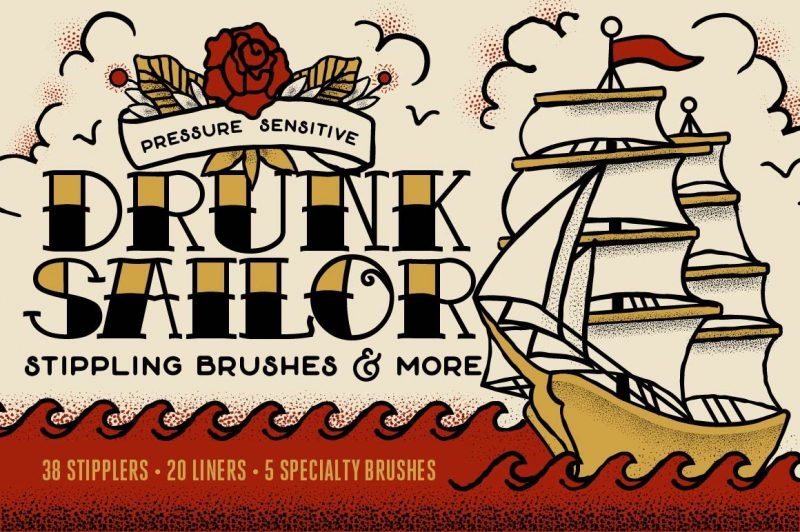 Stippling is a delicate drawing process, which includes combining numerous small dots to create shades and patterns. A result is a delicate form with unique, rich details when you gaze more deeply into the drawing pieces. With Drunk Sailor Stippling Brushes, you can replicate this effect with simple clicks instead of manually drawing all the dots.
This add-on comes with 38 brushes for stippling, based on actual pens and brushes that are used to create this effect. Additionally, you get speciality brushes and pen liner brushes to fill in the details and make the drawings look richer. You also get artwork previews and an instructional guide to inspire you. Drunk Sailor Stippling Brushes is perfect for creating various design projects, from digital to physical or printed.
16. Chalk & Charcoal Vector Brushes
Imitate the unique look of charcoal and chalk strokes to make your digital designs look more attractive. Chalk & Charcoal Vector Brushes for Adobe Illustrator create textured, authentic looks to spice up your digital arts. You can create these looks without dirtying your hands or spending too much time adjusting the strokes using physical chalks.
This add-in comes with 30 thin brushes and 20 textured shade brushes for unique drawing results. You also get 15 pattern brushes and 15 rough brushes for more authentic chalk and charcoal effects. They are ideal for creating modern or vintage looks on your drawings, both digital and physical.
17. Artista Brushes for Illustrator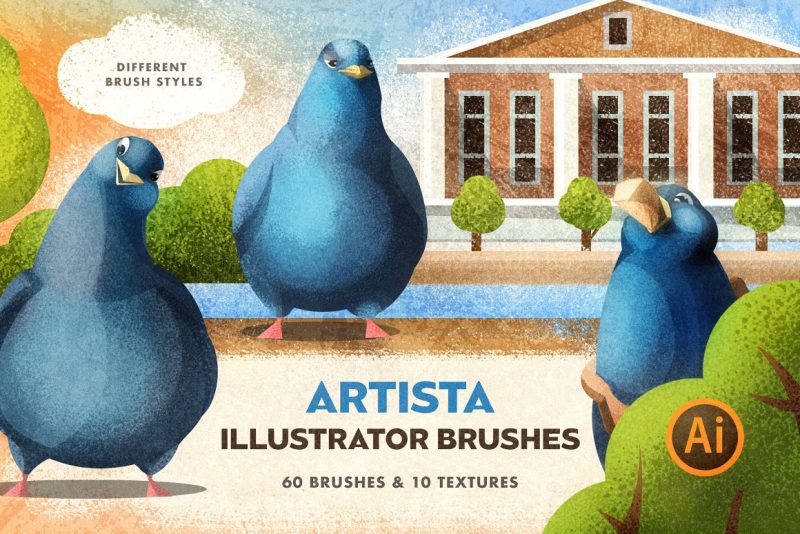 Artista Brushes for Illustrator collect the most basic tools you need for tackling most drawing tasks. This add-on comes with 60 brushes, which consist of various effects like texture, spray, sketch, grunge, and hatch brushes. There is a wide range of design works you can perform with this set, from quick sketches to detailed illustrations with shadings and layers.
18. Watercolor Pro Effects for AI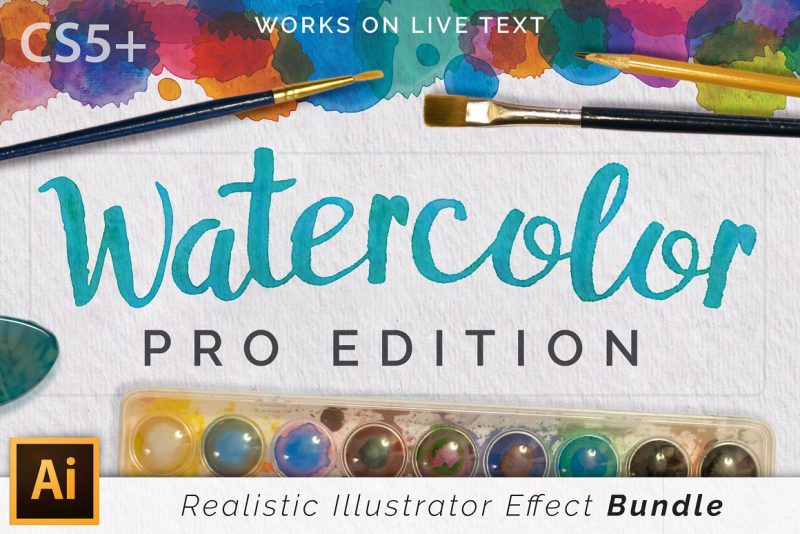 Watercolor Pro Effects offers 12 brushes and 49 textured brushes that you need to create a realistic watercolor look. One great thing about this add-in is its ability to be used with live texts. You also get splats, drops, and other visual effects that mimic the look of physical paint in the real world.
The best add-ons for Illustrator power tool designers should have will make your works easier. Choose between these Illustrator add-ons to make your design projects easier, with more attractive and creative results.
Tags: design, designer tools, designers, graphic design, graphic designer, illustration, illustration app, illustrator, illustrator tools