Are you seeking inspiration about the Lord of the Rings font for your upcoming project? Here we have rounded up some Lord of the Rings-related fonts that you can download for personal or professional use.
Lord of the Rings is very popular; even if you are not a fan, you must have heard of this fantasy adventure film series, right? It is a film trilogy adaptation of J.R.R. Tolkien's novels consisting of The Fellowship of the Ring, The Two Towers, and The Return of the King.
Along with the other five pop culture movies, such as Harry Potter, James Bond, Star Wars, Pirates of the Caribbean, and Shrek, this film trilogy takes sixth place as the highest-grossing series.
There is one font created by Pete Klassen that best resembles the font title of the film; it is called "Ringbearer." Check out for more fonts that take a similar vibe to Lord of the Rings font. You might find more than one font that is suitable for your needs.
7 Lord of the Rings Fonts
1. Ringbearer by thehutt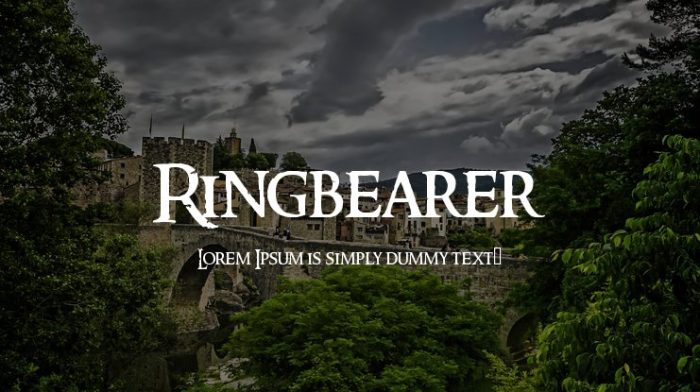 It is widely known among Ringer (Lord of the Rings fans); moreover, if you are a typographer, that "Ringbearer Medium " takes the most resemblance to the original film. This font is created by Peter "thehutt" Classen (Pete Klassen). Once you download this font, it comes in a ZIP file, TTF font format, and is available for Mac and PC.
As stated by Classen, the font is a replication of the film's logo made by Peter Jackson. It is a Gothic font and has particularly ragged characters. The font includes uppercase and lowercase letters, numbers, special characters, basic Latin, currency symbols, etc.
The license is free for private use only. However, if you want to use it for professional and commercial projects, you have to read the license agreement inside the file, or you can reach out directly to the licensor.
2. Aniron by thehutt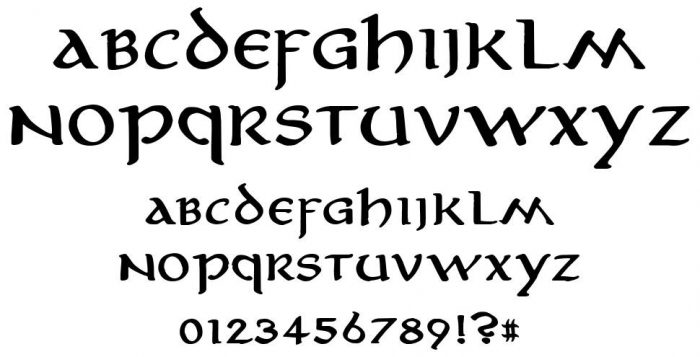 Aniron is created by thehutt (Pete Klassen) as a re-creation of Peter's Jackson font displayed at the beginning and the end credits of the film. The font is a mix of medieval and Cyrillic (closely linked to the Greek alphabet). The font is also noticeably used in real films.
The package has two font weights such as Aniron Regular and Aniron Bold, in TTF font format, both consisting of 276 characters. The character tables include the usual Latin alphabet, the Russian Alphabet (Cyrillic characters), numbers, some punctuation, and extended Western characters.
The license is for non-commercial only. Please kindly contact the designer if you would like to use it for a commercial project since your client won't be happy when someday they get a copyright issue problem.
3. Elvish Ring NFI by Thomas W. Otto

The font was designed by Thomas W. Otto and was released in cooperation with Norfok Incredible Font Design. Elvish Ring NFI has two font formats that are OTF and TTF. It has 101 glyphs (162 characters) and has two family fonts: Elvish-Ring Regular and Elvish Ring Bold.
The distinctive dingbat's style with each long corner and little strokes of the characters are suitable for written text in a small size. You can use this font to design your web or blog, logo, and other creative designs such as t-shirts, product packaging, posters, and more. Make your clients pleased with this unique-looking font.
You can download the font for personal use, and it comes in a ZIP format file. Can you use it for some professional projects? Yes, after you purchased the license from the authorized owner on their website. Then, you can use it in various projects, both personal and commercial.
Looking for another font similar to Elvish Ring? There are Bree font, Autotoy font, and Toysans font.
4. Morris Roman by Typographer Mediengestaltung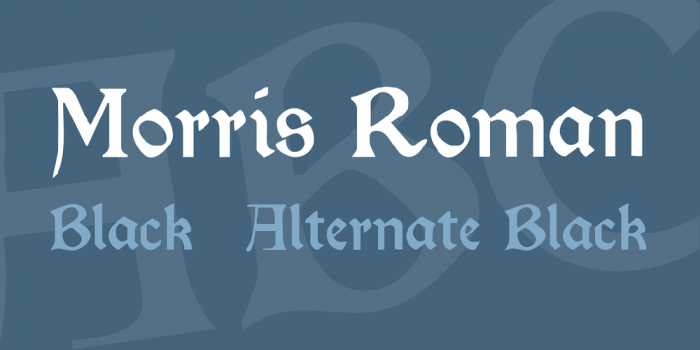 It was designed by William Moris (known as a medieval, 19th c, typeface typographer) with Dieter Steffman as the developer. The font is categorized as gothic and Celtic and consists of 208 glyphs (211 characters).
The appearance of the font is stylish, strong, and sharp. The transitions between letters also appear delicate and legible as it is written by hand. What's better is you can use it both for personal and commercial use.
5. Midjungards by Robert Pfeffer
Midjungards is a font similar to Tengwar. It is an alphabet, a fictional and fully functioning writing system created by Tolkien. The Midjungard's characters look like a Gothic hand script.
It contains 110 characters, and the style is similar to the Elven writing (Tengwar) but in italic. The download file is in the ZIP folder, and the file format is OTF. It is available to use (private only).
These Gothic characters are also drawn to the Latin shape, so you still can use it in Ms. Word even when the software does not support a wide range of Gothic Unicode.
6. Fanjofey by Fontgrube Media Design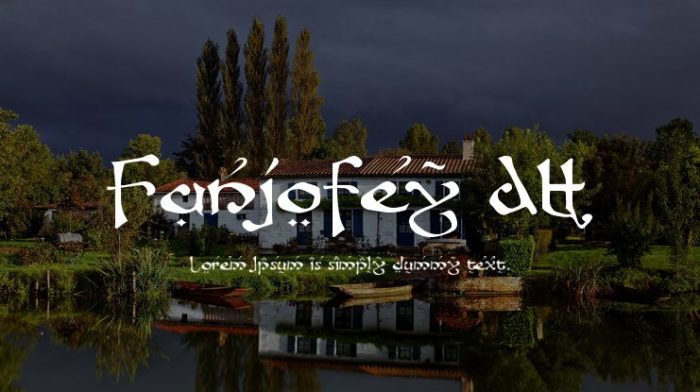 Fanjofey is a readable combination of Latin and Tengwar letters. This font is said to give the strong vibes of the film. Similar to Tengwar's writing, Fanjofey is also made up of many strokes and mini dots known as diacritic symbols.
Downloaded in a ZIP folder and TTF font format. The font has 205 glyphs (213 characters). It is permitted for personal use and not commercial.
7. RM Entrees by Ray Meadows

Ray Meadows created RM Entrees font with the Ents (one of the characters in Lord of the Rings) in mind. Just as the font displayed, the Ent has a tree like-figure.
The font looks like trees with intertwined roots from one letter to another. The addition of flowers that come out from the branches enhances the beauty of the font.
Even when the decorative elements are very prominent, this font is legible. You can use this font for a title of a comic book.
The file is in a ZIP folder, and the format is TTF. The good news, it is free to use both personally and commercially.
Have you found the Lord of the Rings fonts that you're looking for? We have tried to compile the fonts with the same vibe as the film series. It is available free for personal use and if you want to use it professionally, make sure to check the agreement license or contact the licensor. Good luck with designing and making your writing more terrific with your newly installed fonts!
Tags: aesthetic, element, font, lord of the rings