Do you know that there are at least half a million fonts in the world so far? For people working with design projects vis-à-vis typography or fonts, dealing with this alone can inevitably provide designers' block. Isn't it great if there's one comprehensive platform storing all font designs and types, which can save tons of effort from rummaging the Internet aimlessly?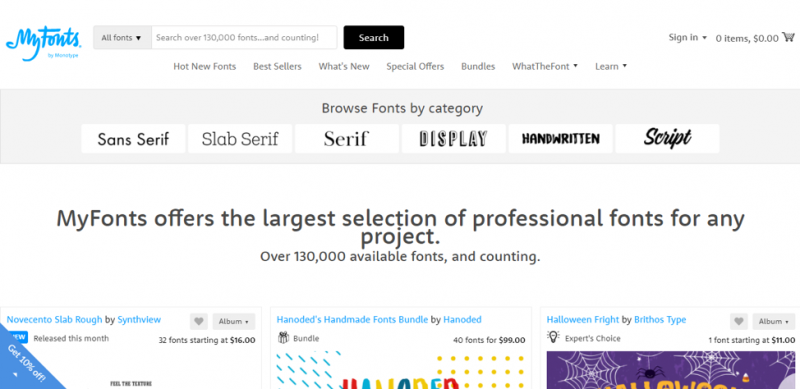 Offering precisely this benefit is MyFonts by Monotype, or simply known as MyFonts! Its front page highlights its specialty in providing "the largest selection of professional fonts for any project." As of the moment, the site has more than 130,000 available fonts, and this number's still counting.

As a comprehensive typography marketplace, MyFonts offers various classic desktop fonts, font-face web fonts, hot new fonts, etc. This one-stop has been a brilliant resource for UI/UX and graphic designers, as well as art directors.
Currently, there are almost 1,000 free fonts on MyFonts, and some of these fonts can be unique for your taste. Even if you're solely browsing for free fonts, you'll likely discover more beautiful fonts in a similar category that can inspire your next projects.
For paid fonts, the prices can be determined by numerous factors, such as the font itself, purchase quantity, and type of licenses you choose.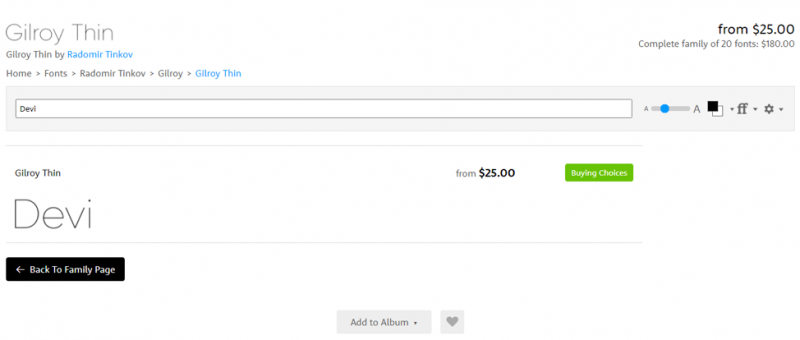 Before finalizing a purchase (and to reassure yourself), users can take advantage of the Sample Text field to first see some overview text. Simply type and wait a second to preview the alternate text in place of the default (pangrams). Such a previewing option also helps to prevent any misleading results.
If users want to put this on their MyFonts Album or simply like it, just click on the Add Album or Heart buttons below.
The Special Offers and Staff Picks Sections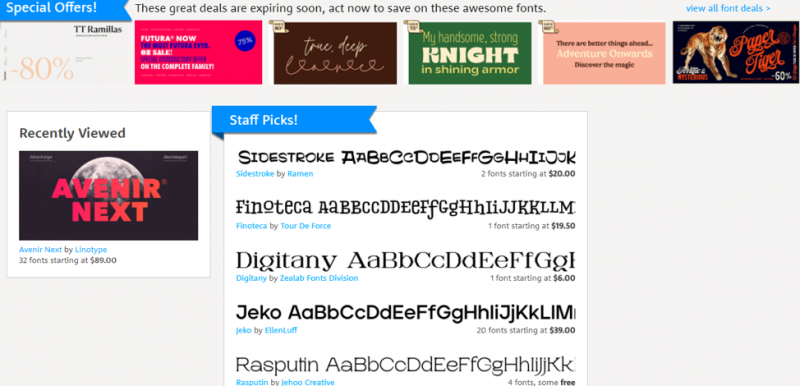 Sometimes, we might not know yet what font we want to use until we see it. This is where the feature of Staff Picks can be beneficial! The featured fonts here are likely those we haven't come across but would fit in one of our projects.
The Special Offers section offers attractive discounts and deals on many different fonts. Many of its site users love it, mainly when we all know how expensive it can be for purchasing a particular font alone.
The FAQ Section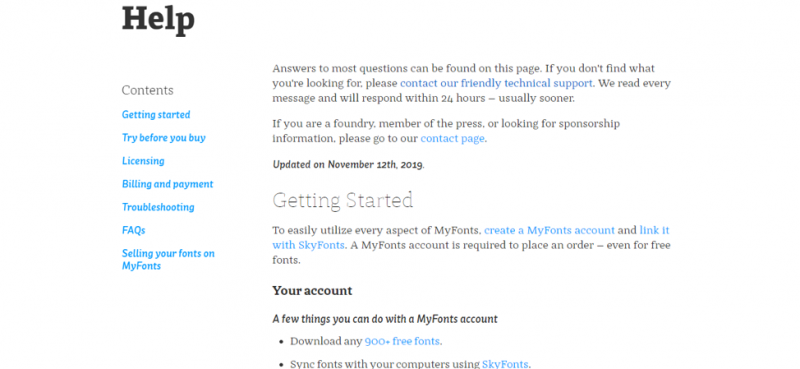 The Help section comprises detailed information about how users can better utilize every aspect of MyFonts. The site recommends visitors to create a free MyFonts account first because they can't place any order—even for free fonts—without it.
If users want to sell their creatively-made fonts instead, MyFonts website also provides this support through the Foundry Support.
A massively diverse font collection curated from free and paid options
Comprehensive menu yet the easy-to-navigate user interface
Seamless navigation
The availability of sample text preview on each font
Competitive prices
We hope the review on myfonts.com above gives you clear information about the website and features offered on it!