A popular choice among big companies such as Disney and Amazon, Sip is an effective tool for color picking and organizing. It offers an unobtrusive platform which is easy to use and navigate by anyone, from beginner to professional designers and developers.
Sip's Main Features
In terms of picking, designing, and setting colors, Sip users can rely on the following excellent features:
Color Picker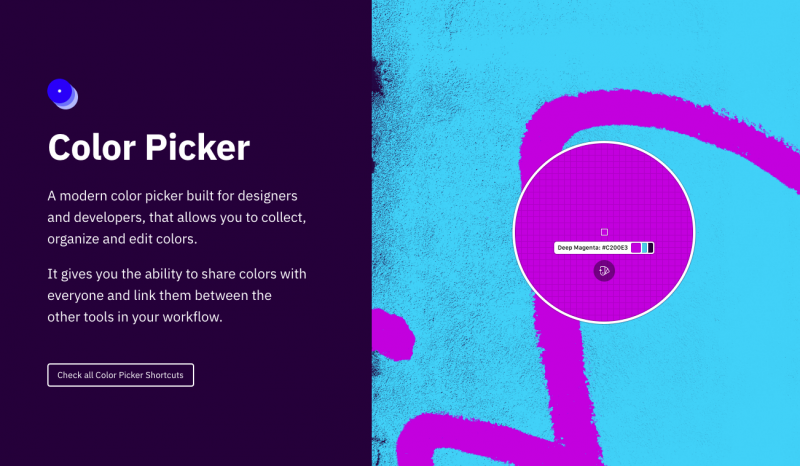 This feature is specifically designed with designers and developers' needs in mind. Not only you can pick, edit, and organize colors for various purposes; you can also share them with other designers or various color tools to ease your workflow.
Editor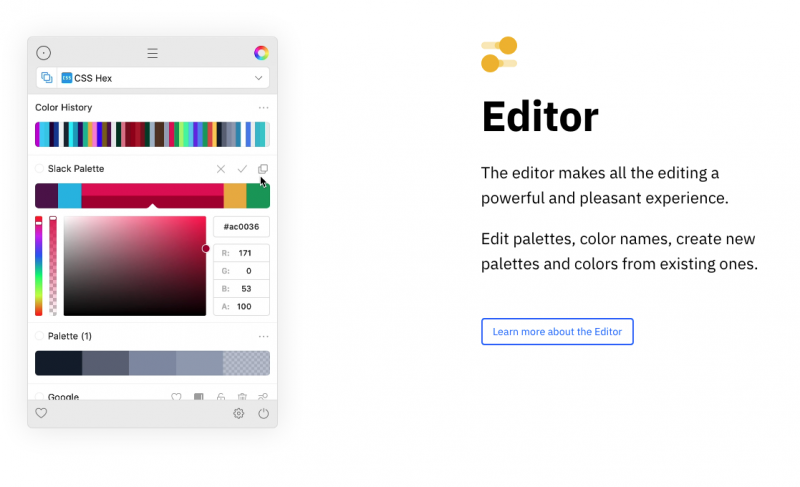 It allows you to edit palettes and color names as well as create new color combinations from thousands of existing shades. All can be done in an enjoyable way through a set of powerful tools.
Palettes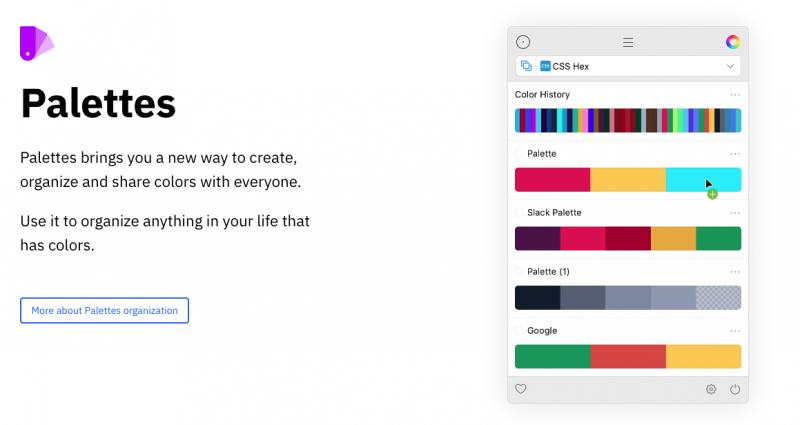 Whenever you need to organize anything with colors, this feature will serve as your go-to option. It offers a new and interesting way to turn a bundle of assorted colors into meaningful groups of shades.
Smart Formats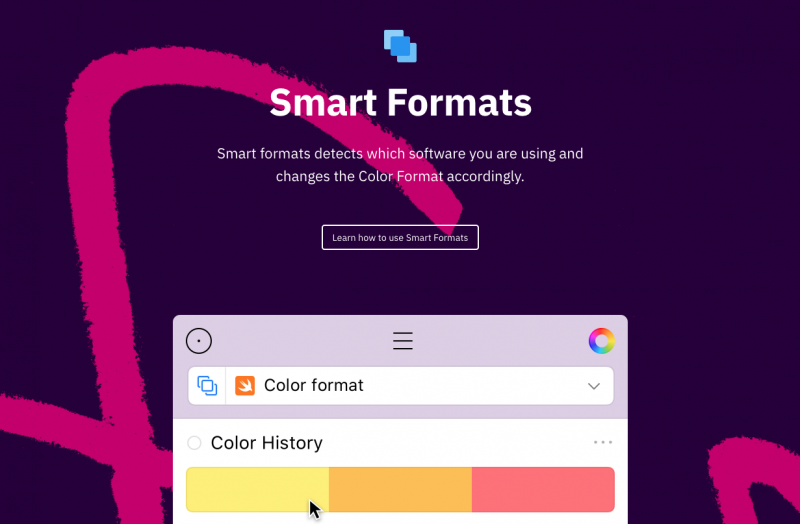 Ever in need of working on different platforms or software at the same time? Smart Formats will make your work easier in this case. This feature can detect the software you are using and automatically change the Color Format to fit your needs. Therefore, you don't need to guess the colors or change the format continuously during your working session.
Custom Formats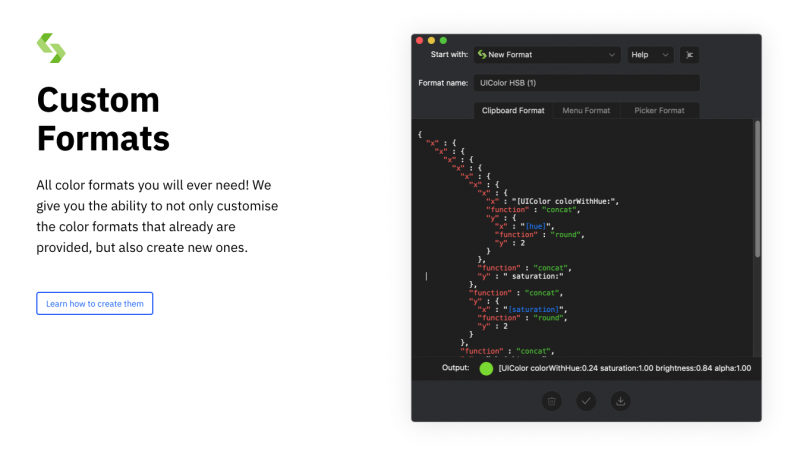 This feature provides a wide variety of color formats for your designs and products. Aside from using and customizing the available color options, you can easily create a new color format from scratch if you ever need something new and different from others.
Color Dock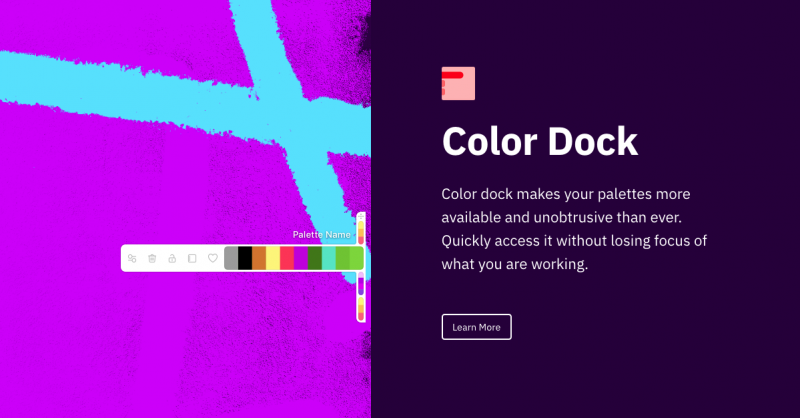 It offers an easier way to access your color palettes. This feature is set on the edge of your working screen, so it is always visible whenever you need it. Using it won't even make you lose focus on the project you are currently working.
Contrast Checker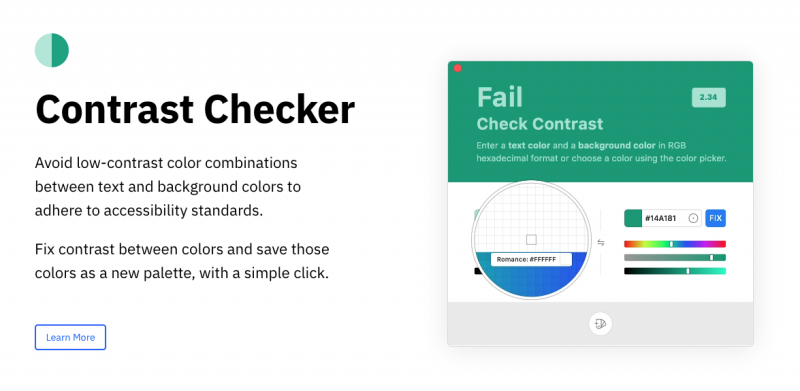 This feature will help you deal with content accessibility as it provides a real-time comparison between text and background colors you choose. You can easily see the contrast grade according to the Web Content Accessibility Standards (WCAG).
In addition to those features, there are more other reasons why Sip is a better color tool for Mac users. For starters, it gives you effortless access right on the menu bar by holding the color palettes of your choice and allowing you to share or transfer them at the same time.
Organizing color with Sip also makes your work easier on any level. Whether you choose the available color options or make new ones according to your style, all steps can be done with ease. What's more advantageous about Sip is the fact that it covers all common color formats for different software. You can use it with Photoshop through its hexadecimal format or make a project on Sublime Text using its CSS RGBA colors.
To sum up, Sip is a definite answer for an efficient workflow. Should you need to access the color palette or make a change on the go, just synchronize your work to your iPhone anytime, and everything will be much easier.
Tags: design, design app, design tool, mac, sip app