A great user experience involves design and icons to build an interactive interface. Being the simpler version of symbols, icons convey your ideas and communicate with the user of your website. Meanwhile, a good icon leads your website visitor to the page they are looking for. One of the best websites to look for icons is Streamline Icons. With more than 30,000 icons available, you can even customize it according to your need. Let's take a deeper look at what this website has to offer.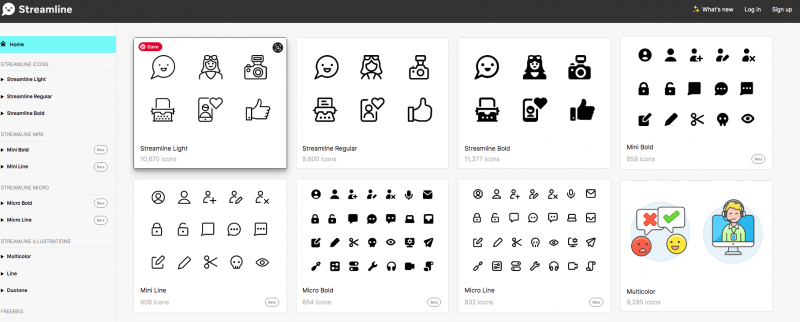 How to browse through thousands of icons without you getting lost in them? Streamline Icons can be accessed through their Streamline Icon web app. There, you can scroll down and find the right size and weight for your need. On the collapsible menu, icons are grouped into 53 categories.
Pick Your Types, Weight, and Color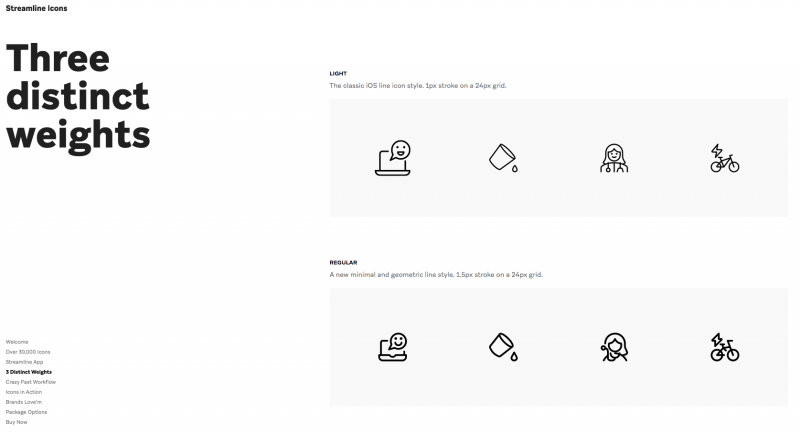 Streamline Icons have four types that you can pick: Regular, Mini, Micro, and illustration. Each type of icon has different weights: Light, Regular, and Bold. It means that the icon presets in Streamline Icons are versatile and can be used in any size of the design.
Customize it!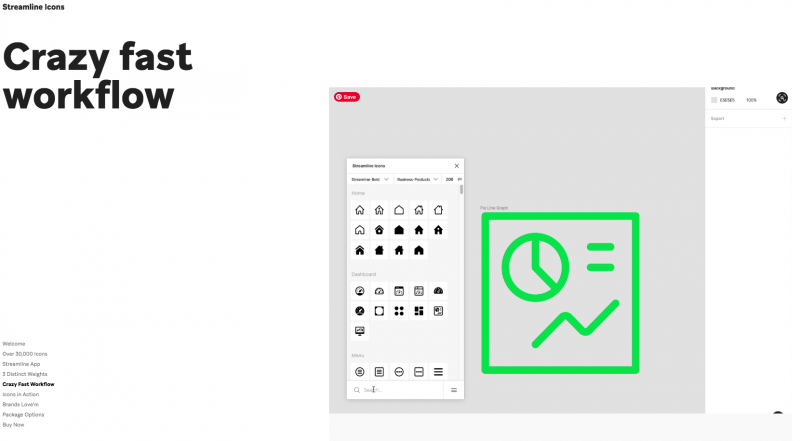 With four file types available, the icons can be easily dragged to the window of Figma, Sketch, Adobe XD, or Illustrator. In every package you buy, there are seven file types that you can choose, which are  .iconjar, .sketch, .fig, .xd, .svg, .ai, .pdf, .png. The Light weight can be enlarged so that you can add more details and colors to make it more personal to your brand.
Two Packages Available on Streamline Icons
Streamline Icons breaks down their packages into 53 categories. Some of the examples of the categories are "music", "user interface", "files", "internet", and so on. With the Essential package, you get 14 categories that are basically cover most of the basic icons that you will need in an interface. Meanwhile, the Ultimate package offers all of the 53 categories, which means you get thousands of icons inside.
The package price breaks down into three packs which allow you to buy the specific weight, or cheaper if you buy them all. Here is the pricing for the Essential and Ultimate pack:
| | |
| --- | --- |
| Essential | Ultimate |
| 4,000 Light Icons                              $97 | 10,500 Light Icons                        $137 |
| 4,000 Regular Icons                         $97 | 10,500 Regular Icons                   $137 |
| 4,000 Bold Icons                               $97 | 10,500 Bold Icons                         $137 |
| All 12,000 Icons                              $194 | All 31,500 Icons                            $274 |
Not sure which package to get? Streamline Icons has a free package for those who are just starting small. You can download a free package and get the basic 30,000 icons in .png format. You can also use their free vector icons and use them on your website or app, with a linkback to their website.
Some of the popular brands that have used Streamline Icons are eBay, Converse, Reuters, and TripAdvisor. So, when you are looking at one of those brands' website or app, you might be looking at some of Streamline's icons. The wide variety and size make Streamline Icons is the right place to go to find royalty-free icons for every digital design needs.
Tags: design, design app, design tool, designer, icon, icons, streamline icons