Superhero is a genre that never gets old. Superhero comics carried American comic industries and introduced them to the world. It became the icon of pop culture worldwide and has inspired many things, including typography. Nowadays, super hero fonts can be found in many things related to pop culture, like movies, conferences, and more.
If you incorporate super-powered heroism into your design project, these fonts might help you out.
Avengeance Heroic Avenger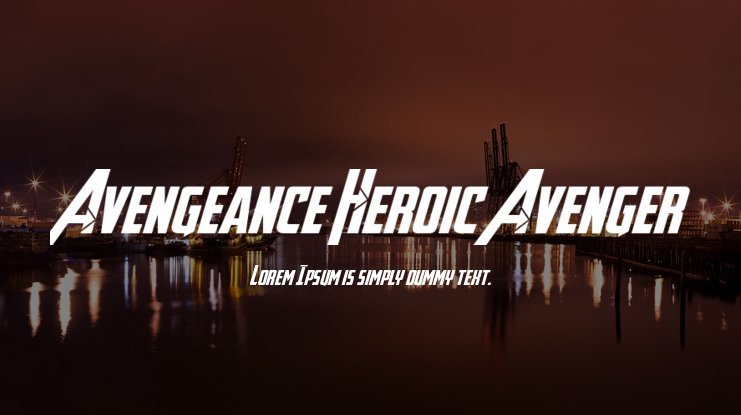 If you are a fan of the Marvel Cinematic Universe, there is a good chance that you will instantly recognize this font. This font bears a striking resemblance to the one Marvel Studios use in their Avengers movie series. In fact, the two typefaces are so similar that they might as well be the same for an untrained eye. However, they are not.
The font used in Avengers movie posters looks very similar to a font designed by Michael Gene Adkins called Avengeance. However, that particular font is sold as a commercial font, while Avengeance Heroic Avenger is a free font inspired by the movie titles.
Avengero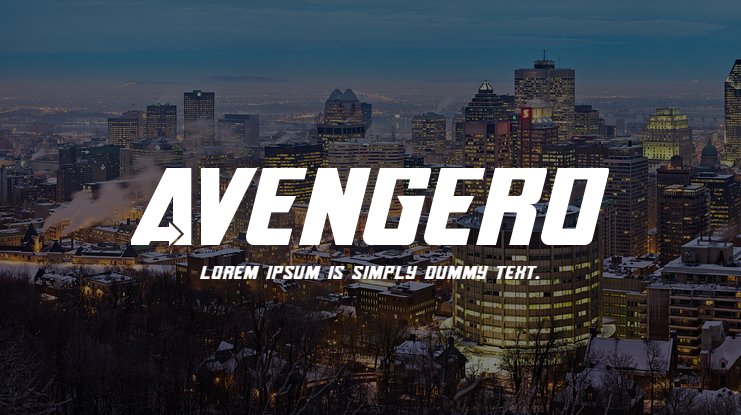 Another font heavily inspired by Marvel Studios' series of superhero flicks, Avengero, looks pretty similar to the typeface used by the studio. However, Avengero looks shorter and chubbier compared to Adkins's design's taller, slimmer shape. It also lacks subtle yet quite noticeable features, e.g., the triangular serif below the capital G letter.
Another difference lies in availability. Adkins's Avengeance is sold commercially, meaning you must buy the font for your design. Meanwhile, Avengero is a free font available for download here.
American Captain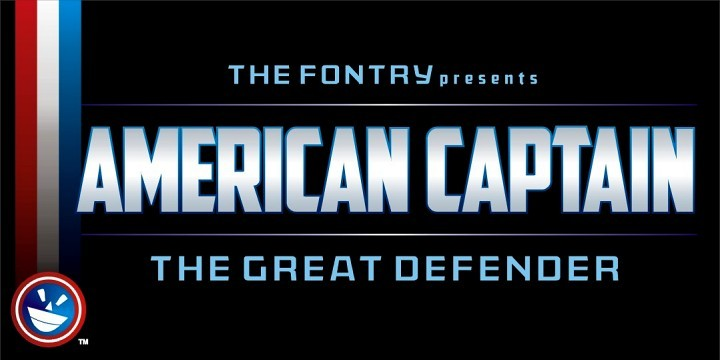 If you think this super hero font is inspired by the iconic Marvel superhero Captain America, congratulations, you are right. More accurately, this typeface looks inspired by the one Marvel Studios uses for their Captain America movies. Whether or not the studio's designer uses this font or vice versa is up for debate, though.
We can agree that this typeface looks bold and brave and has a strong character—much like the World War II veteran Steve Rogers himself. Even if this font is not the one the studio uses, you can utilize this free font to incorporate the same feeling into your design.
Heroes Assemble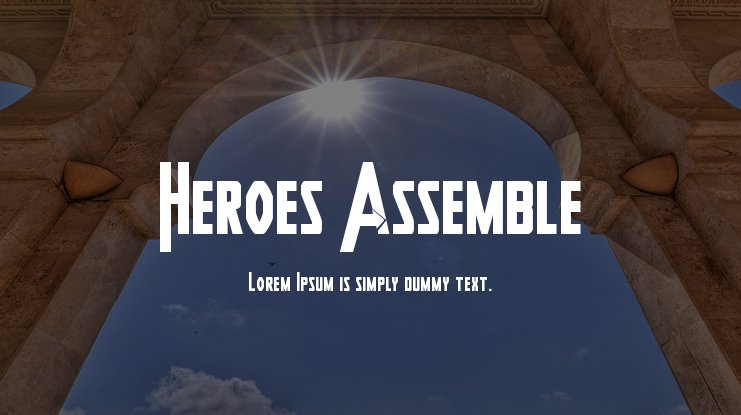 The line "Avengers, assemble!" is arguably one of the most iconic catchphrases in superhero movie history. The line significantly influenced pop culture outside the Marvel fanbase when Captain America said this line during the final battle in Avengers: Endgame. The catchphrase is so influential it became the basis of naming this free super hero font.
This typeface looks inspired by Adkins's Avengeance, albeit with different key features. For starters, this font is straight instead of italic. Second, the letter 'o' is hexagonal instead of rectangular. The shape of the letters is also narrower than Avengeance. Different details aside, this font would still give your design a superpower to enchant viewers.
American Kestrel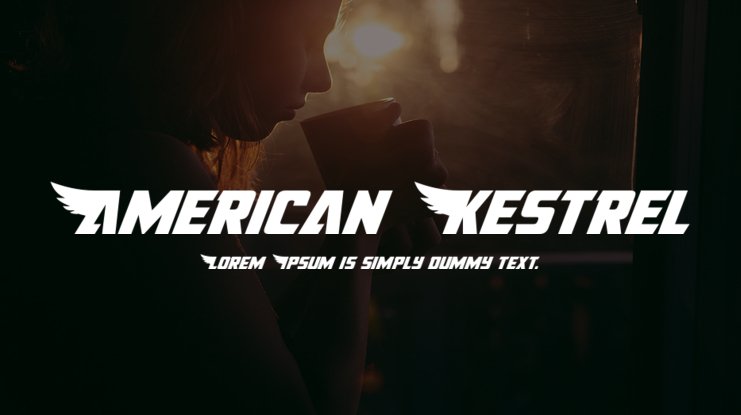 As far as superhero influence goes, American Kestrel might be inspired by Sam Wilson, aka Falcon, who later on will continue Steve Rogers's legacy as the next Captain America. The influence is shown in the wing-shaped ornaments marked in capital letters.
Marvel Cinematic Universe influence aside, this font will boost your design. It gives off bold, strong, and fearless feels akin to a superhero.
Avengeance Mightiest Avenger

Superhero movies are usually serious with next to no comedic aspect, so the posters for those movies usually utilize bold and blocky fonts. The thing turns to a lighter side when superhero movies with a prominent comedic aspects like Ant-Man and Guardians of the Galaxy hit the theater.
Those titles inspire this font. Unlike the above typefaces, Avengeance Mightiest Avenger incorporates a more light-hearted and fun aspect of superhero movies. These feelings came from the fluid, playful shape of the letters. This font is for you if you want to impose a feeling of fun heroism to your design.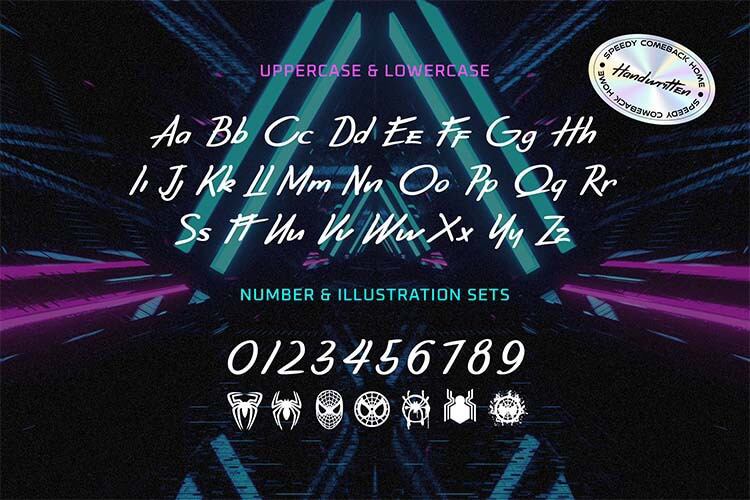 Marvel Studios' campaign to integrate Spider-Man into their Marvel Cinematic Universe resulted in a critically acclaimed trilogy of films. Interestingly, the studio always uses phrases with the word 'home' in the titles. The font used to write Homecoming, Far from Home, and No Way Home is so unique that it inspires designers to create similar typefaces.
Comback Home Font is one of those fonts heavily inspired by our friendly neighborhood superhero. It looks almost identical to the one used by the studio, complete with spider and spiderweb motifs.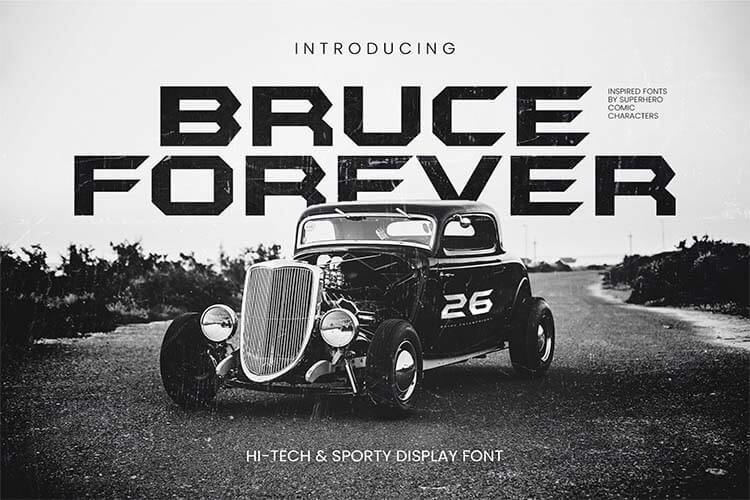 We are moving from Marvel Universe to its rival. This typeface is inspired by one of DC Comic's most iconic superheroes, Batman. For decades, Bruce Wayne, the man behind the mask of Batman, can be described as a bold, mysterious, and fearless character. The same characteristics can be found in this super hero font.
This font is suitable for projects that require dark and mysterious feelings. Alternatively, you can use it in projects that want to give viewers a classic or vintage image.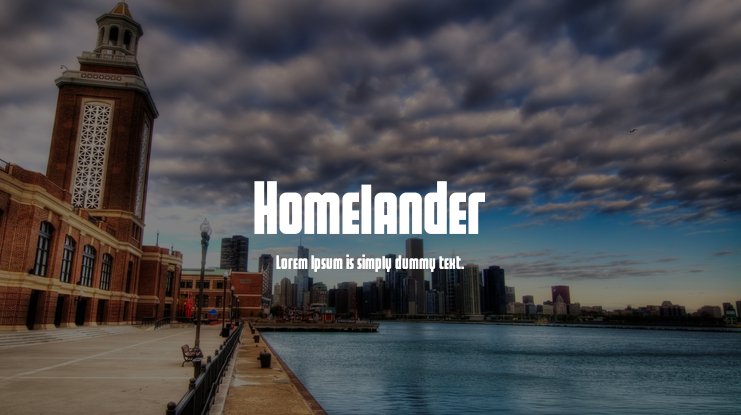 Most superhero fans will instantly recognize the name 'Homelander' with a superhero/supervillain Homelander from The Boys comic book and TV series. Homelander is depicted as a strong and charismatic yet arrogant and ruthless character.
Likewise, the font named after the character gives a similar feeling. It's blocky and bold, giving a strong and stoic personality. Its mix of small and capital letters will give a unique and intriguing aspect to the design you use it in.
Afterwords
Superheroes come with many flavors and characteristics that make the unique from each other. When combined with the right amount of creativity, this quirkiness will result in something of a head-turner if utilized properly. That's where super hero fonts fit in. What we've covered in this article is just a handful of typefaces inspired by the awe-inspiring characters we love and idolize.
Tags: 9, creativity, design, pop culture, super hero fonts, typography