When you work with poster designs all the time, there's bound to be some designer's blocks at times (especially when a deadline is quickly approaching). You only need inspiration as your next kick-off. Where to find a platform with an easy-to-navigate user interface?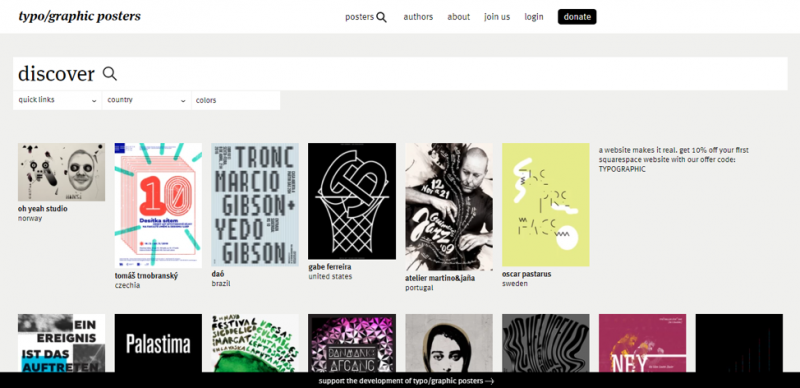 Say hello to Typographic Posters! As expected from its name alone—graphic posters with or without typography—this hidden gem has been around since 2008. Think of it as Instagram specifically made for poster artworks. The difference is that visitors can only share to Twitter, Facebook, and Pinterest without liking or commenting on the artworks.
Behind the posters are a host of talented graphic designers around the world. Currently, there are 492 authors from 51 different countries, amounting up to 9,689 posters. The artists need to follow a set of design quality and standards established by Typographic Posters to be hosted. It's what makes the platform super distinct: besides having a broad gallery curation, they also feature only the already-well-reviewed works.
Collective Typography and Graphic Compositions
With a focus on typography and graphic compositions, the website intends to be a creative platform for design creators and inspires as well. Visitors will be directly presented with many graphic poster inspirations, but they can always take advantage of the Discover button. There are three options: Quick Links, Country, and Colors (which further features three essential color palettes for an easy drag: red, green, and blue).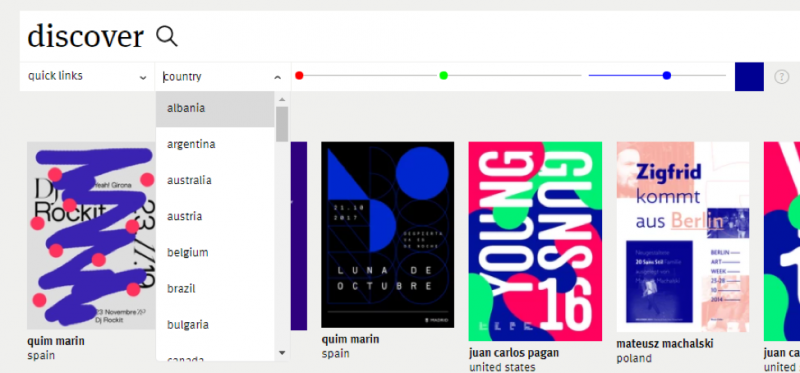 Clicking on the posters will lead users to a pop-up window, which will show the full-size version of the poster and its details (such as description, poster size, design date, etc.). Users can also find Related Posters upon scrolling down, where the Typographic Posters algorithm arranges based on similarities to the artwork currently previewed.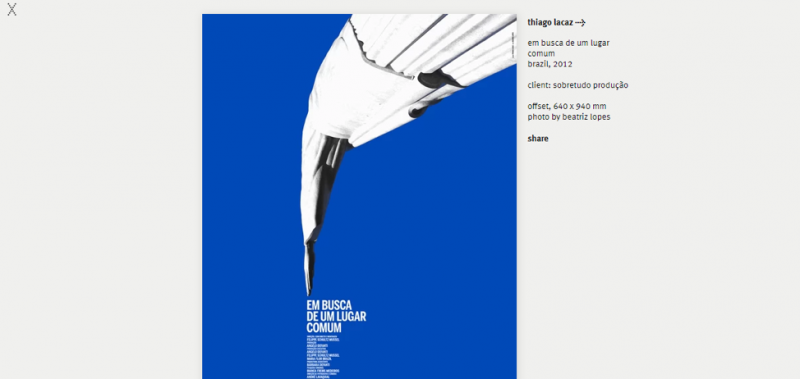 The poster will also show the creator's profile name on the website, which can be clicked. If users know the author or have seen an author's artwork here before, there's the Authors button on top of the first page as well. Clicking these authors' names will lead to their in-site profile page, which lists a brief biography and published posters on the website.
This feature is particularly useful if you wish to learn the designing style or patterns from your favorite creator. Usually, these authors also include external links to their websites or social media.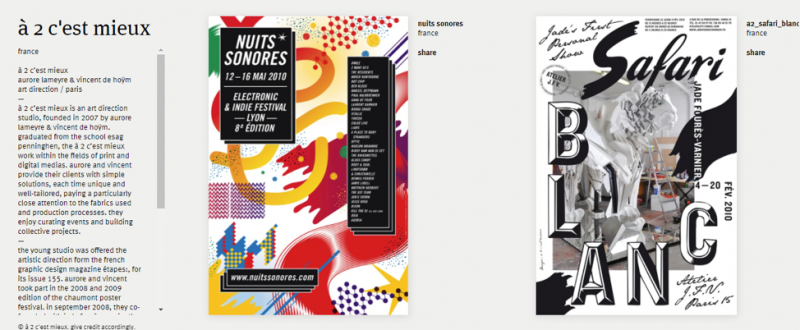 For users who are interested in getting their poster artwork featured, too, click on the Join Us button on top to see the requirements. Once a user's application is successful, they will have their own log-in info on the platform. Lastly, there is a Donate button to help support Typographic Posters' development.
Straightforward and easy-to-navigate interface
Growing poster artwork gallery carefully selected and curated by the page developer based on established design standards and qualities (in other words: not selected haphazardly)
An extensive creator membership
Individual detailed author profile page
We hope the reviews on the typographicposters.com above give clear information and inspiration you need!