Graphic designers are demanded to have a vast knowledge of materials to help with their daily work. These materials may include fonts, logos, icons, images, templates, color selections, and many more. As such, they are demanded to always be aware of the latest and finest graphic design materials out there on the internet. From all places, one such place for them to find inspiration for their works is typography Pinterest accounts.
However, this may pose a problem within itself. While there are hundreds of typography Pinterest accounts out there that graphic designers can find, the abundance of choice can be overwhelming if they don't know where to start.
Selections of Typography Pinterest Accounts
So, what can graphic designers do to narrow down their selection and find the actual typography Pinterest accounts for their materials? We've got some fine selections of accounts that everyone can follow below!
Charlene Hendrickson
If you're confused about where to start your project, consider visiting Charlene Hendrickson's collection. Though her collection revolves mostly around Word Graphics, they're a solid choice if you need some Word-based typography.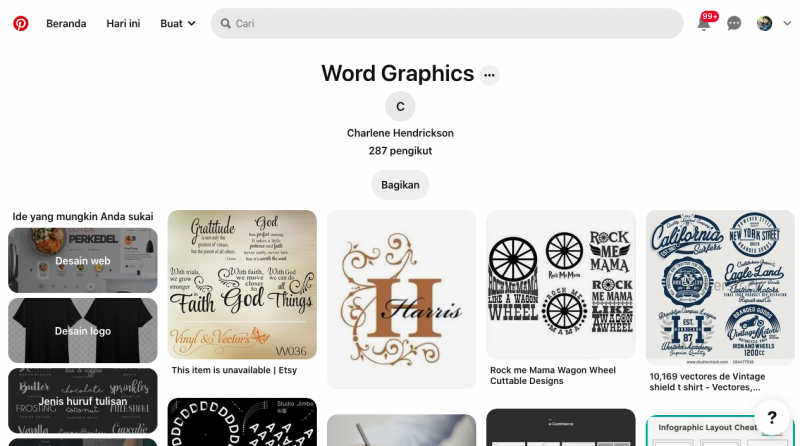 Does your new salon or café need some typography-based artwork to decorate the place? Then Becky's collection can be the solution. Her collection comprises many typography-based artwork pieces suitable for your brand-new salon or café.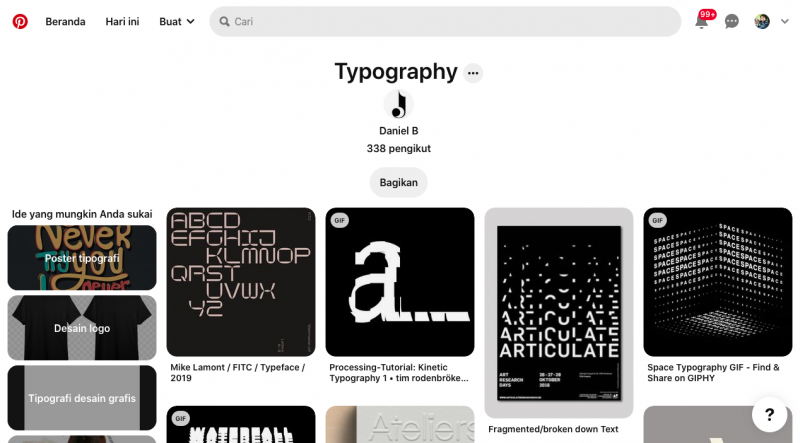 A randomized collection is something that you actually need. For that particular need, do visit Thebacklitbrain's collection to find something that might catch your attention. Its varied collection probably has something worth looking for.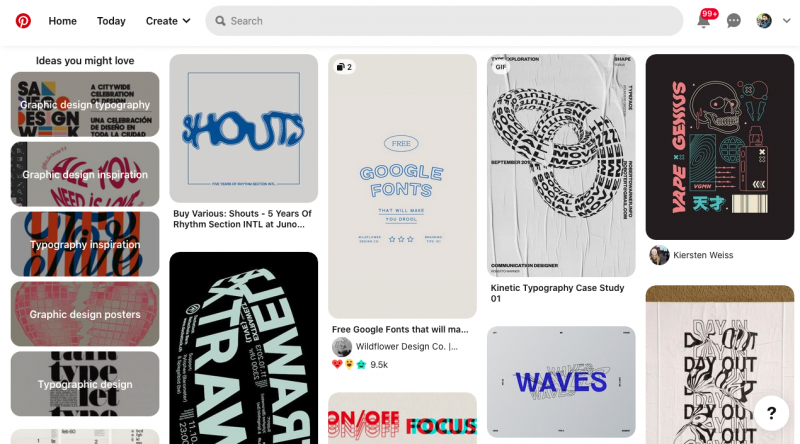 Are you a self-proclaimed film buff? If so, Alvin Szeto is ready to help inspire you with his movie poster-based typography designs. Not just movies, in fact, as you can find every single aesthetic poster in Alvin's well-crafted collection.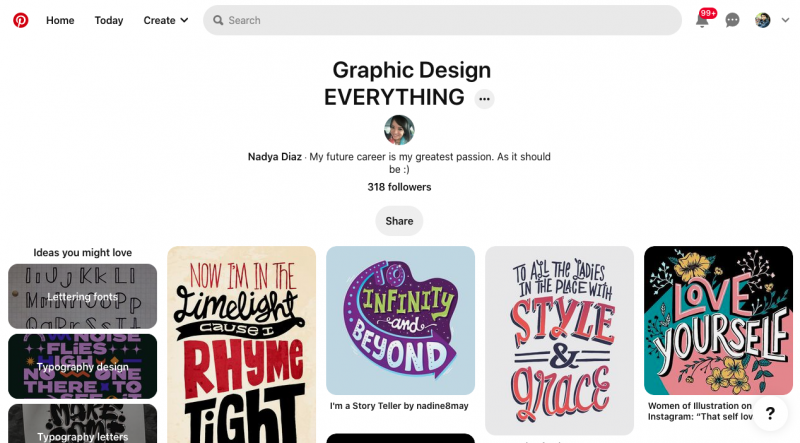 As someone who says "My future career is my greatest passion. As it should be" on her Pinterest bio, this typography Pinterest account can be a good reference if you need some cool typography works for your wall decorations. Just take a look. Each typography work in her collection would do fine for that purpose.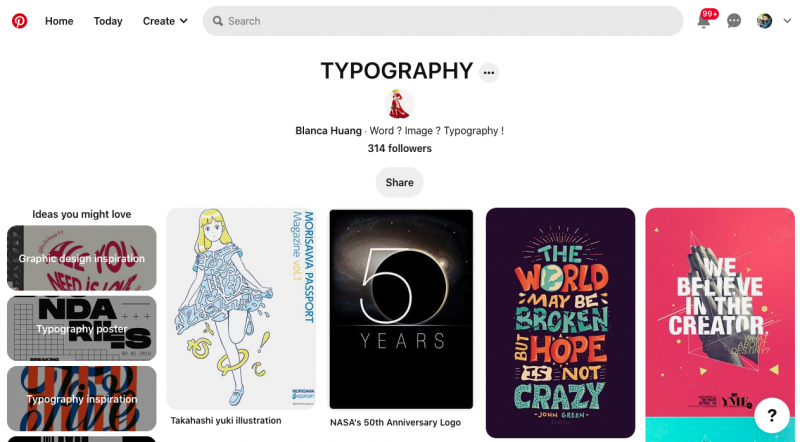 Words can be converted into anything, including cool-looking posters. Are you bored with your typical poster style? Then consider grabbing some inspiration from Huang's typography Pinterest collection. There's no shortage of cool-looking typography-based posters that you can see to become the inspiration for your new poster.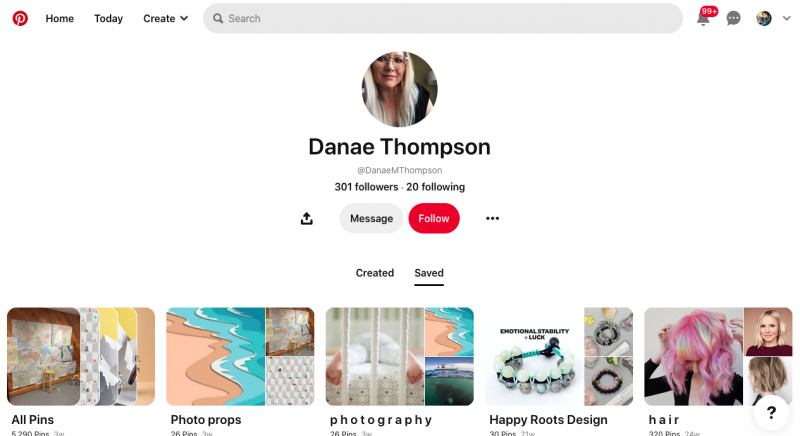 Good typography can make or break different things, such as designs for tickets, tote bags, t-shirts, books, posters, and many more. Thompson's collection, in this instance, is so well-designed that they feel so fitting for almost all aforementioned purposes. Definitely perfect if you're into marketing your personal brand.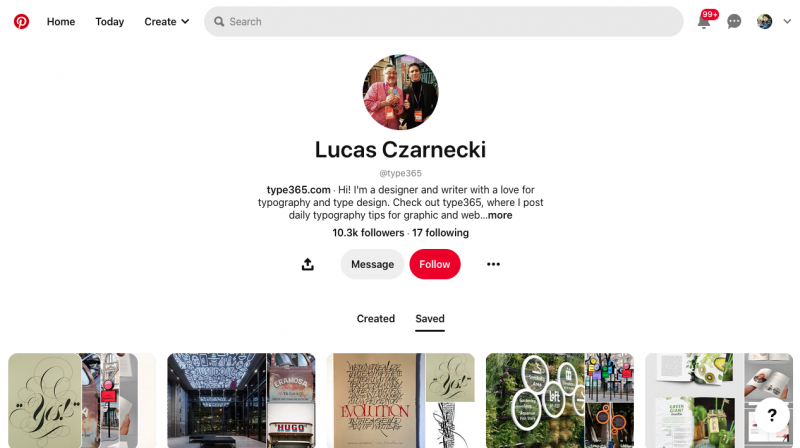 Upon seeing Lucas' collection for the first time, you can immediately see how his personal tastes shaped his typography Pinterest collection. With solid-looking kerning and similarity in each typography work in his collection, visit his collection right away to get some inspiration for modern typography works.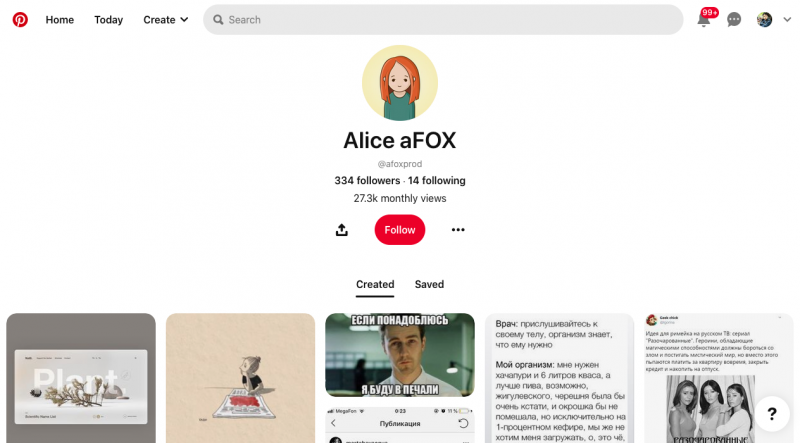 Alice's collection is a treasure trove of well-curated typography-based posters, and she knows it. There are so many different poster art styles in one single typography Pinterest account, one of which can definitely be your choice if you happen to find it in that particular collection.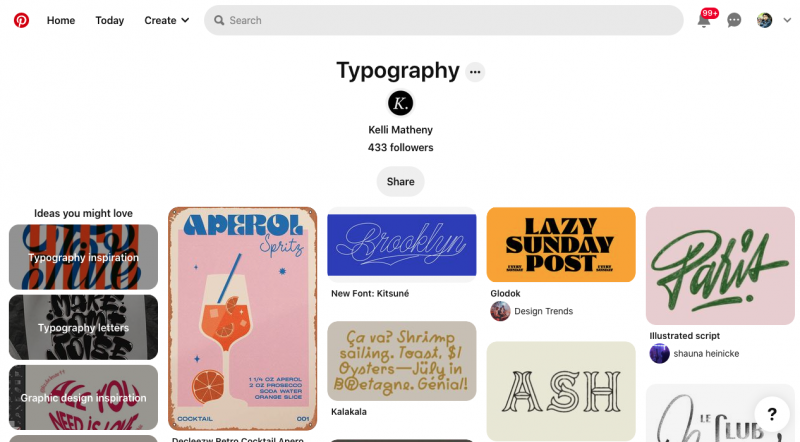 Variety is Kelli's greatest typography Pinterest collection. Some cool-looking twilling things in the collection can be your choice if you happen to be looking for them. If you're not looking for them, other examples in Kelli's collection make it up for them due to the availability of other choices in her collection.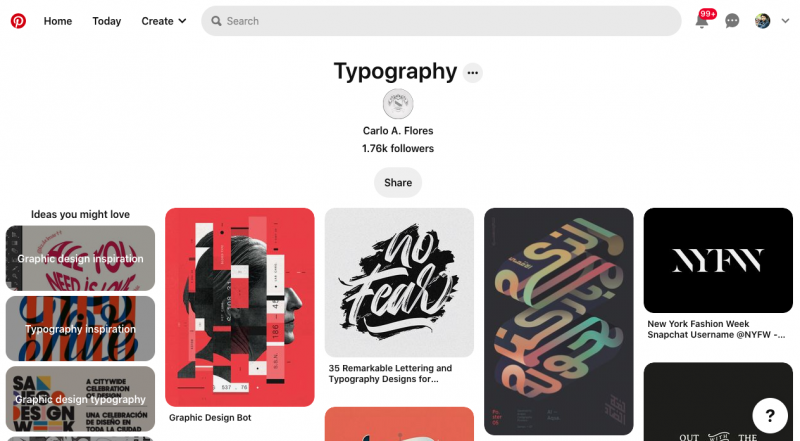 "One can never have too many typographical works in one's collection," they said. That's rubbish. If you immerse yourself in Carlo's collection, be ready to get lost in the collection. Why? They've got 2,3 pins in their collection alone, and because of that, you might be able to spend so long in that collection just trying to find something that might catch your attention.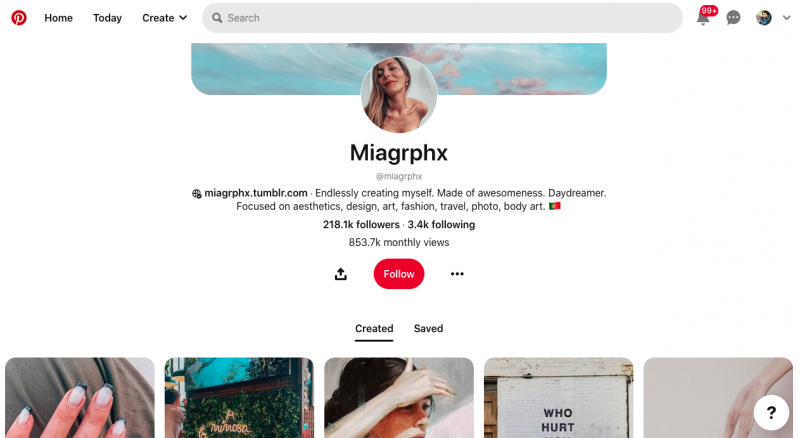 If you want something less confusing and more navigable from Carlo's collection, then Miagrphx's collection can be a middle ground between the abundance of collection and ease of access. Though the collection has more than 1000 pins at the moment, it definitely has about 22,3k followers at this point. Quite a number. Are you interested in becoming a follower as well?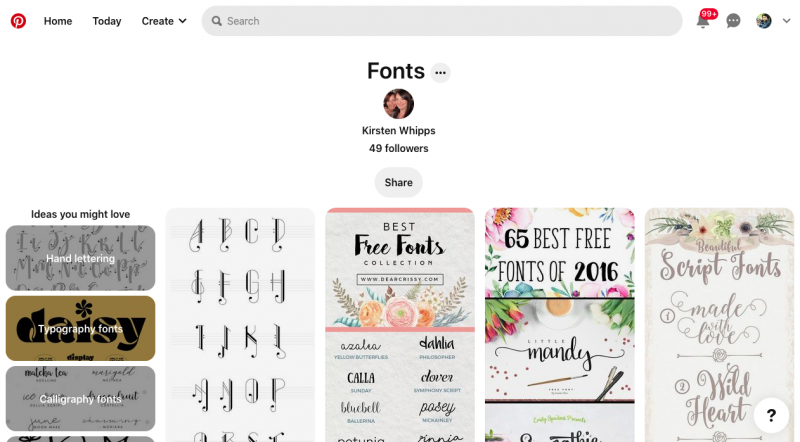 Good typography skills can create some memorable and fine-looking logos. This can be clearly seen in Kirsten's collection, in which you'll find many professionally-designed logos made out of fonts. Her tastes prove that out of seemingly ordinary fonts, you can make some artistically-sound typography works.
Thinkmule
Do you need some bold and thick-looking fonts for your work? Then Thinkmule's collection is a solid choice for you. They have a particular liking for boldly-shaped fonts on Pinterest, and they didn't waste any time pining any of those fonts into their collection.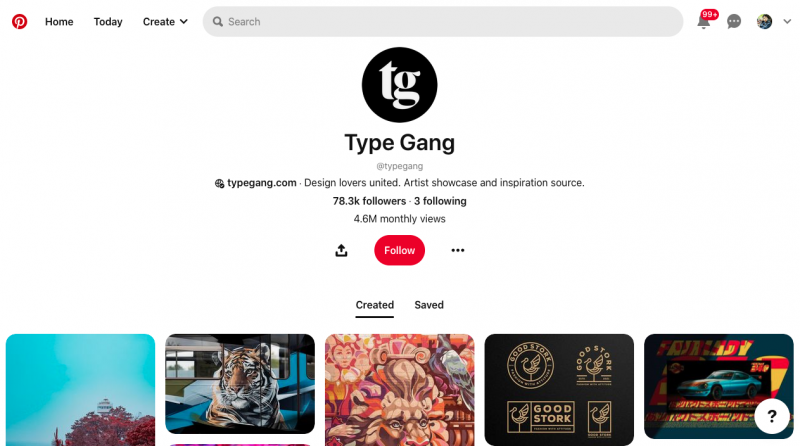 Having so many pins in one's Pinterest collection can be really helpful for people who might need a vast array of inspirations. In that regard, Type Gang has pinned over 2,7k pins on their collection, which makes all visitors spoilt for choice. With this number of choices, you'll spend quite some time exploring all available choices in this collection.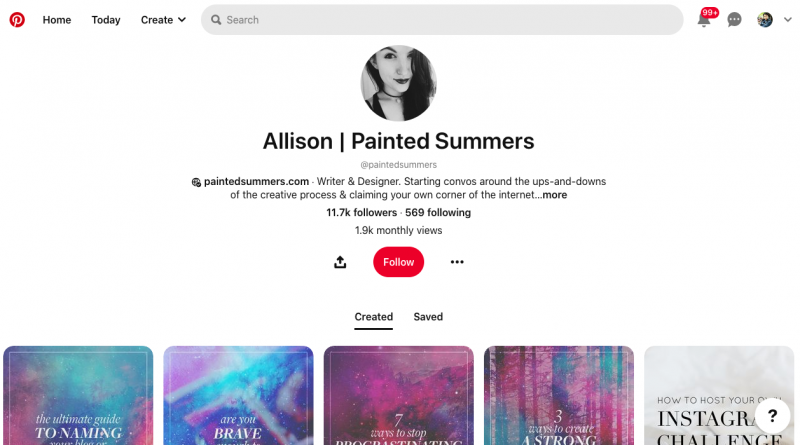 A person's artistic worth can be seen from how they make some artistic works by their hands, including typography. This can be seen in Allison's collection, where her particular liking for handwritten typography works is evidently seen for everyone to enjoy. Feel free to find some good handwriting pins in her collection that might fit your tastes.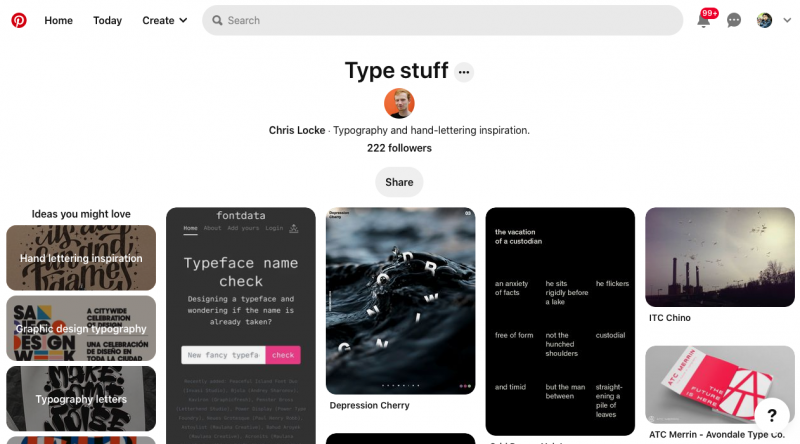 Modernity is one of the most persistent styles of typography out there, and this can be seen in Chris' typography Pinterest account. Suitable for the audience with a particular liking for the latest typography styles, consider visiting Chris' collection as his collection is chockful of well-designed typeface works.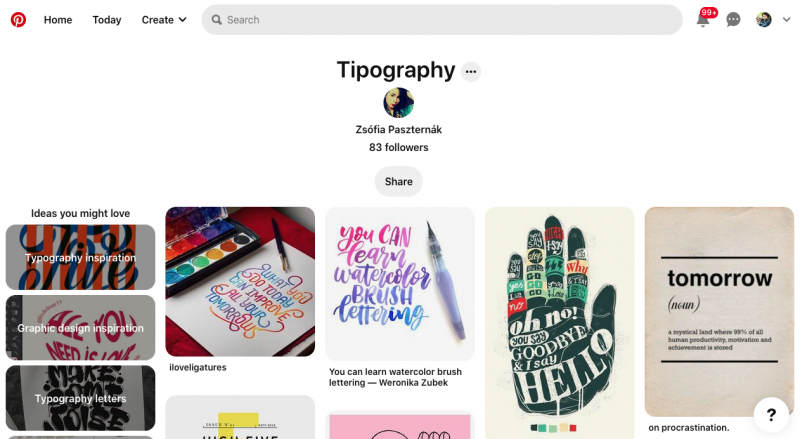 Quality prevails over quantity; that's a particular motto that people follow in their daily lives. Even though Zsofia's collection somewhat lacks in the number of pins, that doesn't mean that her collection is negligible at all. The few pins on her collection genuinely make up for the lack of quantity with the reliable artistic quality of each typography work.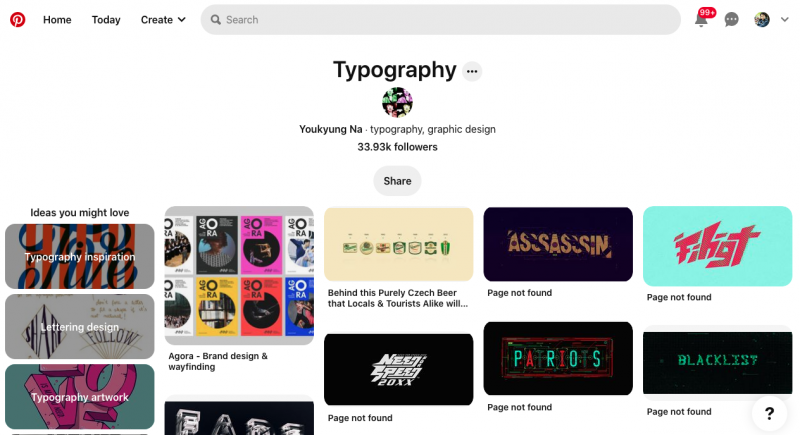 If some Pinterest account has a lot of followers, you'd better believe that the account contains a lot of high-quality works or pins within it. Youkyung's account certainly is an example of that. With 1,7k pins and 34,7k followers alone, it's more than evident that her collection is definitely something worth visiting.
Hanae Ono
Good artistic taste is universal, regardless of the place and time. This can be seen in Hanae Ono's collection, a Tokyo-based editor and writer who collects many good lettering works in her collection for everyone to see. If you're lucky, you might find some Japanese language-inspired lettering works there as well.
Lettering Daily
Lettering's attractive qualities never cease as people keep making new lettering artworks every now and then. The combination of logo and typography works in Lettering Daily's collection is a testament to this. If it wasn't for people's ongoing interest in lettering as a whole, there's no way they would make an effort to collect all of them into a single typography Pinterest collection.
Wilde Mae Studio
Some creative studios have made dedicated typography Pinterest accounts to market and show their design collections. Suitable for the so-called dreamers and creative individuals, you must not miss all typography styles this studio makes if possible.
Conclusion
Knowing which account to visit when trying to find some typography Pinterest ideas to boost your design projects can save you a lot of trouble finding the ideas. Through visiting the accounts in searching for some typography ideas on Pinterest, we hope that your work progress can become easier than ever. Good luck!
Tags: accounts, font, fonts, handwriting, lettering, Pinterest, pinterest account, typography, typography pinterest