Animation is everyone's favorite, regardless of their age. It always offers something more captivating to look at and enjoy. If you get interested in making your own moving images or it is part of your current job, there are ways to start learning and mastering this kind of graphic skill. Nowadays, you will luckily find numerous best sites for creating animation, from paid to free ones, online.
You can see animation everywhere, from presentations to advertisements to animated films like cartoons, and many more. Indeed, there are several types of animation from its beginning to date.
Types of Animation Styles at a Glance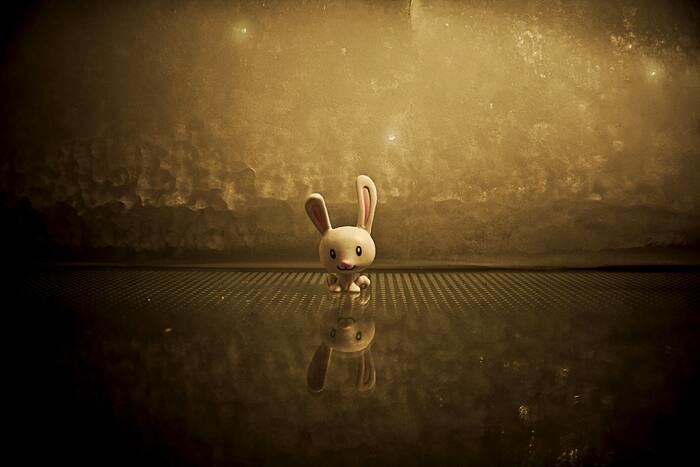 If you want to pursue animation deeply, understanding its history or its styles may help you to find your best fit in this field.
#1 – Traditional Animation (Cel Animation)
The oldest form of animation requires a meticulous hand-draw or hand paint that later being photocopied or retraced on transparent celluloid sheets.
#2 – 2D Animation (Vector-Based Animation)
Creating movement in so-called two-dimensional space. Some examples are video games, TV shows, mobile apps, feature films, and websites.
#3 – 3D Animation (Computer Animation)
Creating 3-dimensional moving images in a more digital environment, producing a life-like effect.
#4 – Stop Motion
Capturing one frame at a time of a physical prop or object moved between frames and then playing back the sequence of those images rapidly to produce an illusion of movement.
#5 – Motion Graphics (Animated Graphic Design)
Using texts as the main element to communicate or deliver a certain message, applying to social media applications, video titles, logo graphics, and other digital marketing strategies.
Now, let's check out some of the best online animation makers for free and get something to learn with creativity and fun.
5 Free Online Platforms for Animation Making
If animation truly fascinates you, set aside your time to try out the following five online platforms to polish your animation-creating skill.  Most of them are free to use but that does not mean they offer lower quality.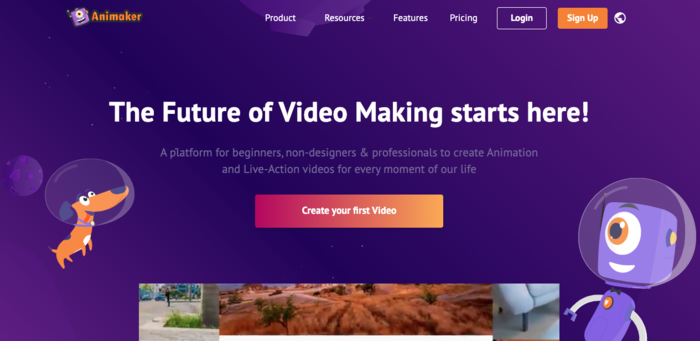 Bagging several awards this end of the year, Animaker comes first on the list and bragging as one of the easiest online sites for animation making. It is an unquestionably free do-it-yourself video maker with professional quality.
Over 15 million users around the globe use this platform due to its various and versatile animation styles and features to pick. You can find, for example, 2D to 2.5D animation styles, infographics, whiteboard animation or videos, typography videos, handcraft videos, and more.
Animaker has one of the most unique features that lets you create animation only by clicking a button. The users can browse an extensive animation library that offers over 90 templates for creating amazing animations. Also, a super easy video editor allows you to edit GIFs, short videos, or even live videos.
You can start or sign up for free, allowing you to download up to about 5 videos. Want more? You can consider different pricing plans, such as premium plans, to get further access to more killer features.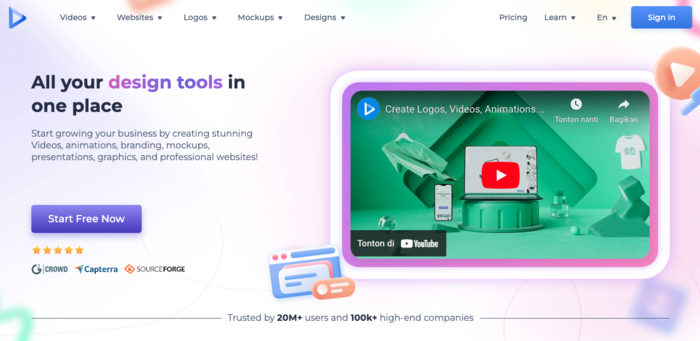 Renderforest follows in the list as one of the best sites for creating high-quality animation. This platform lets you create not only fun animations but also other professional content, explainer videos, and more.
You can create from 2D to 3D or CG realistic and also edit not only videos but also graphics, logos, websites, and more. It is a helpful online tool with about 200 video templates, icon resources, a cloud-based feature, and even a toolkit of explainer videos to start.
For free users, you can enjoy a 3-minute of 360p resolution with a watermark for each video. You can upgrade to the available paid premium pricing plans if you want to remove all the limitations.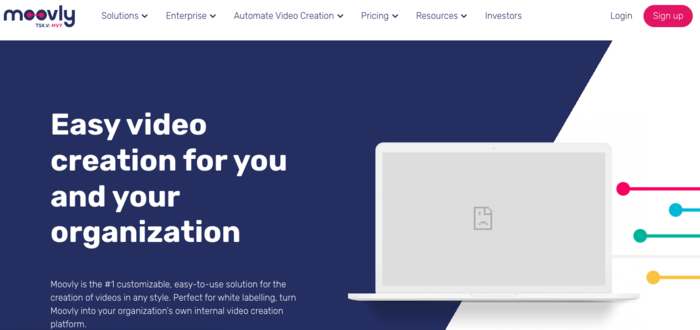 Come next on the list is Moovly, offering four different online solutions for animated videos – for individual uses, large enterprises too, small businesses, education, and partners.
One of the best sites for creating animation, Moovly is a cutting-edge studio editor with an extensive graphical library, containing millions of free videos, pictures, and sounds.  Not to mention a built-in toolkit to customize any content and a drag-and-drop feature to create your works easily.
Offering full and smooth integration with Shutterstock lets users get and use about 175 million digital assets – video clips, images, sound effects, or music. Interestingly, you can also directly share your videos on other platforms like YouTube.
Moovly offers a free plan for users to start with. Still, there are other interesting pricing plans worth investing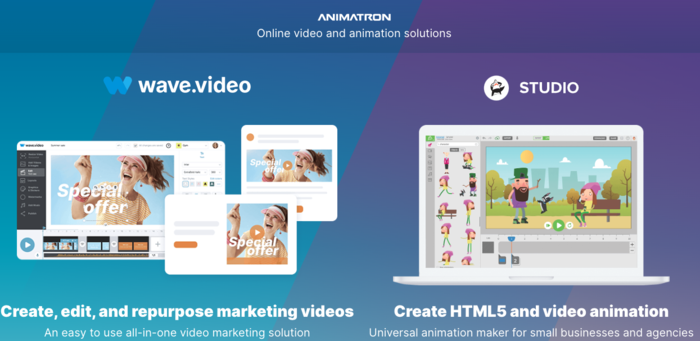 Animatron enters the list as one of the best online platforms for creating animation with a free plan option. Users can find a broad range of royalty-free videos, audio, and pre-animated sets that are helpful to create any animation project.
This site is perfect to create an explainer video, for example, or a whiteboard-style animation, as well as presentations and animated HTML5 banners. You can freely use pictures for your animated videos or GIF stocks for sounds, music, or narration.
What is more? Editing your scenes in a timeline, adding text, importing images or pictures, and embedding HTML5 code are also viable. The free plan option allows you to have five public projects only.
5. MotionDen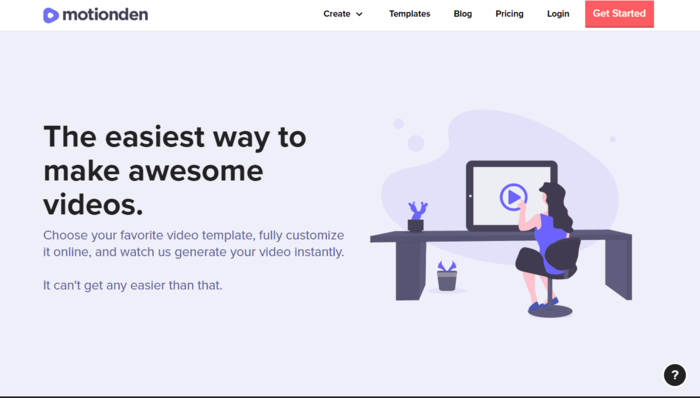 Last but not least, MotionDen offers an incredible online platform for animation-making projects for totally free. You need to check and try out this site since it updates regularly – weekly – with extensive animation templates.
It works by adding templates to start creating any animation. You can also adjust your settings to have more controls for adding texts, changing audio or music, or importing your own video clips.
Before you know it, you will witness the above online animation-making platforms do wonders. More interestingly, most of them are highly suitable or helpful even for beginners to plunge into this animation-making world. All you need to do is add some hidden talent and creativity to get the job done.
Indeed, for those getting started, some of the best sites for creating animation with free plans might be truly helpful resources to kick the start of their journey. They are no less in quality nor extensive libraries and features. Also, they are great solutions for individual projects, small to big businesses, or even educational purposes.
Tags: animation, creating animation, online, platform