Typography is an art form that can be used to communicate ideas and concepts in an elegant and persuasive way. It is such an essential part of any design, with a variety of typographic features that can be utilized to portray text. There are three main types to look for: alphabet, numerals, and symbols. It is strongly related to visual design, with the primary goal of accentuating the readability and legibility of your content.
Simply explained, typography is the visual representation of the written word – the magical instrument that gives your text life. It serves different functions, and whatever those functions are, it demands specific attention to sizes, styles, and spacing to create the very brand messages. Hermann Zapf, a digital typography inventor, once mentioned that typography is two-dimensional art based on experience and imagination; rules and readability also guide it. 
All of that said, in this digital age, typography is something that every designer must grasp in order to garnish their artwork. But where is the finest spot to feed your need for insights? Fortunately, in this session, we will go a little farther and delve deep into the top online typography courses to knock your artistic thinking. So, if you want to improve your mastery of typography or perhaps want to develop your own style, these lessons are specially curated for you.
Typography 01 by The Futur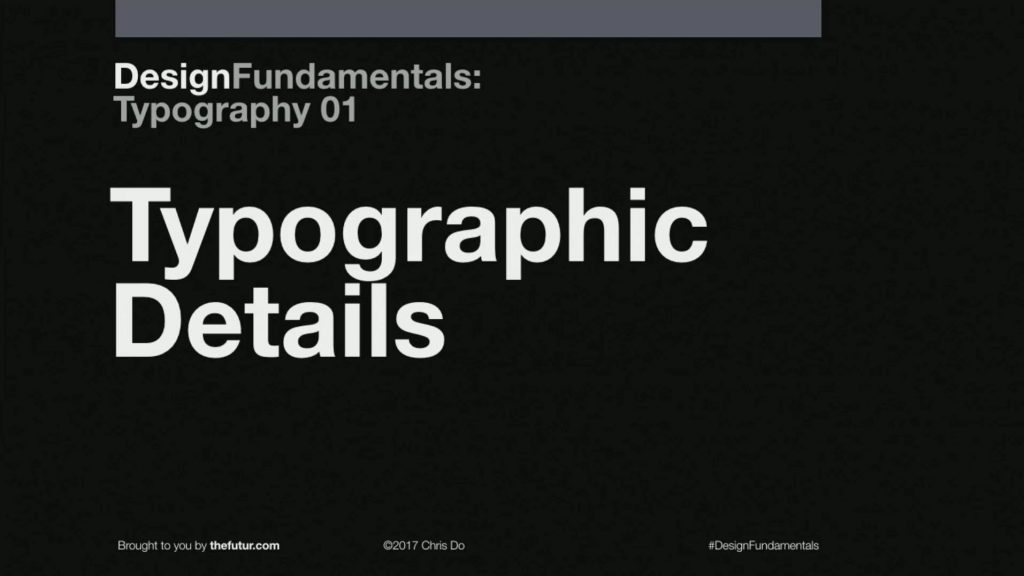 Typography 01 curated by The Futur, is the most popular course from that platform. It teaches you how to master type and design. It is a premium design class option with a one-time fee of $299 for access. It may be hefty, but it is well worth your cash because it is led by a well-known designer who is well-liked by many.
This top-quality course contains over 6 hours of video content that will teach you how to craft excellent content. The core purpose of this course is to teach you how to manage typography in your production, from the start to the end, by monitoring its influence on your target audiences.
The session will focus on topics like repetition and contrast, grids, typographic details, and using type in a design, all with the goal of helping you create a practical layout that works together harmoniously.
Additionally, this lesson is constantly evolving, so you can access updates for the lifetime of the course. Also, you can watch visual breakdowns of types used in existing programs to get knowledge from live examples and see their journey. All in all, this course is an excellent opportunity to learn some grand theories and basics while also gaining some real-world experience to hone your design skill.
Link: Enroll Here
Online Typography Course by Domestika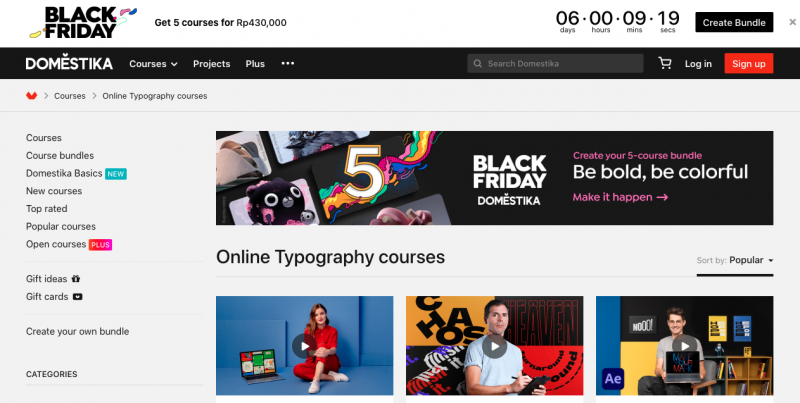 This web-based learning community contains some real gems for typography fans. There are many study tools available that not only cover the fundamentals of typography but also show how these ideas are applied in key fields. 
You can choose from many categories available such as journalistic designs, animations, digital font creation, essentials for artists, corporate lettering, and more. It also offers classes on products such as Adobe Illustrator to guide you master how to use its functionalities for typesetting.
Link: Enroll Here
Customizing Type by Draplin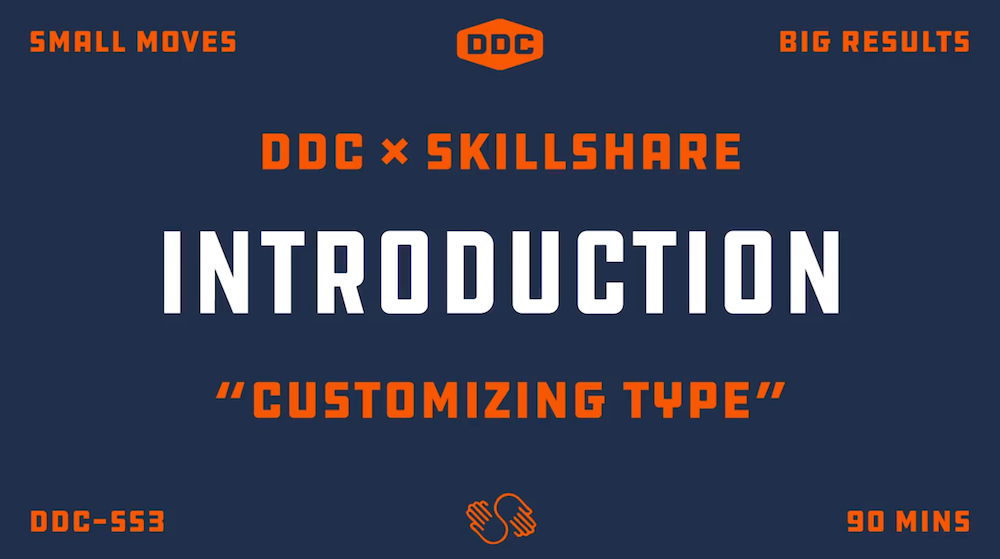 The Customizing Type course with Drapling provides valuable lessons on creating unique and purpose-specific designs in a 90-minute video format. Its educator is well-known designer Aaron Draplin, who has a unique coaching style that will show you how to give compelling material to your clients.
If you don't know about Aaron Draplin, here is some brief information about him. He is a visual artist, notably in logo design, an author, and a prolific talker for TED and Google. Not to mention, he has widely popular YouTube videos that are ready to follow. 
To acquire access to this course, which is available on Skillshare, you must sign up and pay a monthly membership fee of roughly $15. However, there is the opportunity to sign up for a free two-month trial, which provides you access to thousands of many other classes on the renowned Skillshare global market before embarking on your voyage to master typography with Aaron Draplin.
Draplin shows you how to bypass "default" typeface settings and take charge of your composition by manipulating the forms, in-between spaces, and connections of the letters you're working with. Once you've mastered altering types, you'll have a valuable design tool in your toolbox for every branding, logo, or visual styling assignment that awaits you.
Note to remember, before you begin subscribing to his full course load on Skillshare, you may check his Logo Design Challenge video on YouTube for free to get a glimpse of his teaching.
Link: Enroll Here
Typography Fundamentals Taught by Ilene Strizver
Typography Fundamentals is a course offered by Ilene Strizver on CreativeLive. This course covers the basics of typography, from its history to its principles. Also, it will teach you how to use the power of type to your advantage.
Furthermore, you will learn the basics of typography and how to "see" type in a new way, making more refined type choices that will help your craft stand out. And speaking of the price, the course is $29 for a one-time fee, or it can be purchased as part of a membership plan.
This program is intended for creative professionals of all levels to teach you how to identify and understand the value of type and how to think like a typeface artist in order to improve all dimensions of your work, regardless of your creative experience.
Whether you are relatively new to the subject or want to understand better what you already know, this class can help you. So it is safe to say that this course is intended for in-house design teams, web developers, motion graphic designers, young graduates, freelancers, writers, etc.
Simply put, this typography course by Ilene Strizver covers essential topics such as type hierarchy, choosing the best type for the job, and thinking like a type architect. Each course is divided into 13 key subjects, and there are videos that break down notable typefaces and illustrate typical typographical errors so you can escape them.
Link: Enroll Here
Build a Better Font with Jamie & Jake Bartlett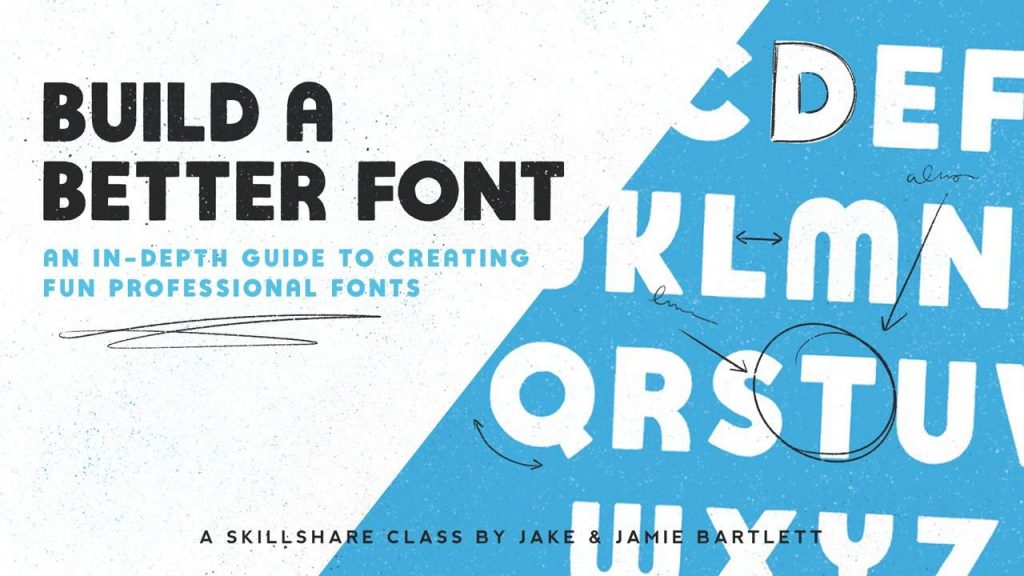 Build a Better Font typography class by Jamie & Jake Bartlett will teach you how to make your font function efficiently with Glyphs Mini. Glyphs Mini is an effective weapon that allows you to convert your vector illustrations into usable fonts.
The class will show you how to get your charts into Glyphs and how to accurately space and kern your font. The learning process also includes the refining stage, in which you polish your work and share, sell, or give it away to the public or others.
You will be pushed to develop your own style. Regardless of whether you've never created a typeface before, you'll be able to follow along with the learnings. The best part is that since this lesson's author is part of the Market Creative Community, by the end of the class, you will most likely have a working font ready to be sold on the Creative Market.
To make it simple, this Skillshare class is a premium 16-part course that covers ideas and sketching, refining, tracing, positioning, kerning, spacing, and of course, the tools you'll have to have further along the way, and also the pivotal testing phase. Also, it is considered suitable for intermediate-level creators.
If you are still not convinced, there is another good reason why you should choose this class. It is that the reviews of the teachings are all positive, with no bad comments. So, why not enroll yourself today?
Link: Enroll Here
Better Web Typography from Matej Latin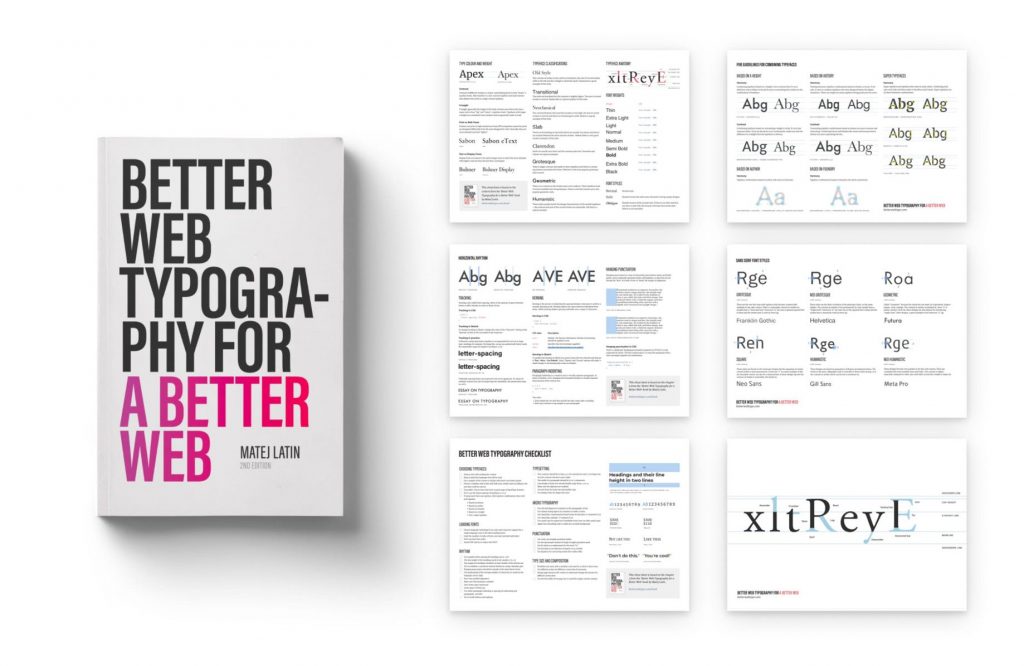 Matej Latin works as a Senior UX Designer at GitLab. He created Better Web Typography to assist people in improving their lettering inventiveness. The course format is known as a book. But don't worry, it's much more than that. The course confidently assures students that this is not simply a book but rather a complete course published in book form.
When you buy the whole pack for $29, you have access to an assortment of digital extras, such as example workouts, source code, and Sketch/Figma files. So we can agree completely that "this is not a book"!
It teaches you how to explore and comprehend the world of digital typography and select the best typefaces for your work. It also studies font pairings, guiding you on how to mix typefaces together. Furthermore, given that this is aimed at web-based typography, the course then proceeds to cover how to organize vertical rhythm, paragraphs, modular scales, and web page structure for type.
As a matter of fact, its target users are developers together with designers. This would be ideal for any degree of type experience but especially for those interested in the technical and decorative roles of type within a web project. To convince you even further, it has a large audience with favorable input – 100 testimonials with an average score of 4.3 stars.
Link: Visit Here
Alternative Typography Courses and Curricula
If you've read this far and still want to learn more about typography. We have many beautiful materials to aid in developing greater skills in this sector. The following is a compilation of classes, tutorials, and videos to help you become a great font creator or kickstart your career in the typographic industry.
Practical Typography's mission is to give you a jump start on typography in 10 minutes. In a smallish website, you may immediately cover creativity, structuring, font suggestions, and themes.
The Typography Handbook is a handy resource guidebook / digital platform that will let you move ahead on many topics covered by the listed programs throughout this article.
Flux's Intro to Typography is part of a comprehensive series on how to layout for the web; however, this brief 18-minute clip is a solid refresher on the cause of lettering, including how to pick and implement the design.
Level-Up Your Script Lettering is established by Ian Barnard. He is another creative market shop owner, and a well-known hand typographic artist This course is also accessible on Skillshare.
Combining Typefaces is a short guideline by Adobe Typekit's Head of Typography, Tim Brown that tries to get you familiar with using many fonts inside a framework. Further, because the work of font designers is relatively simple to execute lettering poorly, having a free PDF to learn from is quite beneficial.
Teela Cunningham is yet another brilliant artist on Creative Market. However, she also does some wonderful workshops via her own blog, many of which cover lettering and typography.
Instead of providing a number of recommended readings, I'll refer you to a more detailed and up-to-date overview of the Best Typography Books for Designers for you to peruse.
Google has published its very own toolkit, 'Choosing Web Fonts: A Beginner's Guide,' to support you in picking font styles for integration on the online platform.
Wrap-up
In many ways, typography is the foundation of thoughtful communication. By setting the tone and style of an entire document, typography can help guide readers through a complex or challenging piece. Also, it can help organizers and thinkers focus on important details and make connections between disparate ideas.
In other words, it is critical for your website and content because it has the power to define the overall tone of your website and provide a memorable customer experience. As an outcome, graphic designers should make good use of typography, which is often overshadowed.
Last but not least, that comes to the conclusion of our typography course list. Whatever voyage you choose, we hope you make the most of it and are successful in helping your brand stand out across your line of work.
Tags: brand, business, career, Course, design, font, graphic, typography